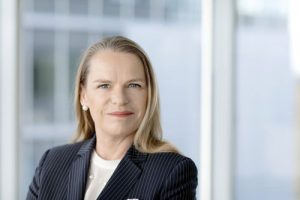 Archroma's CEO Heike van de Kerkhof discusses the company's sustainability journey and sustainable textile initiatives.
TW Special Report
Archroma is a global, diversified provider of specialty chemicals serving the branded and performance textiles; packaging and paper; and coatings, adhesives and sealants markets.
Headquartered in Reinach, Switzerland, Archroma operates in more than 100 countries, with 2,900 employees located in 35 countries and 26 production sites.
At the beginning of 2020, Archroma's board of directors named Heike van de Kerkhof CEO of the company. She succeeded Alexander Wessels who was named vice chairman of the board. Van de Kerkhof joined Archroma from Castrol, BP plc's branded lubricant division, where she was vice president, Western Hemisphere.
Her personal beliefs that "industrial leaders must fight for climate and environmental protection," inform her leadership approach as she puts Archroma on an economically and ecologically sustainable path.
TW: You entered your CEO role at Archroma during a challenging time. How did you manage the new role with the increased leadership challenges?
Van de Kerkhof: I indeed took the helm of Archroma in January 2020, just a few weeks before the outbreak of the COVID-19 pandemic.
I think we were very well armed to weather the crisis. We had a solid foundation as a leader in sustainable, R&D-enabled chemistry, and a diversified portfolio, and that allowed us to serve our customers despite the disruptions and challenges worldwide.
At the same time as our team stepped up to the challenge, we also reorganized ourselves and implemented a regional structure with seven clusters, bringing sales and marketing, supply chain and production all under one roof and closer to our customer base.
We also created a network of global Competence Centers dedicated to R&D and application development in their specific area of expertise, such as for instance our global Competence Center for Denim and Casual wear in Barcelona, Spain; our global Competence Center for Paper Chemicals in the United Kingdom, and our global Competence Center for Textile Finishing in Switzerland.
This has produced the expected results: After the first months of the pandemic in 2020 that impacted all our industries and markets, we have seen a regular recovery, and today our sales are back at pre-pandemic levels.
TW: Does your history with heavy industry associated with lubricants and chemistries affect your approach to sustainability at Archroma?
Van de Kerkhof: Quite the contrary. I have worked with companies which decided very early on to address environmental challenges in a responsible manner, and I actually decided to join Archroma because of their leadership in this area.
Archroma has a very long history of driving sustainability in the textile industry. Our very first offering of sustainable solutions dates back to the 1990s when we introduced our "3R" concept with products helping customers to Reduce, Reuse, or Recycle at all stages of the product life cycle.
Since then, we have led many trailblazing initiatives in our industry.
In 2013, we opened what we believe to be the first zero discharge facility in the textile industry in Jamshoro, Pakistan — a water stress area — with the aim of setting new standards not only in the quantity but also in the quality of the recovered water. And in the past few years, we have developed several ground-breaking, iconic innovations, such as our aniline-free* Denisol® Pure Indigo, Smartrepel® — a PFC-free* water-repellent solution — and our plant-based EarthColors® dyes used in several exciting brand collections such as G-Star, Esprit, or more recently by Primark.
* Below limits of detection according to industry standard test methods
TW: What are the guiding principles in developing a "path to make the industry more sustainable, economically and ecologically" at Archroma?
Van de Kerkhof: As we like to put it, we touch and color people's lives every day, everywhere. You will find Archroma colors, antimicrobials, repelling agents, anti-odors, flame retardants, and more, in your clothes, bedsheets, delivery boxes, writing paper, wall paints, and car seats, among other products. Such a broad presence comes with responsibilities. That is why, in 2012, we launched the ONE WAY Impact Calculator — a textile production process simulator designed and used to provide our customers and partners with an accurate estimate of the process conversion costs, resource utilization, effluent discharge quality, and CO2 emissions of their existing production process versus more sustainable alternative systems.
And as fashion, online shopping and food packaging, for example, are increasingly associated with air and water pollution, brands especially are eager to demonstrate their efforts, in particular in a post-pandemic world where consumers have no tolerance for green washing. With ONE WAY, any manufacturer or brand can calculate how much positive impact the Archroma solutions will have on their water, energy, chemical, raw material or CO2 footprint. That is how we help them reconcile economy and ecology.
TW: In support of the slogan "The Archroma Way to a Sustainable World: Safe, efficient, enhanced. It's our nature," can you expand on what this means in terms of leadership at Archroma?
Van de Kerkhof: "Safe" is about products that are safe to use, safe to release and also safe to wear. "Efficient" is about innovative application processes that minimize resources and maximize productivity. "Enhanced" is about adding effects, functionalities, aesthetics and sustainable differentiation to bring additional value to the final user.
In line with this approach, we started to develop holistic solutions designed to bring innovation and performance, whilst reducing the impacts on water, energy and other natural resources — as demonstrated by the ONE WAY Impact Calculator.
We actually launched more than 70 such systems in the last two years! To mention just one as an example: CASUAL X SMART is a sulfur dyeing system for trendy wash-down effects to make clothes that look smart at home and at work. The colors won't fade in the washing cycle, and the application process allows resource savings of up to 33 percent water, 21 percent energy and 35 percent chemical usage compared to a benchmark reactive and pigment garment dyeing.
With ONE WAY we can substantiate how we actually help transform our industry. For instance, we estimate that, since 2013 we helped save 7,740,000,000 liters of water and reduced 420,000,000 kilograms of CO2 with our DEEP DIVE 2.0, DARK BLISS 2.0, SMART START and SMOOTH AS IRON (FASHION) systems, thus allowing massive resource savings in cotton items.
TW: What is your assessment of Archroma's recently released Sustainability Report for the fiscal year 2020, and what are the key take-aways?
Van de Kerkhof: We try to apply the same ambition to our sustainability reporting as to everything we do.
First, this was the fourth sustainability report released by Archroma, and the third report prepared in accordance with the demanding GRI Standards — something we are quite proud of.
Second, we consulted our stakeholders for the first time, via an online survey, in order to consider and integrate the sustainability topics that are critical to them into our own strategy and reporting.
The report covers our impacts and efforts in areas such as greenhouse gas emissions, energy and water consumption, sustainable sourcing, diversity and inclusion, health and safety, and product innovation.
In terms of sustainable sourcing, Archroma requests all material suppliers to provide valid certification from EcoVadis, and we aim to assess all vendors against our Archroma sustainable sourcing rating which goes beyond the requirements of EcoVadis. We already assessed more than 70 percent of our material spend with valid ratings during the reported period, and aim for a coverage of more than 90 percent for fiscal year 2022.
TW: Looking forward, what do you see as the leading challenges of Archroma's sustainability journey?
Van de Kerkhof: I am actually rather positive. We have seen a historical shift in public awareness over the past two years, and we at Archroma see this as a unique opportunity.
Brands in fashion, food, home decor, or sportswear make ambitious pledges, and they want to honor them. They are therefore eager to understand how they can introduce new, exciting innovations with safer ingredients and a lower impact on resources.
That is where Archroma can help, with our eco-advanced ingredients and demonstrated resource-saving solutions. We can help them make a difference.
November/December 2021