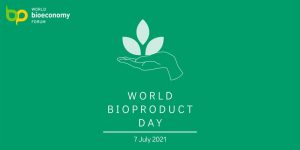 FINLAND — June 8, 2021 – The World BioEconomy Forum is delighted to announce the launching of World Bioproduct Day on July7 this year. World Bioproduct Day is part of the Forum's campaign to enhance and increase awareness of the importance of bio-based products for the protection of the planet.
Members of the World BioEconomy Forum have been taking time to reflect about the role and importance of bio-based products in superseding non-renewable options. Through the adoption of more bio-based materials we can move towards solutions that are more sustainable and healthier for us and the planet, and step away from non-renewable feedstocks.
Every single one of us has come across a bioproduct. Whether it be reading about one, owning one, or contributing to the formation of one. It may be as simple as a wooden chair or more complex such as a bio-based chemical you have encountered. The possibilities of bioproducts are endless. Bioproducts are now emerging faster than ever, and they are all around us.
Jukka Kantola, founder of the Forum, said, "We are launching a new movement, 'World Bioproduct Day' on 7 July in an effort to raise awareness of the importance of bioproducts around us and how they contribute to the larger goal of environmental sustainability and climate action.
"We invite you all to share your experiences and stories of bioproducts you use or own by posting a photo or video of a product made from renewable resources, whether it be at home or the company you work for.  We ask you to share your post via LinkedIn or Twitter with the accompanying hashtag, "#Bioproductday". We will showcase and share your posts on our social media channels so we hope all of you will participate and join us shining a spotlight on the benefits of bioproducts to the future of the Earth, to the future of our home."
The next World BioEconomy Forum will be held in partnership with the state of Pará, and major bioeconomy associations in Brazil, ABAG and Ibá. The Forum 2021 will be held in the recently developed and renovated riverside venue Estação das Docas in Belém. The city has been recognized as a Creative City of Gastronomy by Unesco.
Posted June 8, 2021
Source: World BioEconomy Forum