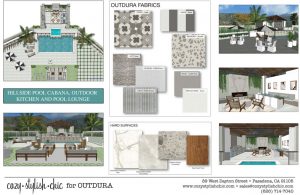 HUDSON, N.C.— May 12, 2021 — Top designers, Vicky Serany from Southern Studio Interior Design in North Carolina, Lisa Kahn from Lisa Kahn Designs in Florida and Jeanne Chung from Cozy Stylish Chic in California are sharing the imaginative ways that they use Outdura fabrics to brighten up their projects. Their visions boards will be on display in the High Point Sattler Outdura showroom, Market Square #505, during the Showtime Market, May 16-18.
"We enjoy having designers use Outdura performance fabrics and would like to thank these very talented leaders for sharing their creative visions with us," commented Uli Tombuelt, Sattler/Outdura CEO and director of sales casual furniture division. "It was interesting to see how designers from three distinctly different areas of the country uniquely applied our fabrics to their lifestyle projects. We believe the design boards will serve as be an inspiration to others, giving manufacturers, retailers and our designer clients a fresh sense of how Outdura fabrics can be creatively employed."
Vicky Serany, owner of Southern Studio Interior Design in Cary, N.C., designed her board with the help of Annie Gray Holt, a junior designer at Southern Studio, around the outdoor theme "Sand and Sea." They chose this idea because it coincides with many of the coastal projects that they work on. According to Serany, "We used the timeless classic "Sand and Sea" color scheme of blues from the sea and neutrals from the sand but gave it a fresh perspective with unique accessories and furnishings. Since summer days are spent with friends and family on the coast, we incorporated seaside tabletop accessories, a warm throw for chilly evenings and durable materials to handle the salt air. Outdura's performance fabrics are our go-to favorites for families. Their amazing combination of patterns, textures and colors are a dream for designers."
Naples, Fla.-based designer Lisa Kahn, CEO of Lisa Kahn Designs, opted for "Sanctuary" as the theme for her Outdura vision board. "My goal was to create a tranquil place to snuggle with your dog, to paint, to read a book, or just relax," Kahn shared. "I opted for the luscious blue, green and white Outdura fabrics as my color palette because they blend well with the colors most easily found in the natural world. They are so perfect to create a welcoming refuge to promote healing, peace, and wellbeing. Another big plus in using Outdura indoor/outdoor fabrics is that they are so cleanable and durable which makes them ideal for indoor use as well."
"Modern Oasis", the theme chosen by Jeanne Chung, owner of Cozy Stylish Chic in Pasadena, Calif., utilizes a neutral color palette with a concentration on solid and textured fabrics contrasted with bold pattern.  Chung stated that "The Outdura fabric selections were used to convey a calm, tranquil, zen-like oasis for this outdoor pool area and cabana.  Catering to the sophisticated millennial client, our vision is to create a modern and luxurious outdoor space – an extension of the home, complete with dining area and outdoor kitchen that incorporates modern lines with natural materials, crystal clear water, and lush tropical landscaping often seen in today's high end hotel pool areas in the tropics. The Outdura fabric selections made this extremely easy to achieve."
Sattler Outdura is known in the industry for its award-winning superior quality, solution-dyed acrylic woven outdoor fabrics made in the historic Hudson Cotton Mill in Hudson, N.C. Perfect for use outdoors or in, their fabrics have color pigments that penetrate through the fiber, not just on the surface. They are not only UV fade resistant after 1500 hours of testing but also stain, water, mold, and mildew resistant. Cleaning is a breeze with soap and water or a bleach solution for stubborn stains.
Posted May 17, 2021
Source: Sattler AG