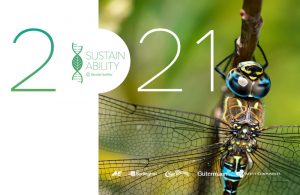 CHARLOTTE, N.C. — April 21, 2021 — Elevate Textiles is excited to release its 2021 Sustainability Report. Elevate Textiles and its distinguished brands including American & Efird (A&E), Burlington, Cone Denim, Gütermann and Safety Components, report increased involvement in global sustainability initiatives and significant progress against the company's 2025 Sustainability goals.
Within the report, Elevate outlines progress towards its 2025 Sustainability Goals, focused on sustainably sourced fibers, reduced water consumption and reduction in greenhouse gas emissions. The 2021 Annual Report shares the company's increased participation and leadership in global collaborations and our alignment with the UN Global Compact's Ten Principles, which further supports Elevate's own environmental program, the Ten Threads of Sustainability.  This year's report is structured in line with key UN Sustainable Development Goal (SDG) commitments related to Elevate and its brands.
"As a valued supply partner and responsible manufacturer, our Elevate teams and brands are committed to understanding our customers' needs and aligning our actions to help achieve critical sustainability goals," said Sim Skinner, president and CEO of Elevate Textiles.  "We are focused on providing ethically and sustainably sourced products that offer innovative solutions needed to be successful, and we view our teams and global resources as a collaborative extension and partner to our customers, suppliers, employees, communities and other stakeholders."
The 2021 Sustainability Report outlines Elevate's progress and achievements, including:
Measurement of Scope 3 greenhouse gas emissions and continued efforts toward reduction of Scope 1 & 2 greenhouse gases, in line with the corporate goal of 2.5 percent per year reduction.
7.5 percent reduction of absolute global water consumption since 2016.
Increased water recycling by 65 percent since 2016 by implementing new wastewater technologies.
Achieved 68 percent sustainably sourced cotton against its goal of 80 percent sustainably sourced by 2025.
Joined the Sustainable Apparel Coalition and contributing resources to support the Higg Index.
Increased participation on task teams and Councils within the ZDHC Programme and with working groups of the UN Fashion Industry Charter for Climate Action.
Installation of Zero Liquid Discharge (ZLD) facility in Parras, Mexico in 2021.  After completion, Elevate will operate a total of 3 ZLD facilities globally.
"We are pleased with the progress we have made since our last report as we ramp up our efforts to achieve our sustainability goals and support the sustainability strategies of our customers," said Jimmy Summers, chief sustainability officer for Elevate Textiles.  "We are focused on advancing our efforts and environmental commitments across Elevate and our brands with innovative and responsible manufacturing practices.  We continue to demonstrate global leadership through key collaborations and global initiatives that support and further the industry's sustainability journey and ultimate success."
To review Elevate's full 2021 Sustainability Report and updates on other sustainable innovations, visit Elevate's website at www.elevatetextiles.com/sustainability/
Posted April 21, 2021
Source: Elevate Textiles