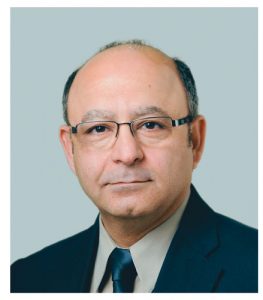 Dr. Behnam Pourdeyhimi, executive director of The Nonwovens Institute at NC State University, comments on HanesBrands surgical face mask innovation
By Jim Borneman, Editor In Chief
Winston-Salem, N.C.-based HanesBrands recently announced the U.S. Food and Drug Administration authorized a proprietary surgical face mask for use by health care professionals as personal protective equipment (PPE).
According to HanesBrands: " … the proprietary surgical face mask [was] developed in conjunction with North Carolina State University, the University of North Carolina at Chapel Hill and UNC Health. The two-ply, single-use surgical mask features a unique fabric developed by NC State's Nonwovens Institute combined with a fit design created in collaboration with UNC-Chapel Hill and NC State biomedical engineers and UNC Health infection prevention experts."
The Nonwovens Institute (NWI) at NC State University, Raleigh, N.C., has a long history of development of spunbond nonwoven microfibrillation technologies, which was a focus from 2004 to 2008. These technologies were then modified in 2018 and 2019 to form a mechanical High-efficiency particulate air (HEPA) filter, which was again modified in March to form the basis for a filter for facemasks. Three new patents are pending in this area.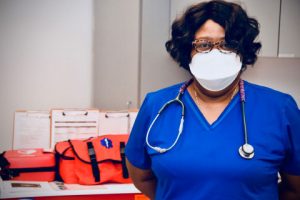 The HanesBrand Mask
HanesBrands reports: "The use of unique spun-bond fabric developed by the Nonwovens Institute, the world's first accredited academic program for the field of engineered fabrics, eliminates the need for a third filtration layer for cost efficiency and filtering effectiveness. The spunbond fabric is composed of two different polymer materials to make a single fiber that has significant strength and bulk that is as effective in filtration as current materials on the market."
"The Nonwovens Institute is proud to be a part of this collaboration to ensure that high-quality and affordable protective gear remains available to frontline health care workers during the pandemic," said Dr. Behnam Pourdeyhimi, NWI executive director.
On a personal note, Pourdeyhimi lost his brother, Farrokh Pourdeyhimi, to COVID-19 in September 2020, no doubt giving the research that much more meaning.
Pourdeyhimi recently spoke with Textile World editors to discuss recent nonwoven developments and the HanesBrands two-ply, single-use surgical mask.
Textile World: Welcome, Dr. Pourdeyhimi. NWI must be operating at full speed at the moment!
Pourdeyhimi: We have been working since early March, and some of the facilities are running around the clock. Our staff are the true heroes working long hours to make a difference.
TW: What unique technologies were utilized in the nonwoven fabric used for the two-ply, single-use surgical mask?
Pourdeyhimi: This new spunbond has been in development for some time. The structure is partially fibrillated to form fine fibers; the mixture of fine and coarse fibers allows for high efficiency at low pressure drops.
TW: Why are two different polymers used?
Pourdeyhimi: To fibrillate fibers, one requires polymers that are incompatible. Examples are nylon and polyester, or polyester and polypropylene (PP) or polyethylene. We chose polylactic acid (PLA) and PP since we have previous experience in running this combination at high speed.
TW: This was a multi-team development. How do you coordinate the work to be efficient as possible?
Pourdeyhimi: A lot of communication and listening to the voice of the customer. The team was motivated to make a difference quickly, and we spent a lot of time testing and retesting materials, material combinations and designs.
TW: What are the challenges in achieving a U.S. Food and Drug Administration (FDA) Emergency Use Authorization?
Pourdeyhimi: Testing. It is required that results are generated by certified labs such as Nelson and Intertek. The time it takes to accomplish this is simply too long. Fortunately, the Nonwovens Institute has the facilities and expertise to do the same tests. Therefore, during the development phase, all tests were performed at the institute. Only the final samples were submitted to the certified labs.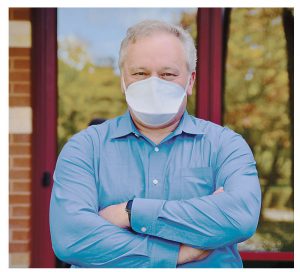 TW: The United States' dependency on foreign-made PPE was quite alarming to many. What do you see in terms of changes in domestic production?
Pourdeyhimi: There are several challenges — most importantly, the shortage of the meltblown filter media which is historically what has been used in filtration media and the ability to convert the base materials to masks. While one could establish mask manufacturing facilities in several months — and many companies did so — the shortage of the meltblown media continues to date and many are scrambling to source media. Another challenge is the lack of know-how in producing quality meltblown structures.
The institute developed an alternative to meltblown to help alleviate some of this challenge. The institute has also helped many companies with their needs in terms of testing and validation, product design, etc., and offered a series of online webinars on the topic of PPE and meltblown and spunbond processes as it pertains to the formation of filters. Additional online resources are being developed weekly.
TW: Have you seen more interest in nonwovens production from new entrants into the industry?
Pourdeyhimi: Yes. The challenge is still lack of expertise and know-how. One cannot simply buy a meltblown machine and press a button to form a filter. While the machinery makers are trying to help with the set up and training, there continues a significant need for establishing a quality management system, maintenance and operations. To help with this, the institute has developed training programs for several companies interested in setting up and running nonwoven equipment.
TW: What have you observed in terms of new investments?
Pourdeyhimi: Primarily in surgical masks — three-layer pleated — some flat masks similar to KN95, and a few molded cup styles apart from what the industry leaders such as 3M, Moldex and Honeywell produce. There are a few meltblown machines — those from the United States and Europe take 10 to 16 months to be delivered; while meltblown machines from China are delivered anywhere from 3 weeks to 3 months. More importantly, the institute helped several companies redirect production from liquid filters for uses such as swimming pools and spas to filters for facemasks. This switch helped alleviate some of the shortage, but it was not by any means a trivial task.
TW: What other COVID-19 related developments are taking place at the institute?
Pourdeyhimi: NWI also has developed facilities for testing gloves, and helped several companies with the development of gowns using alternate materials.
TW: What other technologies are coming along that may support a multi-use mask or common-use consumer mask?
Pourdeyhimi: Electrospinning is being used as an alternative to meltblowing; however, the impact has been minimal given the scarcity of facilities and low production rates.
There are many cloth masks being offered today. Unfortunately, these are not as effective, and many offer poor breathability. Lack of appropriate standards, beyond what is used for medical masks, has led to offerings with unfounded claims. One of the key features in masks is their electrostatic charge. This charge elevates the performance significantly. Cloth masks are not charged, and cannot be charged or will have poor charge stability. Another feature found in nonwovens is the fine fibers of 1 to 2 microns or less. Most textile fibers are much larger.
Microfiber nonwovens such as Evolon and Madeline are being used to create consumer barrier masks. These work well because of their fine fibers.
NWI's new spunbond offers amazing breathability and offers filtration efficiencies ranging from 80 to more than 95 percent depending on composition. This is because the structure contains fine fibers and is also inherently charged. The institute's partners have been offering single-layer consumer masks for some time.
TW: What stands out as a major takeaway from the COVID-19 pandemic?
Pourdeyhimi: This has been a difficult period because we were all caught by surprise. Complete dependence on imports is clearly not the way of the future. It is time we take onshoring seriously.
November/December 2020