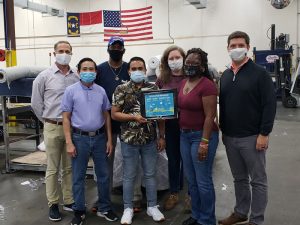 HIGH POINT, N.C. — October 15, 2020 — Culp Inc. today announced that the company's sewn mattress cover operation, known as CLASS, has achieved landfill free status at its High Point, N.C., manufacturing plant. This means the facility will no longer send any waste from its production operations to landfills. CLASS has also earned the 2020 Sustainability Award from ICE Recycling in connection with this initiative.
Achieving landfill free status at this location highlights Culp's ongoing commitment to environmental responsibility. This accomplishment was reached with support from ICE Recycling, which designs plans to help businesses reduce their carbon footprint and divert waste products away from landfills. Substantially all fabric and yarn waste, as well as plastic, cardboard, and other operational waste, generated from the High Point facility is now sent to ICE Recycling, where it is diverted from entering a landfill through the process of bailing, grinding, and packaging recycling materials for alternate end uses. Culp conducted extensive employee training and followed strict guidelines and procedures to achieve this milestone.
Jeff Veach, vice president and manager of Culp's global mattress cut and sew business, said: "Becoming landfill free at our High Point facility is a great example of how Culp is working to reduce the impact of our operations on the environment. We are so proud of the associates at our U.S. CLASS facility for this important accomplishment. Their hard work and determination, even in the midst of a pandemic, is commendable and demonstrates our focused efforts to promote sustainability and reduce our environmental footprint."
CLASS operates as part of Culp Home Fashions, the company's mattress fabrics division.  Its High Point plant, which covers approximately 129,000 square feet and employs more than 100 associates, is the company's second facility to earn the landfill free designation, following the Culp Home Fashions manufacturing facility in Stokesdale, N.C.  The company also operates a production facility in Quebec, Canada, that uses hydro and wind power to provide 99.8-percent clean renewable energy. Culp Home Fashions is currently working with the Quebec government in an effort to locate recycling facilities in close proximity to its Quebec location, with the goal to achieve landfill free status for this facility as well.
Together, these initiatives reinforce Culp's company-wide commitment to sustainable production across its operations. Iv Culp, president and CEO, Culp, stated: "We are very pleased to receive the 2020 Sustainability Award from ICE Recycling and become landfill free at our CLASS facility. We have now achieved landfill free status at all U.S. manufacturing facilities for Culp Home Fashions. We look forward to continuing our efforts to reduce our overall environmental impact and conserve natural resources. We remain committed to producing our fabrics and managing our business in a responsible manner to help promote a sustainable future for Culp and our customers."
Posted October 19, 2020
Source: Culp Inc.