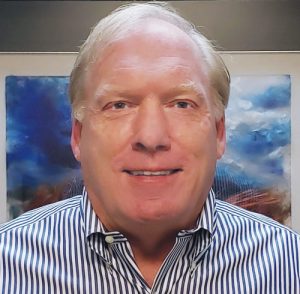 Cap Yarns CEO brings a keen perspective and deep industry knowledge to NCTO leadership in a time of major challenges and change.
TW Special Report
Cap Yarns CEO David Roberts was recently named chairman of the Washington, D.C.-based National Council of Textile Organizations. Cap Yarns, Clover, S.C., develops specialty yarns for the knitting and weaving industry and manufactures an average of 300,000 pounds of yarn a week.
Roberts succeeds Leib Oehmig, president and CEO, Glen Raven Inc. The pandemic dictated a different succession process than a typical face-to-face gavel hand-off that would have occurred following an election held during NCTO's cancelled 2020 annual meeting. The election was carried out via a teleconference meeting with NCTO board members.
Announcing the results of the election, NCTO President and CEO Kim Glas, stated: "This is a critical juncture for our industry as we continue to navigate through an uncertain business environment this year. I could not be prouder of our industry, which has stepped up and retooled to produce critical personal protective equipment (PPE) for frontline workers battling the COVID-19 pandemic. With the support of our newly elected officers, NCTO will continue to work on behalf of its members to shape policies that will help our industry persevere and thrive. Through a dedicated association staff and a committed group of industry leaders, we will ensure that together we continue to have a seat at the table in Washington."
Textile World recently had the opportunity to talk to Roberts about the state of the U.S. textile industry, the pandemic and the role NCTO plays in the industry's current business environment and response to future challenges.
TW: Congratulations on the NCTO chairmanship. Taking the helm certainly is a different experience for you compared to past chairmen. As chairman, how do you plan to support NCTO, its mission and President and CEO Kim Glas.
Roberts: First of all, it is an honor to be elected as NCTO chairman by my peers. I have spent my entire career in textiles and this is a small way to give back to an industry that has done so much for me.
I would be remiss if I did not thank Leib Oehmig who has done an outstanding job of serving as NCTO's chairman for more than 14 months. Leib willingly served an extra two-and-a-half months beyond his term limit as a result of the postponement in late March of NCTO's annual meeting and Board elections stemming from the COVID-19 pandemic.
This is a critical juncture for our industry as we seek to shape policies that will allow the textile industry to navigate the current health and economic crisis brought on by the spread of the coronavirus. As such, one of my first priorities will be to work with NCTO President and CEO Kim Glas and staff to secure a long-term strategy to expand and maintain domestic production of personal protective equipment (PPE). Many in our industry are on the forefront of PPE; it's paramount that we make these life-saving products domestically long after the pandemic is over.
We will place an emphasis on advocacy and continue to pursue policies that will position the industry for growth and potentially the expansion of domestic and Western Hemisphere supply chains.
It's my turn to pitch in and do my part to help meet the many challenges that face our sector in Washington.
TW: How do you see the role of NCTO, and what does the organization mean to the U.S. textile industry, especially this year with the increased demand for medical textiles?
Roberts: Obviously, we need to acknowledge that the coronavirus will continue to pose a unique set of challenges in the coming months. First and foremost, this is a humanitarian crisis and it needs to be solved for that reason as soon as feasible.
Secondly, like every other sector of the economy, the virus is impacting textile supply chains and demand for orders. NCTO will be working with the White House and Congress on common sense initiatives needed to ease burdens on manufacturers and employers and to establish long-term domestic PPE supply chains. In that light, we certainly urge our elected officials to work in in a bipartisan fashion to address the unique problems confronting manufacturers and society as a whole as a result of this very serious situation.
Beyond the challenges posed by the coronavirus, NCTO will remain diligent in its advocacy role. That has always been the key value aspect for our broad-based membership. Consequently, it is critical to ensure that we have a substantial voice in shaping issues that directly impact our industry.
Sometimes our engagement involves proactive support. That was certainly the case with the U.S.-Mexico-Canada Agreement (USMCA). Other instances, like a proposed expansion of the Generalized System of Preferences (GSP), require full opposition. Regardless, all our advocacy activities require the need to nurture relationships with the administration and key congressional offices. Maintaining these important relationships is a lot of work in and of itself.
Further, we need to continue to communicate an accurate picture of the industry's PPE efforts and its important contribution to the U.S. economy to policymakers and the press. In order to secure good policy determinations, the people who make those decisions must be fully aware of the enormous contribution our modern industry provides to the national economy and to so many local communities where textile facilities are located.
TW: As the leader of an innovative textile business, how do you see the current state of the industry, including current and/or future challenges and opportunities?
Roberts: We as an industry regained a strong position in the global textile marketplace in 2019, becoming the second largest exporter of textile-related product in the world, and continued the trend of making billions of dollars of investment that have flowed into the domestic textile sector each year.
The COVID-19 pandemic has hit the industry hard this year, as is the case for most manufacturing sectors in the United States. Some of our member companies lost a significant percentage of orders and furloughed workers, even as they ramped up overnight to pivot to the production of PPE.
With the economy slowly reopening, we expect the industry to regain some of the business it lost and find new opportunities with PPE production that did not previously exist.
With the dedicated work of the NCTO staff and a committed group of industry leaders, we will diligently work to realize policy goals aimed at sustaining growth and innovation and incentivizing domestic production.
TW: As the U.S. faced shortages of PPE, and the realities of America's reliance on imports of vital medical supplies came to light in mainstream America, what do you see as an answer to prevent such shortages in the future, and could it take the form of a Berry-like amendment?
Roberts: Working with industry leaders, NCTO has played a critical role in bringing together the entire domestic PPE supply chain while also closely coordinating with White House advisers and various government agencies to get vital PPE product to frontline workers battling the COVID-19 pandemic.
Kim Glas contributed to a broader strategy of connecting textile producers with hospitals, medical facilities and healthcare organizations, all of which were urgently seeking critical PPE supplies, while tirelessly working with NCTO member companies to navigate the complicated government procurement application process.
To that end, we will work to educate Congress and the administration on what policy proposals are needed to onshore PPE. Supply chains that were created in the midst of a crisis do not evaporate as soon as the crisis is over. Getting the right policies in place will take our collective membership.
We will work to expand Berry requirements to PPE procurement by all federal agencies and push for policies that incentivize domestic production and onshoring.
In addition, our sector is not immune to the impacts across manufacturing as a result of the economic downturn. We will continue to be fighting hard in Stimulus 4 and beyond for relief to help our industry recover.
TW: Prior to the COVID-19 crisis, the focus of industry leadership seemed to be on improving trade agreements, as well as advocating for China 301 tariffs on imported finished apparel to counter decades of trade theft violations by China. Where do you see these issues moving forward and what other policy issues are priorities this year?
Roberts: We will continue to monitor the administration's actions regarding the China 301 tariffs this year and advocate for maintaining tariffs on finished apparel in any additional phases negotiated as part of the China agreement, while also seeking exclusions for certain textile inputs that are not made domestically.
In addition, we will continue to oppose any attempts to advance the GSP expansion proposal, which would give duty-free treatment to textile and apparel exports from countries like Cambodia, Indonesia and Pakistan. These concessions would not be reciprocal, so we as the U.S. industry get nothing in return. Further, the Asian suppliers that qualify under the GSP program almost always use Chinese fibers, yarns and fabrics as inputs. As a result, at a time when we are trying to reign in China's immense impact in our market, they will get a backdoor benefit through this ill-conceived proposal. I am proud of the work NCTO has been doing and know our Hemispheric trade partners and their industries have been very engaged and opposed to any expansion.
Beyond GSP, we will push for renewal of the Caribbean Basin Trade Partnership Act, which will continue to strengthen the Western Hemisphere textile production chain. We also will support a balanced Miscellaneous Tariff Bill (MTB) to help reduce costs on inputs that are not available in the U.S but we continue to oppose tariff relief on finished products. Regrettably, more than 75 percent of the textile, apparel, footwear and travel goods petitions submitted in the MTB process this year were for end items.
It is also possible the Trump administration will begin new trade negotiations with the United Kingdom and Japan that will require NCTO's engagement.
These are just a few of the policy items that will occupy NCTO over the next several months.
TW: The concept of reshoring, particularly as it relates to refocusing apparel sourcing from Asia to the Americas, continues to be a significant topic in the industry. Do you think reshoring is a reality, and have these trends accelerated or slowed?
Roberts: We have a rare opportunity and opening to work with members of Congress and the administration to craft a long-term onshoring solution, particularly as it relates to PPE production.
There is bipartisan interest on Capitol Hill to reduce our country's overreliance on the foreign production of PPE and eliminate China's dominance in the space. We think the time is ripe to act now to put incentives in place to onshore production and ensure we never face the severe shortages our nation experienced at the outbreak of the pandemic. That will require establishing a more permanent domestic PPE supply chain that provides business certainty for our members.
TW: For textile industry leaders who step forward to serve in various NCTO elected positions, there is a tremendous commitment of time and brain power to these duties involved. How do you balance those new demands with your responsibilities at Cap Yarns?
Roberts: I see the NCTO chairman's role as primarily functioning as a facilitator and a spokesperson. The organization is now a very mature one [16 years old] and has a very efficient committee and council structure. Our staff, led by Kim Glas, is incredible and have shown their ability to execute under extreme pressure during the past six months. NCTO is blessed with a vast network of incredible industry leaders who are totally committed to the sustainability and growth of our domestic textile industry. Working together, we will get through this crisis and emerge as an even more viable and relevant participant in the global textile and apparel supply chain.
TW: Going forward, what is the vision for your term as chairman, and what do you see for the future of U.S. textiles?
Roberts: COVID-19 has demonstrated NCTO as a critical leader on issues, and as the chairman, I want to see the organization continue to grow our membership and relevance on Capitol Hill.
This challenge creates an enormous opportunity for us to help strengthen the organization long-term and I am really pleased to see this organization at the forefront.
Further, we owe it to our workers and the communities that are dependent on our production facilities to be fully engaged in Washington. We simply must do everything in our power to construct government policies that make it feasible to produce textiles in this country. NCTO is the vehicle by which we, as an industry, undertake this critical activity. Anyone that has an interest in the success of the U.S. textile industry simply should be a fully committed and active member of NCTO.
Our work is being noted by the highest level of the administration and on national news. Now is not the time for the industry to be on the sidelines; we must be engaged in Washington. There is simply too much at stake.
July/August 2020