Germany-based Trevira GmbH reports it received the Systematic Safety seal of approval from the Germany Social Accident Insurance Institution for the Raw Materials and Chemical Industry confirming that the company meets the requirements for systematic and effective occupational health and safety management. The seal also certifies that Trevira meets the industry standard ISO 45001:2018.
Miller Weldmaster, Navarre, Ohio, recently launched Fabric Bond Tape and Fabric Bond FR Tape. The new products replace its SS71 and uniseam tape, and are available through Trivantage®, the sole distributor of the tapes.
Eastman Naia™ will launch a sustainable fabric collection at Première Vision in Paris.
Chicago-based Wilson Sporting Goods Co. has introduced the Triniti™ tennis ball designed with sustainability at its core. Both the core and felt cover of the high-performance ball were redesigned to increase the life span of the ball. Its packaging also is made using recyclable cardboard and is fully recyclable.
Arlee Home Fashions Inc., West Plains, Mo., has signed a licensing deal with Lenox Corp. to design and market new table linen, kitchen textiles and bath collections under the Lenox brand name. The items will be available in early 2020.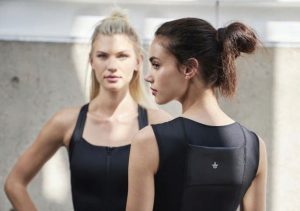 The first reported CBD-infused textile products to hit the market — Acabada ProActiveWear's new clothing collection — features Belgium-based Devan Chemicals NV's R-Vital® cannabidiol (CBD) fabric treatment.
Germany-based Covestro reports its Platilon® thermoplastic polyurethane films were certified to Standard 100 by OEKO-TEX® for Product Class I, which applies to articles used
in direct skin contact for infants and young children up to three years of age.
Registration is now open for the THREADX 2020 conference, organized by the Fairfax, Va.-based Specialty Graphic Imaging Association and to be held February 23-25, 2020, in Scottsdale, Ariz.
Chino, Calif.-based EnerWear® has issued limited edition "Lunar Lander" socks to mark the 50th anniversary of the first moon landing. The socks feature Outlast® phase-change technology, which was originally designed for NASA to protect astronauts from temperature fluctuations in space.
For the ninth consecutive year, Dalton, Ga.-based Shaw Industries Group Inc. was recognized with a Learning! 100 Award by Elearning! Magazine for the company's comprehensive approach to education and training.
Rock Hill, S.C.-based SDL Atlas has signed an agreement with Schap Specialty Machine Inc., Spring Lake, Mich., for exclusive distribution of Schap's testing and evaluation instruments outside of the United States.
Atlanta-based Exposition Development Co. Inc. (ExpoDevCo) and Progressive Business Media, Greensboro, N.C., developers of the Home Furnishings Manufacturing Solutions Expo (HFMSE), have announced the show will change names to the Furniture Manufacturing Expo to more clearly reflect the show's purpose.
Elevate Textiles, Charlotte, N.C., has expanded its participation in the ZDHC Roadmap to Zero Programme to include all of its brands — American & Efird, Burlington, Cone Denim, Gütermann and Safety Components.
Barco® Uniforms, a Los Angeles-based medical scrubs company, is celebrating its 90th anniversary.
Pittsburgh-based Dick's Sporting Goods recently launched the DSG brand for athletic gear and apparel. The products will be sold exclusively at Dick's and on dicks.com.
Minneapolis-based Target Corp. is celebrating the 20th anniversary of its first designer partnership by opening up its archives and reintroducing a limited-edition collection featuring 20 past designer partnerships.
Australia-based Colormaker Industries, the manufacturer of Permaset inks, reports it has converted its facility to 100-percent renewable electricity.
Sunnyvale, Calif.-based Prism Inks Inc. is celebrating its 20th anniversary.
Space application has opened for ITMA Asia + CITME 2020, to be held October 15-19. Exhibitors can fill out the application online at itmaasia.com.
September/October 2019