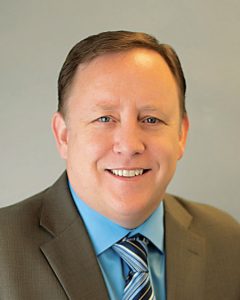 Interview With AATCC Executive Vice President Brian François
TW Special Report
Earlier this year, the Board of Directors of the Research Triangle Park, N.C.-based American Association of Textile Chemists and Colorists (AATCC) approved the hiring of Brian C. François as the new AATCC executive vice president. François succeeded long-time leader Jack Daniels upon his retirement in March 2018.
François has an extensive background in textiles. He joined Pulcra Chemicals Group — formerly Cognis Corp. and Henkel Textile Technology — as senior sales representative in 1992, and held a variety of both national and international positions with the company, most recently as CEO.
"His knowledge of the consumer apparel end-use market, global textile industry, and experience in expanding businesses into new geographical areas will be a great benefit to AATCC," reported the organization when it announced François' appointment. "François has been an active member of AATCC for more than 25 years and served for several years as chair of the Committee on Conferences, and as chair of the Olney Awards Committee. He was a voting member of the Wet Processing Machinery Committee and currently is a non-voting member of the Preparation Test Methods Committee. He also served on the Awards Oversight Committee."
Recently, Textile World had the opportunity to catch up with François and hear his views on his new position, the opportunities and challenges facing the AATCC as well as the textile industry at large.
Textile World: Congratulations on your new opportunity with AATCC. What are your initial impressions of your new role?
François: The transition to AATCC has gone quite well. AATCC has a highly experienced staff and an energetic and engaged volunteer base. They have all been welcoming and encouraging during the transition. Jack Daniels and the board did a great job in guiding AATCC and leaving the association in a strong financial position. This has allowed me the time and freedom to spend time learning more about AATCC's role in our industry.
TW: The AATCC has a rich history in the textile industry. What are the stand-out opportunities for the future of the AATCC?
François: I believe that AATCC is a unique association in an industry with many different associations. The membership of AATCC is very broad and includes students, researchers, product and fabric designers, colorists, dye and chemicals suppliers, manufacturers, quality control as well as merchandisers and retailers. One of our biggest opportunities is educating the textile supply chain about all that AATCC has to offer its members.
TW: Many in the industry equate the image of the AATCC with quality and quality control, is that an accurate perception?
François: There is no doubt that AATCC has a strength in quality control. Our test methods are used around the world for helping the industry speak a common language when it comes to standards. What is unique about the test methods from AATCC is that all our members have the opportunity to participate in the process of developing and refining current and future test methods. It was just recently that I fully understood how unique that is. Our members are passionate and dedicated to developing our methods. I would like to see more of our industry get involved in the process. The more participation we have from all parts of the industry, the more robust our test methods will be.
TW : AATCC test methods and standards are important on a global scale. What is on the horizon in this area that will impact the industry?
François: With the ever-changing political climate we face today, it is hard to say what will be the next "big" area. The two areas where the most activity is happening for new test methods are in microplastic shedding detection and electronically-integrated textiles — sometimes known as wearables. With all that is happening in these two areas and the speed of change in these areas, it will be critical to develop standard test methods to set baselines and allow for comparisons as new technologies come along.
TW: Many AATCC members were introduced to the association while students at various textile schools. What is the current status of the student chapters?
François: One of the areas of strength for AATCC is the work our team is doing with students. We currently have more than 25 active student chapters. This represents more than 400 students, with more universities expressing interest. AATCC conducts several student competitions — including two design competitions, a merchandising competition, and a student paper and presentation competition — and with the AATCC Foundation having just awarded more than 15 scholarships and graduate fellowships, we want to continue to engage more and more students.
TW: What are the benefits of individual and corporate membership?
François: As an individual member of AATCC, you have the right to participate in all AATCC activities. A member can participate in various committees and can be a voting member of up to three test method committees, but can participate in as many as they want. With the annual membership comes a subscription to the award-winning AATCC magazine, the online peer-reviewed journal, the bimonthly e-newsletter, access to the EBSCO Textile Complete database and AATCC article archive, and discounted rates for other publications as well as discounts to conferences and other educational programs. Additionally, they can access some books and monographs that AATCC has made available as free downloads to members. Members also can schedule time to use the AATCC laboratories, and we have conference rooms and a Member's Office at our Technical Center that are available for members to use if they need them.
One of the newest benefits to members is access to more than 100 years of American Dyestuff Reporter. It is amazing the amount of information available in those issues. Those are the tangible benefits. The most valuable benefit is the access to such a large and knowledgeable cross section of experienced industry professionals when we gather for committee meetings or our annual technical conference.
The benefits of a corporate membership depend on the level of membership. Each corporate membership comes with the right of a company to name individual members — from 2 to 10. The corporation controls these memberships and unlike an individual membership they can be transferred in case there is a role change within a company. Each corporate member also receives a copy of the AATCC Technical Manual. Corporate members are also able to send any member of their company to AATCC conferences and educational programs at member rates. Corporate members get unlimited listings at AATCC's Textile Jobsite, and the opportunity to have AATCC host a white paper that the company would like to share with others in the industry.
And of course, we welcome corporate members — and all members — to write articles for our e-newsletter and posts in the AATCC Blog! In addition, corporate members receive discounted advertising rates for the AATCC website and magazine. The AATCC Foundation also has a specific scholarship for the children of corporate member employees — this isn't limited to the designated individual members; it is available to children of any employee of a corporate member.
As a former executive of a member company, there are two benefits that I believe a corporation receives that are not listed in our benefits. The first is that employees of a company feel empowered to participate and benefit from all that AATCC has to offer when they perceive that they are being supported by the management of a company. I believe that corporate membership is a sign to them that they are being supported. It was one of the reasons I supported our membership in AATCC as well as other industry associations. The second benefit is that participation in industry association improves the ability of employees to solve problems. The connections they make across the industry gives them relationships with contacts they may not have known and allows then to ask more questions and learn from experts to whom they are exposed through the activities of the association. As a company executive those two benefits are difficult to measure, but are invaluable to a company.
TW: What are the largest challenges facing the AATCC going forward, and how will the association respond?
François: Like many associations and companies, I believe the biggest challenge facing AATCC is engaging the next generation of leaders and helping to pass along the knowledge from the senior members of our association. At AATCC, our staff and members have been actively working to engage the next generation of our industry and we will continue to try to find new ways of making this happen.
TW: What emphasis do you maintain on the AATCC scholarships and endowment?
François: Our leadership worked to set up our charitable Foundation more than 20 years ago. It was done in some ways with a low-key effort to grow. With the generous nature of some of our past presidents and officers, as well as a few other charitable foundations, we now have a great base on which to grow our scholarships. We have several fully endowed scholarships and we are currently working on a campaign to increase the number of endowed scholarships. We just completed the scholarships and fellowships for 2018-19 school year. It was the largest level of scholarships we have ever granted.
I believe the number is 15 or 16 with a total value of more than $75,000.
With the 100th anniversary of our association fast approaching (2021), we would like to see the endowed annual scholarship grow to more than $100,000 each year. This will require that we raise an additional $500,000 over the next three years. We will be promoting this opportunity to our members in the coming months.
TW: Going forward, what is your vision for the AATCC and how will that impact individual and corporate members?
François: As I mentioned, I believe that AATCC is in a unique place in the industry. We are able to connect almost the entire supply chain. I would like to increase our exposure to the executives in our industry, so they can better understand what AATCC can do to help their individual organizations. Our test methods are the core of what we do as an association and those test methods allow us the opportunity to be a connecting point for our industry. We need to continue to use our unique position to offer more educational and networking opportunities for our members.
TW: Do you have any closing thoughts to share with readers?
François: Being new to this role, I am doing all that I can to observe and learn. I welcome any questions and feedback from our members and anyone else in our industry. If there are ideas that anyone has as to how AATCC can better serve the textile industry, I would love to hear from them.
September/October 2018