DALTON, Ga. — August 14, 2018 — Shaw Industries Group Inc., recently hosted The American Society of Mechanical Engineers (ASME) to celebrate the designation of a mechanical engineering and flooring industry landmark on the leading flooring solutions provider's corporate campus.
The original Moench tufting apparatus, located in a gallery of significant industry artifacts at Shaw's Dalton, Ga., headquarters, was designated as a historic mechanical engineering landmark due to the mechanization and speed it brought to the early fabric tufting process; it is credited with spurring the growth of carpet manufacturing in Georgia. The device joins 265 others across the world that ASME recognizes as having social, economic and technological significance.
"The Moench tufting apparatus played a role in the growth of the textile industry in Georgia," stated Said Jahanmir, president of ASME. "The device is a significant piece of the industrial heritage of America's South and worthy to receive landmark status."
Introduced in 1928 by Ernest J. Moench, the machine features a durable needle that punched loops of thick fabric through a web of backing material to create carpet. The tufting device used a drive shaft and other moving parts in conjunction with the puncturing needle to apply tufts to a heavy backing, and a blade sheared loops. According to ASME, descendants of the Moench tufting device today produce more than 75 percent of U.S.-manufactured carpet.
"Innovation is at the core of Shaw Industries, and we are proud to display Moench's tufting system due to the enormous impact it has had on the flooring industry," said Jay Henry, Shaw Industries' director of innovation and operations support. "We thank ASME for their help in recognizing Mr. Moench and Shaw with this prestigious designation."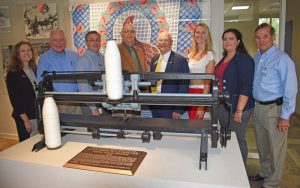 Posted August 14, 2018
Source: Shaw Industries