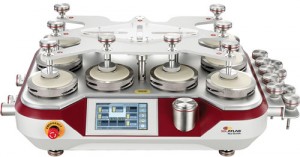 Rock Hill, S.C.-based SDL Atlas has released the next-generation Martindale Abrasion and Pilling Tester, which features a new design as well as several improvements.
East Walpole, Mass.-based Hollingsworth & Vose has launched a German-language version of its website located at hollingsworth-vose.com.
Minnetonka, Minn.-based AmeriPride Services has redesigned its website located at ameripride.com. According to the company, the new mobile-friendly site has a modern look and streamlined navigation.
According to the Cleveland-based Freedonia Group, demand in the United States for disposable medical supplies is expected to rise 4.2-percent each year and will exceed $54 billion by 2020.
Lubbock, Texas-based Textile Exchange has released the second set of 13 new documents within the full suite of Material Snapshots, which was produced in 2015 with financial support from VF Corp. and in collaboration with Brown and Wilmanns Environmental LLC.
Zara has unveiled a 47,361-square-foot flagship store in the heart of New York City's SoHo neighborhood.
West Conshohocken, Pa.-based ASTM International soon will publish D7984, Test Method for Measurement of Thermal Effusivity of Fabrics Using a Modified Transient Plane Source Instrument. ASTM reports the new test method will help garment makers test the thermal properties of clothing.
Switzerland-based Clariant has released the Automotive Edition of its ColorForward 2017 color/trend analysis tool designed for automotive designers and marketers.
Alexandria, Va.-based TRSA has partnered with Universal Unilink to jointly promote services to improve the safety and performance of their member companies.
March/April 2016