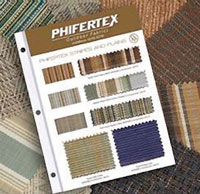 Phifer Inc., Tuscaloosa, Ala., has unveiled its 2015-16 Stock Line Additions Cards. The swatch cards highlight new designs and updated colors for its Phifertex® sling and GeoBella® lines.
Carmel, Ind.-based Top Value Fabrics has introduced eight new fabrics for printed banners, flag, exhibit graphics, backdrops and retail displays. The fabrics are available in widths up to 126-inches-wide and are designed for color consistency and image sharpness.
Safety Components, Greenville, S.C., has introduced an 80-inch-wide WeatherMAX high-performance fabric.
Cleveland-based National Safety Apparel has introduced HYDROlite FR™ Rainwear featuring Gore® Pyrad fabric.
Hong Kong-based Intertek has introduced Chemical Smart Screening, a service designed to detect the presence of restricted substances in chemicals and auxiliaries used in the textile, apparel and footwear manufacturing process.
Brussels-based CIRFS: European Man-made Fibres Association has published the 51st edition of its, "Information on Man-made Fibres" report.
Research Triangle Park, N.C.-based AATCC — the Association of Textile, Apparel and Materials Professionals — has announced its 2016 Metamorphosis Concept 2 Consumer® Student Design and Student Merchandising Competitions. Entries will be accepted until April 8, 2016, and winners will be announced May 24, 2016, for the design competition; and entries are due April 20, 2016, for the merchandising competition with winners announced by May 31.
Trion, Ga.-based Mount Vernon FR has developed a line of flame resistant clothing with Peoria, Ill.-based Caterpillar Inc.'s CAT® Apparel as well as Fort Worth, Texas-based Westmoor Manufacturing Co.'s Rock and Roll Cowboy brand.
January/February 2016