In any technological industry where innovation carries real weight, companies have to be careful not to get bogged down in clichés and buzzwords at the expense of real achievements. TenCate Protective Fabrics of North America puts achievement first. It would be all too easy to talk about thinking outside the box or exploring a new paradigm shift, but real innovation isn't borne out of a need to enhance or embellish a corporate image, it's borne out of the needs of the market. The technical textiles market brooks little embellishment and looks down on unkept promises about performance and protection.
"When someone's safety is at stake, there's no room for smoke and mirrors or snake oil. Results speak louder than promises and sales pitches," said Mike Allen, senior director of marketing. "Protecting people is what TenCate Protective Fabrics does, and the company has the experience to do it right."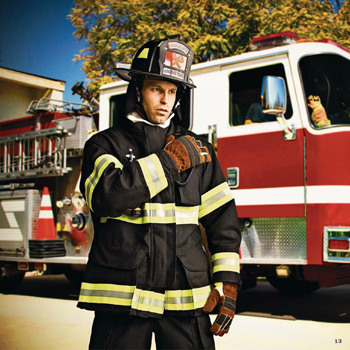 Seventy percent of all firefighters in the United States wear turnout gear made with TenCate's inherently flame-resistant outer-shell fabrics.
Southern Mills Heritage
Originally founded in 1925 as Southern Mills, based in Union City, Ga., the company was privately owned. Southern Mills had worked closely with Ten Cate Protect, the industrial fabric business of Royal Ten Cate NV, on several joint projects through the years, until it was decided that Royal Ten Cate would acquire Southern Mills. The sale was completed in 2004, and Southern Mills became TenCate Protective Fabrics of North America.
As a division of Royal Ten Cate, which is headquartered in Almelo, the Netherlands, TenCate Protective Fabrics can tap a well of textile technological knowledge that remains virtually unmatched in a worldwide market. TenCate Protective Fabrics holds more than two dozen patents and has a long history of cutting-edge achievement. The company maintains four manufacturing facilities, all within an hour of the corporate office in Union City.
TenCate Protective Fabrics has a history that reaches back 90 years in textile manufacturing. From its founding in 1925, the company began to make new advances and establish a foothold in the textile market. Starting with fabric for automotive seat covers, TenCate then provided fabrics for the dry-cleaning industry for use in ironing pad covers and presses. By using heat-resistant fabrics for these applications, the company began moving toward the more technically advanced flame-resistant (FR) fabrics that were yet to come.
"For 45 years, TenCate Protective Fabrics has been in the business of engineering, testing and manufacturing FR fabrics for firefighters, industrial workers, military personnel and other first responders," said Daniel Hauert, president, TenCate Protective Fabrics. "Over those years, the company has gained the knowledge and honed the skills required to become the world's leading supplier of inherently FR fabrics."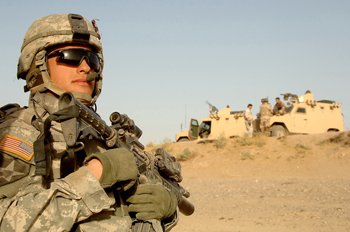 TenCate Defender® M fabrics have provided the U.S. military with a viable FR solution to protect combat troops from serious burn injuries in the field.
Markets Served
TenCate Protective Fabrics serves the emergency-response, industrial, and military markets. The Commercial division handles the emergency-response and industrial markets, while TenCate Defense and Tactical handles military sales.
Fire service FR fabrics are the backbone of commercial sales for TenCate. In the industrial market, new fabrics like TenCate Tecasafe® Plus have made huge headway in challenging the stagnation and complacency of an industry that still relies on old textile technology for protection. For the military market, TenCate Defender® M has provided a unique solution combining FR protection with comfort.
A First In Turnout Gear
Today, 70 percent of all firefighters in the United States wear turnout gear made with TenCate outer-shell fabrics. The company works hard to make sure that firefighters are well-protected in the harsh conditions they must face.
It was in 1969 that TenCate became the first company to make protective aramid fabrics for the fire service, and the focus on FR began in earnest. The next year, the company became the first manufacturer to supply outer-shell FR fabric, to a fire department in Cleveland. After great success with outer shells for the fire service, TenCate began to quilt and sell spunlaced aramid thermal barriers for use in firefighter turnout gear. In 1982, it began supplying flame-resistant, protective fabric for U.S. Forest Service garments to be used by wildland firefighters.
TenCate continued to develop new and exciting fabrics for turnout gear, including such well-known and trusted fabrics as Kombat™, comprising a blend of DuPont™ Kevlar® and PBI®; and Advance™, a blend of Kevlar and DuPont Nomex®. More traditional fiber blends gave way to newer and more inventive combinations that set the bar a bit higher with each new product. Names like TenCate Ultra™ blend with Kevlar, Gemini™ XT with PBI and Kevlar, and Millenia™ XT Kevlar and polybenzobisoxazole (PBO) became synonymous with protection.
TenCate has always had a firm hold in the fire service market, but other avenues of exploration have been open as well. Taking advantage of a state-of-the-art laboratory and testing facility, the company has made a habit of innovation. By continually seeking out new and better fiber blends that would satisfy the needs of the market, fabrics have been developed that could be very highly specialized for specific end-uses.
Flash Protection
The industrial market demanded FR fabrics that were lighter and cooler but would still provide protection. TenCate responded with the development of Tecasafe Plus, a truly smart and innovative textile that provided FR protection from flash fire and arc flash hazards. By using natural fibers from a completely sustainable source and creating a unique blend, Tecasafe Plus became a one-of-a-kind FR solution that gave linemen, oil and gas workers, and electrical technicians the protection they needed and the comfort they demanded.
"Tecasafe Plus was a giant leap forward in the design and manufacture of inherently FR textiles, said Charles Dunn, Ph.D., senior director of product innovation. "By opening the door to new ideas and fresh approaches, TenCate showed the market that there is more than one way to skin a cat."
DefendingTroops With Defender® M
For the military market, expansion is survival. Fabric developments that result from input straight from the end-users ensure that the products TenCate makes will answer definite needs in the marketplace. When U.S. forces in Iraq and Afghanistan began encountering improvised explosive devices, the Department of Defense realized there was a problem. The U.S. armed forces had no experience in dealing with serious burn injuries in the field and needed a viable FR solution. TenCate Defender M, a blend comprising predominantly Lenzing FR® cellulosic fiber reinforced with para-aramid and nylon, has been shown to reduce second- and third-degree burns by 30 to 45 percent when compared with FR fabrics containing modacrylic or cotton/nylon blends.
"Most importantly, the Defender M FR ACU is saving soldiers' lives," said Lt. Col. John Lemondes, U.S. Army Product Manager, Clothing and Individual Equipment. "I am proud to consider TenCate a partner in our efforts to provide soldiers with the best clothing and individual equipment possible."
Gains In Comfort
Tecasafe Plus, Defender M and other TenCate FR fabrics now offer Coolderm™ Technology. "Fabrics with TenCate Coolderm™ Technology contain the right balance of hydrophilic and hydrophobic fibers, making moisture management easier on the wearer and keeping them cooler and drier," said TenCate Performance Fabrics Group Director Don Olsen. "It has become a cross-market innovation that is used in all three segments: fire service; industrial; and military.
"TenCate will continue to focus on producing technical textiles that make protection and comfort inseparable," Olsen added. "The goal is to create a concept in the market that TenCate is synonymous with all these key attributes in FR fabrics."
September/October 2014