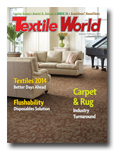 January/February 2014:

The Snapshot Collection from Philadelphia Queen Commercial by Shaw provides a sustainable flooring option for high- performance environments.

Photo courtesy of Shaw Floors
-view now-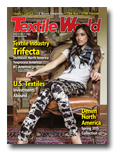 March/April 2014:

Denim North America's premium fabrics include the TENCEL®/cotton/LYCRA® blend featured in the jeans shown here.

Photographed by Sammie Saxon
-view now-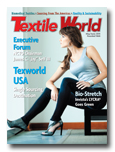 May/June 2014:

Invista's LYCRA® spandex fiber, used in a very wide range of apparel, now is available in a version that is 70-percent derived from corn dextrose.

Photograph courtesy of Invista S.a.r.l.
-view now-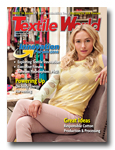 July/August 2014:

Actress/model/activist Hayden Panettiere models a sweater from French fashion brand Carven and jeans from Los Angeles-based Current/Elliott.

Photograph courtesy of Cotton Incorporated
-view now-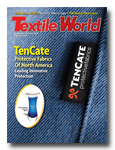 September/October 2014:

TenCate Protective Fabrics of North America, recipient of the 2014 Textile World Innovation Award, creates cutting-edge fabrics that protect people doing dangerous jobs on the front line.
-view now-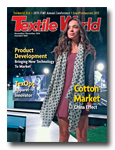 November/December 2014:

Some 4,000 cotton garments, such as this Anthropologie dress, featured in Cotton Incorporated's recent Guinness World Record-setting 24-Hour Runway Show.

Photograph courtesy of Cotton Incorporated
-view now-