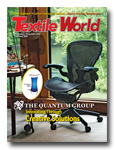 November/December 2015:

The Herman Miller Aeron® chair — conceived and manufactured by Herman Miller, designed by Don Chadwick and Bill Stumpf, and featuring The Quantum Group's suspension fabric — was a breakthrough in ergonomic design. Photograph courtesy of Herman Miller
-view now-
September/October 2015:

ITMA 2015 will take place at Fiera Milano Rho —designed by Massimiliano Fuksas, it is one of the largest fairgrounds in the world spanning 345,000 square meters of covered gross exhibition space.
Photograph courtesy of shutterstock
-view now-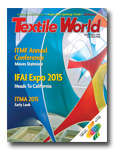 July/August 2015:

Designed by Cynthia Thompson, the "Penobscot Power" tension fabric art is installed in the entry atrium of the Brewer Community School, Brewer, Maine.
Photograph courtesy of Transformit.
-view now-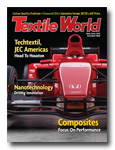 May/June 2015:

Denver, N.C.-based Crawford Composites LLC collaborated with Formula Lites, Cohasset, Mass., to design the FL15 open-wheel race vehicle, which features composites in the bodywork and chassis.
Photograph by Boyd Jaynes, courtesy of Formula Lites.
-view now-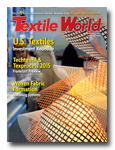 March/April 2015:

Germany-based Vitrulan Technical Textiles GmbH, a producer of technical textile meshes and other specialty technical textiles, will exhibit at the upcoming Techtextil show in the Buildtech application area.
Photograph courtesy of Messe Frankfurt Exhibition GmbH/Jean-Luc Valentin.
-view now-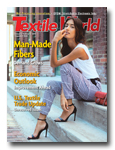 January/February 2015:

Fashion fabrics used by New York City-based Twenty Tees feature yarns produced by Buhler Quality Yarns Corp., Jefferson, Ga.

Photographed by Ciji Morota
-view now-