A
coalition of trade associations representing cotton, man-made fiber, yarn and fabric
manufacturers and the New York City-based labor union UNITE HERE has outlined its Unity 2005
international trade agenda. Industry officials see this agenda as a blueprint for survival in a
world of textile trade that has changed dramatically with the end of the import quota system.
Citing the loss of 447,400 textile and apparel jobs and numerous plant closings in the last five
years, coalition members decried what they say is a "relentless outsourcing of US jobs and US
wealth." The textile manufacturers and labor leaders said the US government should take "vigorous
and immediate actions" to strengthen domestic manufacturing, preserve jobs and reduce the $600
billion US trade deficit.
To achieve these goals, the coalition has endorsed a six-point platform asking US elected
officials to: commit to the reimposition of import quotas on Chinese textiles using a safeguard
mechanism that permits quotas when market disruption or a threat of market disruption can be
demonstrated; support efforts to prevent global dominance of textile trade by countries that use
unfair trade practices; support expansion to other federal procurement agencies of a Defense
Department requirement to Buy American; oppose any free trade agreements that contain unnecessary
loopholes to requirements to use participating-country fiber, yarn, thread, fabric, and fabric
dyeing and finishing and printing; oppose any reduction of US textile and apparel tariffs or
weakening of US trade laws through the World Trade Organization (WTO); and support enforcement of
US trade laws to address illegal activities.

China Hit For Role In Record Trade Deficit

Textile trade officials in Washington are blaming rapidly growing textile and apparel imports —
particularly those from China — and slow-growing exports as major factors in the record US
international trade deficit in 2004 of $617 billion.
The textile and apparel trade deficit amounted to $73.1 billion, an increase of 8.7 percent
over 2003. China's textile trade deficit was a record $17.5 billion, up by $3.5 billion — a
25-percent increase.
In a development that is of concern to importers and textile manufacturers, imports from free
trade and trade preference regions like Canada, Mexico, the Caribbean Basin and Central America
fell sharply. Imports from those countries generally contain yarn and fabric made in the
participating countries, including the United States.
The American Manufacturing Trade Action Coalition (AMTAC), Washington, which represents a
range of US industries, called for a moratorium on new free trade agreements and urged the US
government to "aggressively use access to US markets" to force countries such as China to halt what
AMTAC calls "predatory practices" such as currency manipulation and other types of government
subsidies.

Retailers Mount Counterattack

The National Retail Federation (NRF), Washington, put international trade at the top of its 2005
agenda. The NRF cited its opposition to the textile industry's efforts to limit its overseas
sourcing by attempting to clamp down on Chinese imports and the industry's opposition to the
Central American Free Trade Agreement.
Predictably, the NRF puts an entirely different spin on how textile and apparel manufacturers
and their customers — the retailers — should deal with global trade issues. The NRF and the New
York City-based US Association of Importers of Textiles and Apparel believe it is a mistake to
become too dependent on Chinese trade, but they also want the flexibility to make sourcing
decisions on their own and not be encumbered with quotas, the threat of quotas or what they view as
"onerous" rules of origin in free trade agreements. The NRF's trade expert, Eric O. Autor, said
retailers have been "loath to put all their eggs in the Chinese basket," but unreasonable and
counterproductive rules of origin in free trade agreements have pushed them in that direction.
In testimony before the US-China Economic Security and Review Commission, Autor said textile
rules of origin have made it difficult for importers to do business with countries that could be
alternatives to China. He said retailers have been seeking trade with India, Pakistan, Honduras and
other countries rather than dealing with some of the uncertainties surrounding trade with China. He
said that while price is an important consideration with importers, more critical factors are
proximity to the retailer; quick turnarounds; and the ability of fiber, textile and apparel
manufacturers to deliver fully integrated packages. He noted some textile companies — including
Milliken & Company, Spartanburg; and Wilbur L. Ross's International Textile Group, Greensboro,
N.C. — have adjusted to the global trade environment, and other companies are currently developing
export opportunities.

Foreign Trade Groups Join In The Fray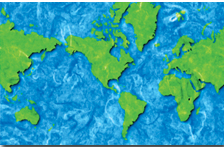 Contending
that global textile trade problems require a global solution, a group of trade associations from 54
countries comprising the Global Alliance for Fair Textile Trade (GAFTT) has joined with US industry
and labor in supporting many of the positions in the 2005 platform. Representatives of trade
associations in the United States, Mexico, the European Union, and a number of other developed and
developing countries held a summit meeting in Washington to address their concerns and recommend
solutions. They focused on the possibility that China and India could capture the bulk of
international trade in textiles now that virtually all import quotas have been abolished. They
urged the United States, Canada and the European Union to immediately implement the WTO China
safeguard mechanism to prevent China from monopolizing worldwide trade, and they called on the WTO
to undertake "an urgent review" of the impact of the quota elimination on what they say are "market
distorting practices."
GAFTT cited an analysis by the Washington-based National Council of Textile Organizations (NCTO)
that shows imports from China in product categories removed from quota control in 2002 had taken 73
percent of the US market by November 2004, compared with 10 percent before quotas were removed. The
next-biggest supplier is Thailand, with 3 percent of the market for those products. In terms of
overall textile and apparel imports, according to US Department of Commerce data, China accounts
for 24.8 percent of imports, and Canada and Mexico — which at one time were the leaders — now have
7 percent and 8.8 percent, respectively.

Trade Official Sees Completion Of Doha Round In 2006

A top US trade official believes the 148 nations in the WTO can complete the Doha round of trade
liberalization negotiations by the end of next year, but he sees anything but a smooth road ahead.
Following a series of meetings with both developed and developing country trade officials, Deputy
US Trade representative Peter F. Allgeier said he senses "widespread readiness among WTO members to
accept the challenge of completing the negotiations successfully next year." Allgeier added that
much needs to be done in terms of market access, eliminating or reducing tariffs and phasing out
subsidies to agriculture and industrial products. US textile manufacturers and importers are poles
apart with respect to tariff cuts, as the textile industry is hanging tough on its insistence that
other countries reduce their tariffs before the United States makes any further concessions.
With China very much on everyone's mind, Allgeier said the best way to deal with Chinese
trade issues is "within the system of rules and dispute settlement in a non-discriminatory way." He
said he would strongly object to withdrawing Normal Trade Relations status for China in the United
States, as has been suggested by some, saying that is not "the most productive way" to deal with
China trade. Allgeier strongly defended US anti-dumping and countervailing duty laws, which have
been criticized by many countries.
Summing up his comments, Allgeier said no nation can succeed these days without being "
effectively integrated" into the global economy.




March 2005