Germany-based nonwovens machinery supplier Trützschler Nonwovens, part of Trützschler Nonwovens
& Man-Made Fibers GmbH, has entered into an agreement with paper machine manufacturer Voith
Paper — a division of Germany-based Voith GmbH — to jointly develop and market complete production
lines for wetlaid and hydroentangled nonwovens.
Voith's main contribution is its HydroFormer™, which has been optimized for wetlaid nonwovens
production. The company also will offer technical support for stock and water systems, press
concepts, fabrics, and calenders.
Trützschler's hydroentangling AquaJet will be used to bond the web, and the company also will
contribute drying and winding machinery to the production line.
"We are certain that this partnership will enable us to offer convincing machine concepts,"
said Marc Wolpers, sales director, Trützschler Nonwovens & Man-Made Fibers. "By providing
common solutions we can meet the market requirements in a much better and faster way than we ever
could by acting independently."
"This cooperation allows us to offer our customers a complete line ranging from wet laying,
bonding, to drying and winding," said Klaus Afflerbach, Ph.D., responsible for special machines,
Voith Paper. "The combination of two wet processes in form of HydroFormer and AquaJet results in a
high-quality web that is of interest to manufacturers of cleaning cloths throughout the world."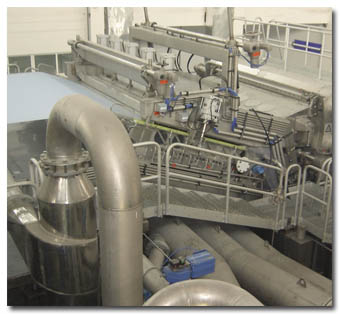 Voith's HydroFormer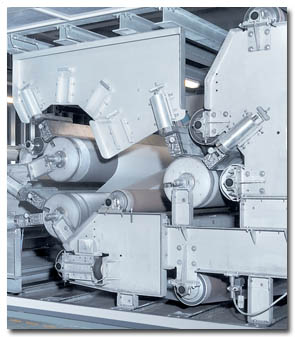 Trützschler Nonwovens' AquaJet

April 9, 2013