Qualitest USA — a Plantation, Fla.-based provider of testing equipment for a range of industries —
now offers the Q1000 Series Universal Testing Machine to test tensile, compression, flexural,
shear, peel, fatigue cycling and constant load on materials including textiles, composites,
elastomers, rigid plastics and films, paper, board, metals, alloys and finished products. Q1000 can
be used in both production and testing lab scenarios.
The 1,000-kiloNewton (kN) tester utilizes GraphWork5 test software to control and perform
test programming and results monitoring. The company reports the software manages data completely
and accurately according to North American, European and international test standards.
Q1000, manufactured in an ISO-9001 certified facility, features a flexible, modular design
that can easily be expanded. Other features include an electro-mechanical design, very high load
and stroke reading resolution, and synchronous belt transmission and high rigidity. The machine
meets or exceeds ASTM E4 and EN-ISO 7500/1 standards.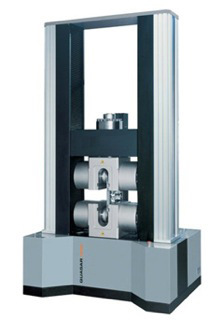 Qualitest Q1000 Universal Testing Machine
July 31, 2012