Roger Milliken, chairman of the Board of Directors of Spartanburg-based Milliken & Company,
died Thursday, Dec. 30, 2010, at the age of 95.
Milliken was born Oct. 24, 1915, in New York City. He was the grandson of Seth Milliken, who
with William Deering cofounded Deering Milliken, a woolen fabrics supplier, in Portland, Maine, in
1865; and son of Gerrish Milliken, who succeeded Seth Milliken in running the company. After
graduating from Yale University in 1937, Roger Milliken worked first for Mercantile Stores, in
which the family had an ownership interest, and in 1941 was given responsibility for three woolen
mills in Maine. He became president of Deering Milliken in 1947 upon the death of his father. In
1954, he moved his family and the company's headquarters to Spartanburg.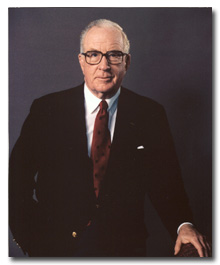 In 1983, Roger Milliken assumed the role of chairman and CEO of the company. He continued as
CEO until 2005 and remained chairman until his death. Under his leadership, a strong culture of
innovation helped the company thrive and expand to become the world's largest privately owned
textile and chemical manufacturer. The company, which was renamed Milliken & Company in 1978,
currently operates 50 manufacturing facilities in seven countries. The Milliken Research
Corporation, established in 1945 in Clemson, S.C., as the Deering Milliken Research Trust, moved to
Spartanburg in 1958 and currently holds more than 2,300 U.S. patents on its innovative textile and
chemical technologies.
Milliken was a champion of U.S. manufacturing excellence and its role as the basis of this
country's economic success. He considered the welfare of Milliken & Company's workers, whom he
called associates rather than employees, to be of prime importance. He also supported campaigns to
protect U.S. textile and apparel workers from the impact of increasing imports of manufactured
goods, and was a co-founder of the American Manufacturing Trade Action Coalition.
Milliken received much recognition for his leadership, not only in the textile industry, but
also in the community at large. In 1999,

Textile World
named him the textile industry's Leader of the Century, and in 2001 he was inducted into
the American Textile History Museum Hall of Fame as a member of the inaugural Class of 2001.
In the wider community, Milliken received several honors in recognition of his environmental
stewardship and love of trees, and Milliken & Company has been recognized numerous times for
its exemplary ethical and work environment. Early on, the company initiated recycling and waste-
and emissions-reduction and water-conservation programs. Trees and other landscaping at company
sites have enhanced not only their physical environment but also the quality of life for the
company's associates. Milliken also supported the beautification of community institutions and
public areas and established the Noble Tree Foundation in 1999 to support the planting of trees in
the community.
In addition, he supported local educational institutions including Wofford College and the
Spartanburg Day School. As a trustee at Wofford, he played a large role in efforts that culminated
in the school's campus being named a National Arboretum, and he donated funds as well as his own
time and talent to establish a science center on the campus. He also was instrumental in
establishing an admissions policy in the 1960s that made Wofford one of the first historically
white private colleges in the South to voluntarily admit black students.
As a local business leader, Milliken helped with efforts to draw new business to the
community and build the Greenville-Spartanburg International Airport.
Milliken was married in 1948 to Justine Van Rensselaer Hooper, who died in 2003. He is
survived by five children and nine grandchildren.
At a memorial service, held Monday, January 3, at the Episcopal Church of the Advent in
Spartanburg, Dr. Clay Turner delivered the homily, saying: "Our most Noble Tree has fallen. In the
forest, when a great tree falls, it causes tremors in soil around it. When this noble tree fell, it
literally caused tremors around the world – so great was Roger Milliken's sphere of influence."
January 4, 2011