C

ambridge, Ont.-based MW Canada is a company rich in history. Formerly known as Montreal
Woollens, MW Canada has been in the Berger family for three generations. Today, the company creates
high-quality textiles for the window-covering, home-decorative, and technical-materials industries.
It works with top brands to develop exclusive designs, colors and materials to meet ever-changing
consumer demands.
With the goal of bringing new and creative products to market, MW Canada offers specialty
materials such as roman-shade, roller-shade, pleated-shade, drapery, narrow tape, vertical-blind,
cubicle, blanket, and filter-media. Its products can be found at well-known retailers such as
Sears, Costco, Lowe's, Home Depot, JCPenney, and Blinds to Go. MW Canada meets the specialized
needs of customers by maximizing its in-house warping, weaving, knitting, dyeing and finishing,
pleating, printing, and laminating capabilities.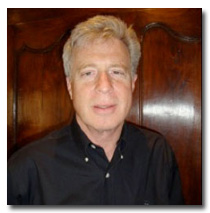 Bob Berger has been president and CEO of MW Canada for 15 years.
Robert Berger took over as MW Canada president and CEO 15 years ago. His father and
grandfather founded the company under the name Montreal Woollens in 1963. The company relocated
from its original home in Montréal, Quebec, to Cambridge in 1976. With a dedicated staff of 66
employees, MW Canada has been able to remain ahead of the competition through its continuous
research and development of new products and processes.
"We design and manufacture unique materials that are engineered to solve very specific
problems," Berger said. "Along with the aesthetics of our products, there are the features that we
build in. Be it light control, reflection control, breathability, or harnessing energy, the
value-added features are very important. We have to work two to three years ahead of the retail
market. We supply a growing number of major customers in North America and around the world.
"When we put our products in front of our clients, we want them to say that they have never
seen anything like it before," he added. "It's all about value. We do what China doesn't. China is
copying items that we developed two or three years ago. We just have to keep coming up with new
ideas and updating our processes."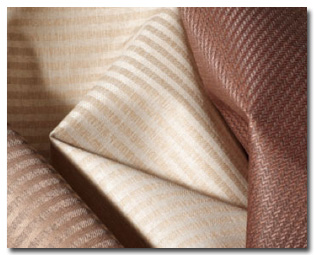 These MW Canada fabrics are woven using blended yarns and are ready for chemical
coating.

Producing Safe Fabrics


Oeko-Tex® Standard 100 certification of MW Canada fabrics ensures that they meet the highest
standards for use in homes and offices. The International Oeko-Tex Association comprises a global
group of independent testing institutes that developed and perform tests based on uniform standards
for harmful substances on textiles. Oeko-Tex Standard 100 focuses on the health and well-being of
the consumer.
The long list of substances tested includes formaldehyde, heavy metals, pesticides,
allergenic dyes, chemical residues, flame retardants, volatile organic compound emissions and other
banned substances. "The certification is an important accreditation to have, for our customers and
for MW Canada," Berger said. "And today, retail consumers are extremely intelligent and
environmentally conscious. The certification sends an important message to our clients and the
retail public about our commitment to help save our planet."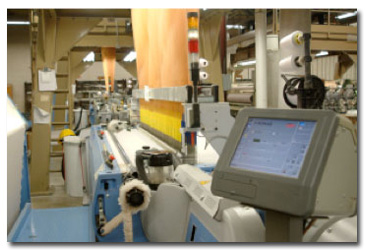 The company weaves fabrics for the window-covering industry using a high-speed gripper
loom.

With Canada's manufacturing sector facing a shortage of skilled workers, MW Canada has made
employee training and skills a top priority. As part of an industry-wide initiative to develop
onsite learning facilities, MW Canada started its own Skills & Learning Centre, also called the
ER Education Room, where employees receive classroom and Web-based training. The center offers
general education development, math, language, and technical skills to all employees. Upgrading of
skills becomes part of every employee's job description. In 2007, the company won a national award
from the Canadian Council on Learning for its efforts to bring learning opportunities into the
workplace.
"It has become essential that we upgrade the knowledge and skills of our employees.
Innovative processes and active participation in the workplace are the direct result of making
training available onsite," Berger said. "As older workers retire, we lose 20, 30 or 40 years of
experience that you cannot replace. For very specialized skills, it takes a long time to become
proficient. On a regular basis, we bring in the top trainers from all our machinery manufacturers
to give refresher courses to our staff."
According to Berger, 85 percent of the company's business is exported outside of Canada. He
says MW Canada has managed to come through the recent economic recession in good shape. "There will
always be a need for medium-sized manufacturers that are close to the market, able to deliver niche
market products quickly and efficiently. We are shipping to China, India, Mexico, South America,
while the United States remains our largest market." Berger said. "Canada has a name for quality
around the world. In these foreign markets, it is all about finding the right distributor to carry
a higher-end line."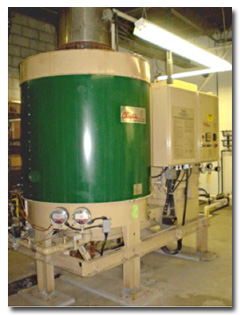 The new Clayton boiler delivers reliable and energy-efficient performance, offering rapid
response to fluctuating load demands and eliminating hazardous steam explosions. It also has low
maintenance requirements.



Gaining Boiler Edge


Going back to the days of the old Montreal Woollens plant, MW Canada has had a long-standing
partnership with Brampton, Ont.-based Clayton Sales & Service Ltd. In the 1970s, MW Canada
installed a steam generator boiler in the Cambridge manufacturing plant, and it worked steadfastly
until it was replaced a few years ago with a new Clayton 250-horsepower boiler. MW Canada's
maintenance department still uses the previous steam generator as a back-up system.
In any manufacturing plant, the loss of production affects the bottom line. Customers expect
product on time, and to specification, every time. If it is not, there are always ramifications.
"We realized the old steam generator boiler was coming to the end of its life after 30 years
of loyal service. So, we put in a new Clayton boiler," Berger said. "We require steam for our
dyehouse, where we are dyeing yarns and fabrics 24 hours a day, as well as for our finishing lines.
The dye vessels are all steam-fired. This is how we heat our water. The dye process requires
consistent, controllable water temperatures. With product in a three-hour dye cycle, a loss of
steam can ruin a large quantity of material. Rework can be very costly.
"MW Canada has been a Clayton customer for many years," he continued. "The new Clayton steam
generator is smaller, better and more efficient. We have been very happy with our boilers and the
customer support service."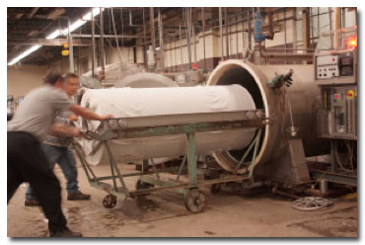 Workers prepare to load up bundled fabric to be dyed in the dye kettle.
With the new boiler, the unique counter-flow design provides higher fuel-to-steam efficiency
than traditional boilers. The boiler also offers rapid response to fluctuating load demands and
eliminates hazardous steam explosions. It also provides high-quality steam; and features advanced
controls and full output from cold start within 10 minutes, without thermal stress. The boiler
design typically occupies one-third the floor space required by a traditional boiler and is 75
percent lighter; and industry-leading low nitrogen oxide burners are available for added
environmental protection.
Berger especially likes the energy efficiency, instant-on capability, dependability and low
maintenance of the new boiler. "You know you have a problem when maintenance spends too much time
with your boiler," he remarked.
Brian Hutchings, MW Canada's maintenance manager knows the new boiler better than anyone
else at the company. He says the steam generator delivers reliable and efficient performance.
"Automation and startup are big things for us, and the new boiler is really a hands-free system,"
he said. "We can also test things a lot easier and save fuel."
What is MW Canada's key to success? According to Berger, it is about having good people,
knowing your markets and offering high-quality production. "I am lucky to have a very smart group
of people who understand the critical issues involved in manufacturing. My job is to chart our path
to the future. The decisions of today affect where we will be three to five years from now." he
said. "You have to focus on the top line, bottom line and everything in between. Then people will
call you lucky."
---

Editor's note: Glenn Adgey is general manager of Clayton Sales & Service
Ltd.
---


October 19, 2010