Greenville-based recycled and virgin fiber products manufacturer Poole Co. has received
certification from Emeryville, Calif.-based Scientific Certification Systems (SCS) — a third-party
provider of a range of certification programs including environmental and sustainability as well as
other programs — that Poole's EcoSure® and EcoSure Wellstrand fibers are manufactured from
100-percent post-consumer recycled (PCR) polymer. According to SCS, Poole is the only staple fiber
supplier it has authorized to use its approval seal for 100-percent recycled polymer.
EcoSure — used in apparel, fiberfill, nonwoven fabrics and wipes — and EcoSure Wellstrand
— heavy-denier fibers used in scrub and floor cleaning pads, bedding and furniture, filtration
products and roof ridge vents — are derived from a base polymer of PCR polyethylene terephthalate
(PET) packaging. In addition to its use of recycled content in these fiber lines, Poole also
recycles the water used at its heavy-denier manufacturing plant in Johnsonville, S.C.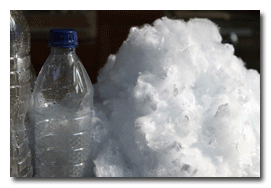 PET bottles and other packaging can be recycled and procesed into virgin-quality polyester
fiber such as Poole Co.'s 100-percent PCR-content EcoSure® and Ecosure Wellstrand.
"Poole Company is committed to the environment and constantly reviews how to apply
earth-conscious decisions across the entire operation," said Bynum Poole, the company's vice
president of operations. "From manufacturing a product made of 100-percent PCR PET packaging to
utilizing a sophisticated, robust system to recycle and clean our water, this is all part of the
Poole Company philosophy."
According to Poole, the use of 100-percent PCR polyester lowers energy consumption by 84
percent and greenhouse gases by 71 percent compared with the use of virgin polyester. The Sonoma,
Calif.-based National Association for PET Container Resources (NAPCOR) reports that in 2008, 1.451
billion pounds of PET bottles and other packaging materials were sold for recycling.
June 8, 2010