Karl Mayer Malimo, the technical textiles business unit of Germany-based Karl Mayer
Textilmaschinenfabrik GmbH, now offers the RS MSU S warp-knitting machine with parallel weft
insertion, the first model in its new Weftronic platform. The machine, which recently made its
debut at Karl Mayer (China) Ltd.'s facility in Wujin, China, features a working width of 268 inches
— 600 millimeters wider than previous models offering parallel weft insertion — and operates at
the same speed, thereby offering a substantially increased square-meter production rate.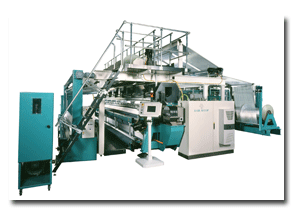 Karl Mayer Malimo's RS MSU S Weftronic
For the Weftronic program, Karl Mayer Malimo has re-engineered the weft insertion system,
making improvements to the weft chain and fitting it on both sides of the unit comprising the
transfer station, yarn-laying carriage and yarn take-off device; and using new technology to
enhance the mode of operation. The Weftronic's design makes all main components easily accessible,
and the machine is made up of compatible component groups. In addition, the company reports
assembly costs and the amortization period are reduced thanks to rapid integration into the
manufacturing process.
"The working width and productivity of our latest new development are unparalleled anywhere
in the world," said Axel Wintermeyer, head of sales, Karl Mayer Malimo. "With this system, we will
set new standards in terms of efficiency and applications, especially on the rapidly growing market
of backing and coating substrates."
The Weftronic will be available as of ITMA Asia + CITME 2010 in June. The company also is
implementing the Weftronic platform in its entire line of weft-insertion warp-knitting machines. In
addition, Karl Mayer Malimo is developing a Weltronic model with a working width of 138 inches and
additional upgrades, and expects to make that model available by the end of this year.



May 11, 2010