Lindauer Dornier GmbH, Germany, recently participated in celebrations at Joh. Hohmann GmbH and
Co. KG, a Germany-based family-owned weaver of curtain and drapery fabrics. Dornier has supplied
Hohmann with weaving machinery for 30 years, and is the sole supplier of such machinery to the
company, which is its largest German customer.
Hohmann held the celebration to inaugurate a new 6,000-square meter production facility, which
provides space for 144 weaving machines and a high-performance tenter frame.
As part of the inauguration, the guests of honor were invited to install the 300th Dornier
weaving machine at Hohmann. The machine also is the 55,000th shuttleless weaving machine delivered
to a customer by a German weaving machinery manufacturer.
Hohmann weaves 40,000 meters of curtain and drapery fabrics per day. The company has 330 rapier
weaving machines installed with eight filling colors for dobby, jacquard and leno weaving. It also
has ordered 32 new PTS rapier weaving machines.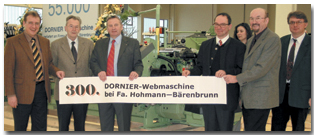 Left to right: Martin Buchta, managing director, and Karl Hohmann, senior director,
Hohmann; Bernd Hering, City Hall district administrator; Peter D. Dornier, manager, Dornier; Carmen
Hubsch, Bavarian government body; Hans Schmidt, deputy mayor, Bnbrunn (Helmbrechts), Germany; and
Thomas Fischer, senior executive officer, Bavarian government body, participated in the
installation of the 300th Dornier weaving machine at Hohmann.


March 2005