During an open house held recently, Switzerland-based Sultex Ltd. unveiled two new weaving machines
the G6500 rapier machine and its latest-generation high-performance (HP) projectile machine, the
P7300HP. The G6500 features a compact, low mass gripper head a modified version of the gripper
found on Sultex's G6200 machine to provide smooth operation at high revolutions per minute. Using
either a raceboard or supporting teeth, the machine is capable of handling a wide range of warp
yarns. Shedding is controlled using either a dobby or a jacquard machine, and the machine is able
to insert four, eight or 12 weft colors, offering maximum patterning versatility.
Three different warp tensioning systems are available for the G6500: a negatively or
positively controlled back rest roller; tensioning with or without deflection roller; or a
positively controlled warp tensioner. According to Sultex, minimal warp loading and optimal running
parameters are created by the warp tensioning systems in conjunction with horizontal compensation
for the shedding motion to maintain rear shed geometry. Touch-screen controls with
easy-to-understand pictograms and network integration capabilities make the G6500 easy to operate.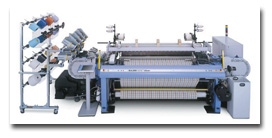 The new Sulzer Textil G6500 rapier weaving machine offers flexibility, maximum performance
and low production costs.

"Before the G6500 was introduced to a broader audience, we already noticed a very high level
of interest in this machine," said Rolf Kehlhofer, CEO. "We even signed contracts with customers
who only knew the machine from photographs and drawings!"
The P7300HP projectile loom offers an increase in performance over its predecessors. Sultex
has redesigned the projectile picking unit and optimized the motion sequences of all components.
"Redesigning has enabled us to keep the shed open longer during each machine revolution," said
Gianfranco DiNatale, product manager for the projectile machine. This allows insertion of more
picks per minute at the same weft velocity.A customized weaving technology (CWT) version also is
available for exceptionally demanding applications.

July 2004