Italy-based Promatech S.p.A. is very pleased with the participation at ITMA 2003 and the level of
interest expressed at its booth. After showing customers various Somet and Vamatex machinery during
the eight-day show, the company obtained signed contracts for almost 500 new air-jet and rapier
looms.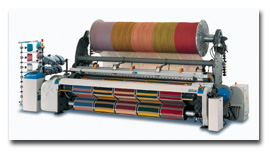 Promatech's Leonardo DynaTerry weaving machine

The orders came from a total of 12 different countries. Promatech said this unexpected
success injected confidence into the company, even though hard times for the industry may not be
over.
January 2004