OMNOVA Presents Technology AwardsThree textile-related products are among the winners of Fairlawn,
Ohio-based OMNOVA Solutions Inc.s 2002 Technology Awards. Presented recently, the awards recognize
technology-based contributions by OMNOVAs engineering, technical, and product and market
development associates.OMNABLOC®, a durable, strong, environmentally sound styrene-butadiene-based
water-impervious carpet binder for health care and hospitality uses, was developed by James L.
Vaughn, Ph.D., and Bill Worley, Performance Chemicals. It can be applied using existing
manufacturing equipment.Endurion, a durable, pliable coating that withstands repeated cleaning, was
developed by Robert Sobieski, Rodney Cuevas and Dan Gottschalk, DecorativeandBuilding Products, for
use on woven fabrics used in health care and hospitality environments.An economical, lightweight,
vinyl-coated, polyester-backed automotive soft-top material engineered to provide noise abatement,
structural integrity, colorfastness, ultraviolet stability and flex resistance was developed by
Anthony Nix, David L. Fishel, Ronnie Bell and James V. Collins, DecorativeandBuilding Products; and
Dave Derse, field sales and marketing.
September 2003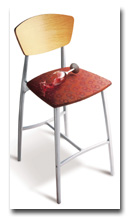 Endurion provides water repellency to fabrics used in health care and hospitality
environments.