2003 Innovation AwardBy Jennifer Dennard, Assistant EditorSprings Industries'
Tradition Of Change
Springs Industries continues to evolve, from a gingham cotton cloth producer in 1887 to a
manufacturer of a wide variety of coordinated home textile products.As you groggily move from
bedroom to bathroom to kitchen in the morning, take a closer look at each of the home furnishings
you use. Chances are, the duvet cover and sheet you throw off when the alarm goes off, the window
shade you raise, the bath mat you step on, the shower curtain you pull, the towel you wrap yourself
in as you get out of the shower, the accent rug in the hallway, the kitchen towel you wipe up your
spilt orange juice with, and even the napkin ring you slip your napkin out of as you sit down to
breakfast came from Springs Industries Inc. These products may bear such names as Wamsutta®,
Springmaid®, Graber® and Bali®, to name just a few of the brands Springs has on the market today.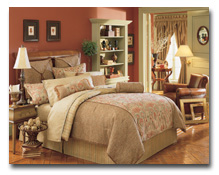 Springs Industries offers a wide variety of coordinated textile products for almost every
room in the home.You might not give them much thought, but Springs does. More than 17,000 Springs
employees in 40 manufacturing plants in 12 states, Canada and Mexico turn out a complete line of
coordinated home textile products each year.Over the past 116 years, Springs has grown from a
one-mill company to a multibillion-dollar corporation, merging, consolidating, focusing and
refocusing its corporate strategy in an effort to offer its retail customers the widest range of
home furnishings from a single supplier. In The BeginningThe first incarnation of Springs was known
as Fort Mill Manufacturing Co., founded in Fort Mill, S.C., in 1887 by a group of town leaders that
included Samuel Elliott Captain White, who was elected first president of the company.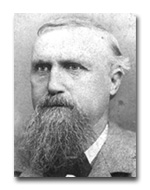 Springs' founder Samuel Elliott "Captain" WhiteThe establishment of Fort Mill Manufacturing
helped turn a small town of seasonal farmers into a larger town of mill workers. Although farming
had been the way of life for quite some time, the citizens of Fort Mill found the mills
construction brought with it a better way of living. The Fort Mill plant wove its first yard of
gingham cloth in early 1888. The company grew in the next few years, acquiring the charters of
Catawba Manufacturing Co., as well as the assets of Luna Cotton Mills, later renamed the White
Plant.A Time Of GrowthAnother yarn was woven into the fabric of Springs in 1895, when Lancaster
Cotton Mills was officially chartered in Lancaster, S.C., under the watchful eye of Captain Whites
son-in-law, local entrepreneur Leroy Springs.Lancaster Cotton Mills began ginning cotton and
weaving cloth a year later. After several expansions over the next 18 years, it was said by some to
be the largest cotton mill in the world under one roof.Springs had an eye for growth, acquiring the
Chester Manufacturing Co. in Chester, S.C., in 1904. He became president of the company, and
promptly changed its name to Springsteen Mill.Springs that year also was appointed president and
general manager of Fort Mill Manufacturings White Plant. He then became president of Fort Mill
Manufacturing upon Whites death in 1911. A year later, Springs was elected president of the Kershaw
Cotton Mill, an enterprise in Kershaw, S.C., in which he was a major stakeholder.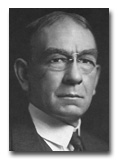 Leroy Springs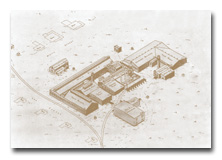 A 1913 schematic of Fort Mill Manufacturing Co.In 1914, Lancaster Cotton Mills acquired the
assets and assumed the name of Fort Mill Manufacturing Co. Springs took over Fort Mill
Manufacturing with the same desire for frenzied growth he had shown with Lancaster Cotton Mills. He
invested time and money into numerous expansions and acquisitions, an early indication of Springs
Industries modern-day business strategy.By 1919, Fort Mill Manufacturing was operating numerous
gingham cloth manufacturing mills in the area, including the Fort Mill Plant, White Plant,
Lancaster Plant, Kershaw Plant, Eureka Plant and Springsteen Plant.Company troubles hampered the
last years of Springs life. Cotton prices were dropping, leaving the company with a large supply of
cotton, but no demand for finished goods. Young men were leaving mill work behind and signing up
for the Armed Forces, as the United States entered World War I. An influenza epidemic in Lancaster
forced some mill production to stop because of lack of workers. And the first hints of the Great
Depression in the late 1920s caused the people of Fort Mill Manufacturing to wonder what the future
would hold.A Time Of LegendUpon Leroy Springs death in 1931, his son, Colonel Elliott White
Springs, inherited six cotton mills, 5,000 employees, 7,500 looms and 300,000 spindles.The legend
of the Colonel began while he was still alive. He took over the company with the same zeal his
father had shown. He made it his business to know every piece of machinery and every employee on
each of the mill floors. He also made it his business to bring the company back to profitability by
cleaning up the companys financial troubles, reorganizing the mills, upgrading the machinery and
streamlining management. Efficiency was, and still is, the word of the day at Springs. In 1933, the
Colonel changed the companys name to Springs Cotton Mills. A new era in the history of Springs had
officially begun. Boom TimeUnder the Colonels direction, Springs Cotton Mills became a manufacturer
of not only carded greige goods, but also towels, sheets, pillowcases, bedspreads, spun rayon
fabrics and dress goods, among other products. The Colonel wanted to lead Springs into the finished
goods market, and so invested in numerous expansions during the 30s. His dream was put on hold,
however. War would have to come first.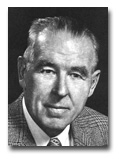 Colonel Elliott White SpringsWartime production took over Springs totally by 1943. Fine yarns
were no longer produced. Coarse yarns went into a wide range of military fabrics, including cloth
for raincoats, gas masks, nurses uniforms, mattress covers, sheets and pillowcases.Almost 25
percent of Springs workforce went to war, even the Colonel. The World War I ace fighter pilot
returned to active service and attained the rank of lieutenant-colonel. And yet, despite his
absence, the company met all government contracts issued from 1941 to 1943. The Springs plants were
awarded the Army-Navy E Award for Excellence at the end of 1943 for this exemplary service.In 1945,
Springs experienced a post-war boom. The Colonel was finally able to commence turning the company
into a full-fledged producer of finished goods. The mills were once again expanded and upgraded.
Grace Bleachery and Finishing Plant was built. Springs Mills Inc., a New York City-based selling
house, was established, and Springs first national Springmaid advertising campaign got
underway.Under the Colonels leadership, Springs became an even more active participant in its plant
communities. The company initiated employee benefits and profit-sharing programs. And the Springs
Foundation, a general welfare fund for local communities, was established to provide money for
healthcare, welfare, public schools and scholarships a precursor to Springs modern-day
philanthropic work.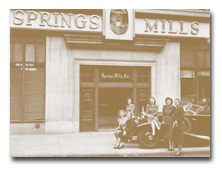 Springs Mills Inc., the New York City-based sales headquarters, was established in
1945.Nonstop ExpansionUpon the Colonels death in 1959, Springs Cotton Mills had seven greige mills
and a finishing plant, 12,000 employees, no debt, $50 million safely in the bank, $184 million per
year in sales, and a large chunk of the marketplace, thanks to the success of the Springmaid
line.Hugh William Bill Close, the Colonels son-in-law and successor, took over when the Colonel
passed away. Close realized that even though Springs seemed to be on top, further modernization,
efficiency and an updated product line would be needed to truly transform the company.

Hugh William "Bill" CloseHe set about achieving this goal at a furious pace, investing $230
million over the next 10 years. A new sales and marketing headquarters was built in New York City,
a reflection of Closes decision to turn Springs into a marketing-oriented, rather than a
manufacturing, company. Under Closes direction, the company built a cotton warehouse in Fort Lawn,
S.C., and decided to build a finishing plant in Laurinburg, N.C. The Elliott and Frances plants for
combed apparel fabrics and sheeting were built, as were the Crandall Finishing Plant and Leroy
Plant for polyester/cotton apparel fabrics. The Patricia Plant was built and then expanded for the
production of towels. The Katherine Plant was constructed for polyester/cotton sheeting.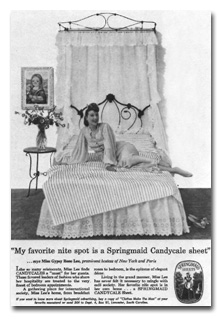 The first Springmaid advertising campaign was launched in 1945.Weathering The StormIn 1966,
three years after its 75th anniversary, another era began in the history of Springs. The company
consolidated manufacturing and selling operations into one organization, Springs Mills Inc. This
latest corporate incarnation went public that same year.By 1969, Springs had 22 plants; a
state-of-the-art customer service center, dedicated the previous year; almost 20,000 employees; and
a larger offering of apparel and home furnishings. Merchandising and marketing had become Springs
No.1 priority.The unrelenting growth and change in business strategy soon took its toll on the
company. A depressed economy and high inflation caused by the Vietnam War, labor shortages and the
energy crisis, coupled with foreign competition, caused a textile industry slowdown in the 1970s.
Consumer demand dropped, while prices went up. Springs weathered the storm by divesting its less
profitable plants and recent acquisitions, and reducing its energy consumption.Consolidated
GrowthSprings emerged from these crises a little worse for wear, but intact. The company rounded
out the end of the decade in typical Springs style, with the acquisitions of Lawtex Industries, a
bath rug manufacturer; and window-products producer Graber Industries.The 1980s was a decade in
which Springs corporate strategy came sharply into focus. Under the direction of Walter Y. Elisha,
after Closes death in the early 80s, the company refocused its efforts, changed its name to Springs
Industries Inc., and looked for opportunities to expand towards textile home furnishings.Springs
added to its product line with the purchase of Custom Designs, a waterbed accessories company; and
the significant acquisition of M. Lowenstein Corp. which produced the Wamsutta and Pacific® home
textile brands and Lowenstein subsidiary Clark-Schwebel Fiber Glass Corp.Successful advertising
campaigns launched in 1986 and 1987 reflected an ever-widening, more specialized range of goods,
including the first easy-care cotton sheet introduced just a few years before.Elisha helped Springs
continue to grow throughout the late 80s and early 90s, and led the company to sales of more than
$2 billion in 1994. He laid the groundwork for his successor, Crandall Close Bowles Bill and Anne
Closes oldest child.Modern-Day SpringsTaking the helm of Springs Industries as president in 1997
and chairman and CEO in 1998, Bowles committed to following the same pattern of smart growth and
smart investment her ancestors did. She believes an organizations accomplishment is based on the
execution of successful strategies.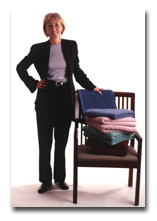 Crandall Close Bowles, current chairman and CEO,Springs Industries Inc.Like her father, she
has not been afraid of the strategy of nonstop growth, even in uncertain times, nor of the need to
make difficult decisions. Bowles also has overseen the divestiture of several divisions and the
closing of several plants in an effort to keep Springs competitive.She has not been afraid of
change, either. Bowles and the rest of the Close family took the company private when they
completed a recapitalization merger between Springs and the private equity firm Heartland
Industrial Partners LP in 2001. Looking ForwardBowles grandfather, Colonel Elliott White Springs,
spent almost a quarter of the companys capital on Grace Finishing Plant, which helped move Springs
from an apparel manufacturer to a finished goods producer. Her father, Hugh William Close, spent
millions expanding and upgrading existing plants, and acquiring and building new facilities. Bowles
predecessor, Walter Y. Elisha, began to narrow the companys focus onto home textile consumer
products.The groundwork laid for Bowles by her predecessors and her own modern-day business savvy
have helped bring the products of Springs now a multibillion-dollar corporation into almost every
room in the American home.A keen business strategy, coupled with continued investments in
state-of-the-art technology and facilities, timely product innovations, and strategic acquisitions,
should keep Springs at the forefront of the textile industry for the next 116 years.

June 2003