Machines Italia: KnittingWorld-class designer products and dazzling fashion trends aside,
Italy also boasts a rich heritage of art, commerce and technology. Knitting companies in particular
are using the Italian reputation for style and quality to market technologically advanced
machinery.Innovation In TechnologyEstablished in 1955, Protti Fashiontronix S.p.A. has a reputation
for building custom machines with special devices or modifications required by customers. Prottis
process of needle-by-needle electronic selection, patented in 1969, helped earn this reputation.
Machine tooling its own parts, Protti brings new developments into its on-site showroom, where its
representatives can collaborate with customers to fine-tune advancements. Antonella Salomone,
marketing manager, said China is a strong market for Protti. Growing markets include Poland,
Hungary, Romania, the Baltic countries, Portugal and Spain. Circular-knitting machines from 4 to 18
gauge are selling well in Turkey.At ITMA 2003, Protti will show its new PV222 three-head machine,
the flat-bed PV4i for knitting integralwear, and the IKS automatic programming system.The PV222 is
characterized by three needle-bed sectors 110-centimeters (cm) wide and double system cam boxes. An
innovative take-down, high productivity and quality production are main features. According to
Protti, the overall production time to produce a 12-gauge, large-sized, long-sleeved V-neck mens
sweater is 44 minutes.The special take-down device, used to create the setup, streamlines the
process of programming the machine for new patterns, and enhances the ability to produce complex
knitted wear or trimmings such as shoulder straps, small pockets, pointed ends and fine chains. The
device also facilitates knitting fabrics with special yarns, an area of special interest to Protti.
The PV4i series, already available in the market in 10 and 12 gauges, is now offered in a 5-gauge
version. This model, as with others in the PV4i series, has the advantage of a very long needle bed
(190 cm). The machines incorporate the possibility of working with joined or separated carriages
and double-stitch cams, stitch-pusher and stitch-presser system, and its unique take-down device.
The need for more samples with shorter turnaround times demands CAD systems and machines that are
easy to use and capable of executing fast changes.Tomorrow's Seamless VisionVersatility of a broad
market offering is exemplified at Lonati S.p.A. When the Lonati family expanded its holdings in
1988, it acquired a series of respected companies such as Santoni, Mec-Mor, Vignoni, Rimach, Exacta
and MCM Cylinders. A joint venture with Takatori Finishing completed the package. The focus of the
group is evolving. On average, every 10 days a member of the group presents its products at
technical shows and international sportswear shows, among other events.Through the Lonati
FashionandDesign Institute, Santoni demonstrates its commitment to academic training through
associations with universities such as the Fashion Institute of Technology, New York City, and the
London College of Fashion, London.Those who havent planned research, face reaction, said Valentina
Gentilini, marketing, Santoni. New product development can be an alternative strategy for a market
in crisis. Describing co-marketing strategies, Gentilini noted the proactive involvement of
companies such as Nike and Adidas. Sara Lee also is a Santoni customer that has been a major player
in the growth of seamless technology. With Speizman Industries Inc. in Charlotte as its US agent,
Santoni offers standard circular-knitting machines and seamless technology. Besides making its own
components, Santoni manufactures cylinders for others. Promotion of the SM8 single-jersey, the SM9
double-jersey and the SM4 C single-jersey machines for fully fashioned garments remains its focus.
Santoni sees its strength in specialization, not in commodity machines.Using the Santoni 3-D
Envision, designers can create and simulate construction, texture, garment structure and fit.
Products displayed in the showroom and training center reflect the dynamic creativity of the
technology in color, jacquard patterning, surface dimensionality, garment fit and innovative
styling. Engineered customization can be realized by integrating other technologies, such as a body
scanner and performance yarns.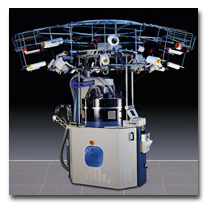 The BS seamless machine from Orizio Paolo was on display at the International Hosiery
Exhibition in Charlotte earlier this year.Flexibility And Reliability In The Global
MarketFlexibility with a robust, reliable machine is the forte of Orizio Paolo S.p.A. Paolo
Fumagalli, sales manager for the United States and China, said the most important markets for
Orizio currently are China, Poland and Turkey. Steven Foster, customer care manager, summarized
Orizios range of circular machines as single- and double-jersey, mechanical and electronic. Orizios
products include the following innovations:Model JS2 a terry machine offering single-knit
production of loops on both sides in 16 and 18 gauges with 44 feeds; MJT a new transfer machine
with 54 feeds, including 18 for transfer and 36 for jacquard;J4CV a high-speed, single knitting
head with cams suitable for high speeds (1.7 meters per second), along with an extended frame
available for rolls up to 48 inches;yarn/fabric measuring program with standards preprogrammed into
Orizio digital software; new pattern selection system for mini-jacquard models; anduse of
perforated cards a fully or semiautomatic punch card process that replaces existing cartridges with
newly designed selector units.The Oricontrol System provides machine information. Designed for
global use, the system shows messages graphically, which minimizes operator interpretation of a
specific language. Within its range of specialty machines, Orizio also offers a fully fashioned
knitting machine to compete in the seamless garments market. The BS seamless is available in 11-,
13-, 15- and 17-inch diameters in gauges from 24 to 28 with eight feeders. This electronic
single-jersey machine uses the Archimedes electronic controller to produce shaped garments with
different stitch structures in multicolored patterns.Narrow Fabrics: Continuous
InnovationFlexibility, a broad product line and specialization characterize Comez S.p.A. With few
competitors producing crochet machines, Comez continues to advance the technology in mechanical and
electronic models. Comez crochet machines and needle looms produce narrow fabrics for
passementerie, rigid and elastic laces and bands, technical textiles, medical textiles and
furnishings fabrics. The export market for Comez is strong in China, and growing in Turkey. From
shoe tops to waist bands, crochet can be cost-effective and efficient. Moreover, for fancy trims,
braids and fringes, crochet can create handmade looks. Customers can evaluate new products in the
Comez research and development technical area. Sergio Denegri, director, Comez North America,
Hickory, N.C., utilizes this service for collaboration with customers on new product solutions.At
ITMA 2003, Comez will show a double-needle-bed machine capable of making tubular fabrics for
medical textiles. It also will release a new version of its ComezDraw 2 software. CAD software for
all Comez machines assists in reducing sample turnaround time, providing simulations and archiving
of patterns.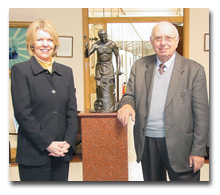 Nancy Powell (left) and H.C. Luigi Omodeo Zorini, president, ComezFor outerwear, Comez also
manufactures the electronic Testronic EL in 10 gauge, 100-cm width, a highly productive machine
capable of making fabrics with both stability and/or controlled elasticity.The integration of
advanced technology into high-end designer and mass-market applications has enabled the Italian
fashion system to remain a leader in the world for design and quality.
June 2003