2003 Innovation AwardBy Janet Bealer Rodie,Assistant EditorClose To The
Customer
Springs delivers value through strong customer relationships, offering a broad range of
products and brands.While Springs Industries Inc., Fort Mill, S.C., has a long history of
product innovation, the companys marketing and brand strategies also have helped propel it to its
current position as a leader in the soft goods home furnishings market, which comprises bedding,
bath, floor and window products. Leveraging acquisition and licensing opportunities to build up its
traditional product offerings and to bring new products into its line-up, the company has
positioned itself at the center of this important textile sector. Springs offers products in every
category of this market, as well as complementary non-textile home fashion products. No other
company in this sector offers such a broad spectrum of goods. The soft goods home furnishings
market has seen steady growth over the past several years, with anticipation of continued growth
into the future. In 2002, US consumption within this market totaled more than $15.8 billion across
all categories. The markets 3.67-percent annual growth rate from 1997 to 2002 is expected to slow
slightly over the next five years to 3.3 percent, still a respectable rate, especially considering
the roller-coaster economy and other uncertainties experienced in recent years.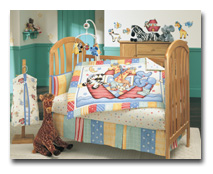 Springs offers bedding products and ensembles for all ages. Examples include Egyptian cotton
sheets (right) and the Lullaby Ark baby bedding ensemble (above).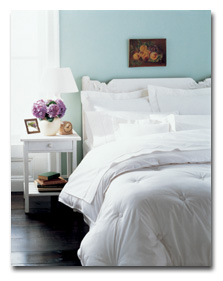 In part, Springs success lies in building strong relationships with its retail customers to
help them compete with differentiated products.Retailers drive our business, said Crandall Close
Bowles, chairman and CEO. They get involved today in everything from yarn type to yarn count, to
construction and finishing; and in product development and product design. Color and print are just
the tip of the iceberg. In recent years, Springs customer base, which includes department,
specialty and home improvement stores, has become increasingly dominated by such mass merchandisers
as Wal-Mart, Target and Kmart. Springs develops and produces special collections for all of these
retailers.There is increased demand for product differentiation, Bowles said. Each retailer wants
to be the first and only one to have it.Product Bundling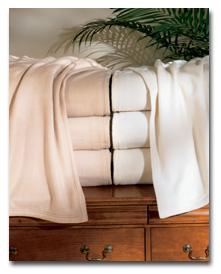 Springs' institutional products include Tranquility fleece blankets.Another way the company
delivers value to its customers and to the buying public is through product bundling, which
provides the consumer a convenient shopping alternative. One example of product bundling is the
bed-in-a-bag total bedding package that includes coordinated sheets and top-of-bed articles. In
addition, Springs markets collections of separate products under a single theme, such as Harry
Potter®, which includes childrens sheet sets, towel sets, shower curtains and other products.From
the markets perspective, the most important innovative steps have been in how we bundle entire
groups of products, so were no longer in the towel business, but in the bath shop business, where
were putting things together towels, rugs, shower curtains and accessories, said Tom OConnor,
executive vice president and president, marketing group. Or, with the bedding business, were not
just in sheets, but also in top-of-bed. Ten years ago, we would have been in product businesses,
but not today. To us, thats a way to solve problems for the customer, and its helped us capture
market share.BrandingThe Springs product lines include such well-known brand-names as Wamsutta® and
Springmaid® bed linens and top-of-bed ensembles, blankets, and bath towels and rugs; Regal® accent
rugs; Graber®, Bali® and Nanik® window shades, blinds and accessories; and Dundee® bed and bath
products for the hospitality and institutional markets. The company also markets its products under
licensed brands such as the previously mentioned Harry Potter; as well as Burlington House®,
Waverly, Liz/Villager, Serta, Disney, Coca-Cola, NASCAR and many others.The company recently signed
an agreement with the Egyptian Ministry of Economy and Foreign Trade and the Alexandria Cotton
Exports Association in Egypt to use the Egyptian cotton trademarked logo to promote Springs use of
100-percent Egyptian cotton in its products.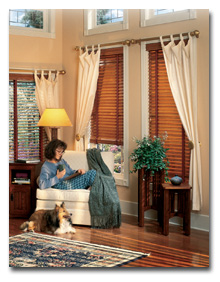 Graber wood blinds are among Springs' window offerings.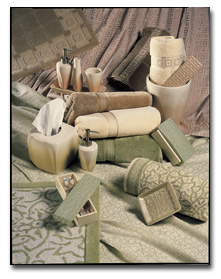 Regal bath coordinates include towels, rugs and accessories.Offering It AllWhether shopping
for bedding, bath or window textiles; accent or area rugs; kitchen and table textiles and
accessories; blankets and throws; fabric-covered lampshades; or decorative pillows, chair pads and
other home fashions made by cut-and-sew companies or offered under licensed brands from a textile
perspective, it seems todays consumer can almost completely dress the home using Springs products.
Where textiles are concerned, one need look to other manufacturers and marketers primarily for
carpet and upholstery fabric. But because Springs also offers non-textile accessories within the
home fashion categories it serves, the consumer may choose the companys wood, aluminum or vinyl
blinds; drapery hardware; shower curtains, ceramic soap dishes and other bath accessories; and
numerous other items to complete the desired looks in various rooms.The consumer also may choose
Springs baby and nursery products, including clothing, layette items, bedding and bath textiles,
blankets and more. And, the home sewer may choose from a variety of Springs fabrics and craft kits
to create unique home fashions and apparel for the family.
June 2003