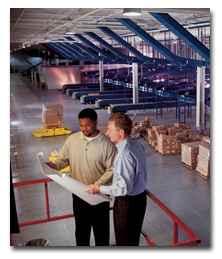 The "DC" plays a vital role in warehousing and distributing Springs' finished products.Enter
Springs Industries Grace Complex in Lancaster, S.C., and you enter the heart of Springs bedding
operations. Originally built in 1948 by President Colonel Elliott White Springs, Grace has
undergone several upgrades including five expansions and the addition of a screen printing plant.
Featuring 1.4 million square feet (ft2) of production space, and 590,000 ft2 of warehousing known
in Springs-speak as the DC, Grace Complex employs approximately 2,100 people on three shifts,
working a five- to six-day schedule.Grace Complex incorporates: Grace Finishing Plant including
bleaching, dyeing, printing and finishing; Grace Fabrication housing a Springs cut, sew and packing
operation; and Grace Receiving and Logistics Centers a warehousing and distribution hub for Springs
finished products.The mammoth facility also has on-site power and steam generation, water
filtration and treatment, as well as wastewater treatment.FinishingAs Springs endeavors to
strategically balance domestic manufacturing with foreign sourcing programs, Grace Finishing
receives 60 percent of its fabric from Springs internal production and 40 percent from sourced
greige goods. Processing more than 900 million yards annually, Grace Finishing is a huge consumer
of textile raw materials, going through an estimated $17 million worth of dyes and chemicals
annually to produce and finish bedding fabrics and some apparel fabrics.Automated FabricationThe
Grace Fabrication Plant produces 1.9 million sheets and pillowcases weekly. Sixty percent of
production is focused on sheet sets and bed-in-a-bag products. Receiving finished fabrics from
Grace Finishing, automated sewing systems cut, sew, attach brand and care labels, add trim, cut
corners, sew elastic in fitted sheets and even turn pillowcases inside out and fold the finished
products for packaging. These systems blaze through fabric, converting it into finished product at
the rate of 100 stitches per second. Springs associates focus on quality inspection at multiple
points in the processes, and ensure automated systems perform at peak efficiency.Receiving And
LogisticsThe Grace Receiving facility came on-line in the early 1960s, while Grace Logistics Center
is the latest addition to Grace Complex. Featuring 2.7 million cubic feet of storage capacity,
Grace Logistics shipped more than 12 million cartons in 2002 and maintains an average daily volume
of 48,000 cartons. While typical textile logistics centers handle rolls of fabric, Grace moves
boxes of finished product, ready for Wal-Mart and other customers, over two miles of conveyors,
through automated sorting from inventory to tractor trailers.Our domestic manufacturing base may
actually become more competitive due to increasing service requirements, increased differentiation
and demands on reacting faster, said Crandall Close Bowles, chairman and CEO. As Springs focuses on
the future, Bowles is confident Grace will continue to evolve and meet the companys strategic
goals.

June 2003