Modern-day automation gives textiles a science-fiction feel, eliminating human error, waste and
inventory. Old pictures of mills always depict an endless number of people carrying and
handling material, pushing and pulling carts with merchandise, moving things back and forth. And
behind them are even more people, trying to keep track of what should go where. Todays mills look
different. Unmanned vehicles move quietly, picking up material at one machine, following invisible
tracks and commands to deliver their cargo to other machines or into specific areas in warehouse
systems. The scene looks more like the depiction of a giant space station in a science fiction
movie than what most people associate with a traditional textile mill. Yet this is today, and this
is textiles right here on earth. Of course, it is one thing to say mills can use gadgets that are
like those seen in science fiction movies. It is a very different thing to actually decide to use
such tools, and to pay for them. Its a competitive world out there, and investments must bring a
promise of returns. Many Hands Bring Much Opportunity For AutomationThere is a lot to be done
to fibers to make them into yarn and then a fabric, and between all the process steps a lot of
moving and carrying and handling is needed. Every time hands touch the material, there is an
opportunity to somehow automate this step. The secret is in knowing when the gentle touch of a
human hand is better for the product, and when the tender loving care of a machine serves it
better. Most machine producers offer varying degrees of automation for their equipment for
example, automated doffing, or for linking spinning and winding. But when it comes to transporting
cans with sliver, moving finished products such as yarn or fabric, and warehousing, automation
typically goes beyond what is associated with textile-specific equipment.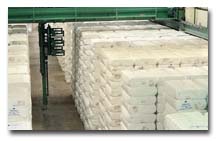 Autefa's bale warehousing equipment handles, sorts, stores and dispatches bales. Moving
The BalesStarting with fiber, storing and transporting vast numbers of bales is an important task
in any yarn mill. Most mills use plenty of semi-automated equipment (forklifts and computer
tracking of bales) to aid in moving and locating the correct lot. However, there is quite a range
between using auxiliary equipment to aid in performing the necessary tasks and using fully
automated bale transport and storage. Autefa Automation, Germany (Fi-Tech Inc., Richmond, Va.), is
well-known in the textile industry. The company manufactures automated handling equipment for
staple and filament yarn companies. For staple fiber spinning mills, Autefa offers a full line of
bale-handling equipment, starting with the baling press (Lift-Box or Uni-Box), to automatic
wrapping and strapping (Intra-Wrap), to fully automated bale warehousing. A high degree of
automation is less an issue of saving labor costs and more an issue of consistent quality. Because
transport and storage require no labor involvement, there is no chance for human error. Uniform
packages also allow optimum stacking for transport and storage. Considering bale transport only,
Keith Mfg. Co., Madras, Ore., offers the Walking Floor System as an alternative to rolling floors,
allowing for cleaner and safer transport of bales over a smooth floor into opening and cleaning
equipment. For textile applications, the Walking Floor is presently used mostly in the ginning
industry. Other Transport SystemsTrastecnica S.p.A., Italy (Symtech Inc., Spartanburg), links
the draw frame to the spinning machine. Automatic guided vehicles (AGVs), just like those in
science fiction movies, move over invisible guide tracks. AGVs also may use an internal gyroscope
system to guide them to draw frames that have full cans. They then pick up the cans and move them
either to temporary buffer storage or to a space at the spinning machine where the cans are
empty.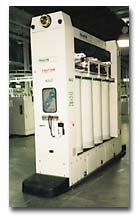 Trastecnica's Rotor Link sliver can transport system links the draw frame to the spinning
machine.The AGV system is used in open-end and air-jet spinning mills. All commands are coordinated
in a computer system: the spinning machines signal need for more sliver; the draw frames signal
that four cans are full; and the computer coordinates the AGVs to ensure the right sliver goes to
the correct spinning machine. On top of that, each AGV remembers to recharge its batteries whenever
there is some time along the way. When it comes to transporting cops and cones, many machine
producers integrate these systems into their machines. Italy-based U.T.I.T. Wagner Automation (M
and M Machinery Sales LLC, Gastonia, N.C.) offers these systems, as well as bale handling and
overhead can transport. See Tessival Group, this issue, for a detailed description of a fully
automated plant using equipment from U.T.I.T.On the filament side, Autefa provides automatic
doffing that includes temporary storage and links to texturing or packaging. Transportation can be
performed overhead via a railway system or on the ground via AGVs. Storage for the bobbins is fully
automated, eliminating the chance of human error. The complete package includes automatic packaging
and labeling, which fully integrate the shipping activities into other business information
functions. San Grato CMT S.r.l., Italy (Symtech Inc.), produces fully automated systems for
doffing, transport, storage, and packing for all kinds of yarn. At this time, the company claims to
have the largest market share for advanced automation in the filament sector.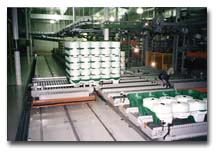 San Grato's Robofix 3 robotized palletizer Automation PayoffsSo, when does it make sense
to use this degree of automation Fully automated handling systems require quite an investment in
terms of money and dedication. They are capable of handling enormous quantities of material and
tracking it at the same time. Typically, companies do not commit to these investments based solely
on labor savings the payoff period based on labor savings alone is not sufficient when compared to
production equipment. However, full automation typically is part of an integration into an
inventory management system and helps reduce throughput times and inventory levels. And the systems
always reduce the chances for human error, avoiding quality problems. By avoiding the risk of
mixing up different materials which easily results in producing waste and by avoiding misplacement
of products, it is possible not only to reduce costs, but also to enhance the companys reliability
with its customers. This is where automated material handling becomes a necessity. When considering
labor cost savings, it is also important to look at full labor cost, including training and
recruiting. One of the results of automation is that a number of high-turnover positions often are
replaced by a more permanent position with a focus on programming and maintaining the equipment.
Significant savings can be realized by avoiding high turnover, as costs for recruitment, training,
and loss of production and quality are avoided. The growing need for automated handling has been
recognized by companies not traditionally represented in the textile industry. SK Daifuku Corp.,
Salt Lake City (Batson Group Inc., Greenville), designs complete material-handling systems,
including storage buffers. Its systems use AGVs (tape, wire and laser guidance). The company
previously has custom-designed such systems for the computer assembly industry, as well as for food
processing companies. Formerly known as ESKAY Corp., SK Daifuku is now a division of Japan-based
Daifuku, whose systems are known in the automotive assembly industries, where just-in-time
principles have been integrated into transport and warehousing systems for some time
now. Handling The FabricWhen it comes to automated transport in fabric production, types of
equipment range from manual auxiliary lifters to fully automated transport and storage systems.
Hubtex of North America Inc., Spartanburg, produces a wide range of transport and storage
equipment. Primary installations in the textile industry include wire-guided vehicles that
transport warp and fabric. Custom-made systems provide transport among warp storage, weaving
machines, and fabric storage, as well as carousel storage systems for warp beams. Recent
installations include BGF Industries Inc. in South Hill, Va., and MillikenandCompany in Cedar Hill,
S.C.Krantz produces automatic winder and wrapping or packaging equipment. While this may not
represent automatic material handling in the more narrow sense, tensionless cutting and mandrelless
winding are important aspects within the handling of fabric. Additionally, Krantz is of course
known for its wrapping and clamping systems. Fabric contamination is a problem easily avoided by
wrapping the fabric, whether it is to be shipped or used later within the companys own facilities.
Automated packaging equipment not only reduces highly repetitive operations, but it also avoids
contamination during the packaging operation, as well as when interchanging products. Most
completely integrated systems require large operations to pay for themselves. Such systems can
handle large volumes of material and product, and smaller mills may not be able to fully realize
the benefits because the systems are laid out for more volume. Additionally, the chance of human
error is greatly reduced if fewer units are handled, especially if the number of different styles
is limited. Therefore, the size of the operation is relevant from a cost-savings perspective, as
well as from a quality assurance point of view. In smaller operations, fully automated systems may
not be appropriate. Semi-Automated TransportGenkinger, Germany (Sourcing Services
International, Greer, S.C.), manufactures a wide range of semi-automated transport tools for the
weaving industry. A primary focus is in the area of handling equipment for warp beams as well as
fabric beams.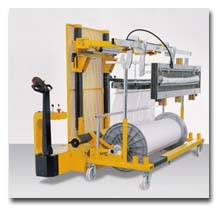 Genkinger's Electro warp beam lifting truckfeatures a harness mounting device.Genkingers
lifting trucks can be motorized or manual, but they are not fully automated or traveling around the
plant guided by some underground wire. Semi-automation is all that is needed at this part of the
operation. Warp beams run for quite some time without the need for replacement at the weaving
machine. And as the need for a new warp arises, operators need to be involved anyhow, because
warp beam transfer has not yet been completely automated. This is a perfect example of a situation
where complete automation would not make economic sense, even if it were technically possible: it
makes sense only to automate an operation that is highly repetitive, such as doffing in spinning.
While each spindle runs many hours before doffing is required, the high number of spindles makes it
a highly repetitive task. This is not true for replacing warp beams, nor is it true for fabric
doffing in many weaving operations that are not using high-production looms. These are areas where
semi-automated equipment helps operators perform their jobs faster and better. A Continuing
TrendThere is no doubt that the trend towards more automation will continue. As the textile
industrys investment requirements for production equipment increase, payoff periods are becoming
longer, and automated handling equipment becomes an equal consideration. Typical fully automated
systems pay for themselves within about three to four years, according to Rodger Hartwig, vice
president, Symtech Inc.For very large plants, integrated material handling is already a necessity.
At high-production volume, even small cost savings can reach a break-even point. The most critical
aspects, however, are probably quality, reliability and the ability to quickly deliver the right
material or product to the right place. By eliminating human error, automated handling systems
reduce waste and inventory, and most importantly enhance the companys credibility with its
customers. And there is no science fiction about the importance of that.
Editor's Note: Helmut H.A. Hergeth, Ph.D., is an associate professor in textile and apparel
technology and management at North Carolina State University's College of Textiles, Raleigh,
N.C.

November 2002