Technical textiles are expected to attract more than 8,000 visitors to Charlotte when the
Industrial Fabrics Association International (IFAI) stages its IFAI Expo 2002 at the Charlotte
Convention Center, Oct. 24-26.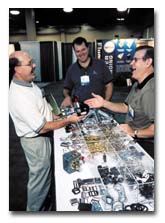 Visitors to the annual event will see the latest products and technologies offered by 500
exhibitors representing this growing sector of the textile industry. Anticipating a possible record
number of exhibitors, IFAI reports that approximately 30 percent will be showing for the first
time. In addition, more than one-third of the visitors will be first-time participants. IFAI will
present two pre-conference programs the Textile Technology Forum and the 3rd International
Conference on Safety and Protective Fabrics on Wednesday, Oct. 23, as well as seminars grouped
within specific educational tracks during the exposition. In all, 77 educational programs and 89
presentations will be offered. Pre-Conference ProgramsThe Textile Technology Forum, organized
with The Textile Institute, United Kingdom, will include presentations in three categories: New
Materials; MeasurementandTesting; and Intelligent Production ProcessesandProducts. Keynote speaker
Stephen Frumkin, Philadelphia University, will look at marketplace strategies for technical
textiles. The forum will conclude with a presentation of the Technical Fabrics Excellence Award,
followed by a reception and viewing of technical product displays.The 3rd International Conference
on SafetyandProtective Fabrics, organized with IFAIs Safety and Protective Products Division, will
offer technical programs in the ballistic, chemical/biological, high-tech, medical, mechanical and
thermal categories. Market introduction presentations will be given for the ballistic, high-tech
and thermal markets. A highlight of the SafetyandProtective Fabrics Conference will be an address
by David Prezant, M.D., deputy chief medical officer of the New York City Fire Department Bureau of
Health Services. Prezant will present Lessons Learned from the Collapse of the World Trade Center,
and will discuss a medical monitoring and treatment program that he set up for the departments
firefighters.The conference will continue on Thursday afternoon, Oct. 24, with the
SafetyandProtective Educational Track.Pre-conference activities also will include two tours. The
Professional Awning Manufacturers Association of IFAIs Awnings of Charlotte tour will take visitors
to Alpha CanvasandAwning, Charlotte TentandAwning, Austin Tarp and Awning and John BoyleandCo. Inc.
The Truck CoverandTarp Tour will visit Austin Tarp and Awning, Charlotte; and Reeves Brothers Grace
Advance Materials Plant, Rutherford, N.C. Educational Tracks And Keynote SpeakersEducational
tracks offered during the exposition will provide further opportunities to learn about new trends
and technologies in traditional and emerging technical fabrics markets. The tracks include twelve
categories
(See Table 1).Activities on Friday, Oct. 25, and Saturday, Oct. 26, will begin with
keynote addresses. On Friday, Tom Morris, chairman, Morris Institute for Human Values, Wilmington,
N.C., will present The Ethical Business The Secrets of Long Term Strength. Morris will provide
philosophical and practical insights as he talks about the value of an ethical climate in the
workplace and ways to cultivate and maintain such an environment.Saturdays address will be given by
consultant, author and coach Gary Heil. In For the Love of the Game The Art of Leading an Inspired
Team, Heil will discuss how to attract and keep valuable employees and define strategies, as well
as why a team must have a leader and why its members must understand and live their roles within
the game. Other ActivitiesCompanions of IFAI Expo participants may register for their own
activities, including presentations and a luncheon by Chef Rex Havick; and a tour of Charlotte
sites that also includes lunch and shopping. IFAI Expo 2002 will conclude Saturday evening with the
Chairmans Gala, which will include a banquet, dancing and entertainment.
For more information about IFAI Expo 2002, contact: IFAI, 1801 County Road B W., Roseville,
Minn. 55113-4061; (651) 222-2508; (800) 225-4324; fax (651) 631-9334; e-mail confmgmt@ifai.com;
www.ifai.com.IFAI Expo 2002 ScheduleTuesday, October 22Registration8:00 a.m.-5:00
p.m.Wednesday, October 23Registration7:30 a.m.-5:00 p.m.
Pre-Conference Programs: Textile Technology ForumWelcomeandGeneral Session 8:15-9:00
a.m.Technical Programs 9:00 a.m.-5:15 p.m.New Materials, MeasurementandTesting, Intelligent
Production ProcessesandProductsNew Products Forum/Luncheon11:30 a.m.-1:30 p.m.Closing
SessionandTechnical Fabrics Excellence Award Presentation5:15-5:30 p.m.ReceptionandTechnical
Product Displays5:30-7:00 p.m. SafetyandProtective Fabrics ConferenceWelcomeandGeneral
Session8:15-9:00 a.m.Technical ProgramsandMarket Introduction Session9:00 a.m.-5:00 p.m. Technical
Programs: Ballistic, Chemical/Biological, High Tech, Medical, Mechanical, Thermal Market
Introduction Presentations: Ballistic, High Tech, ThermalNew Products ForumandLuncheon11:30
a.m.-1:30 p.m.ReceptionandTechnical Product Displays5:30-7:00 p.m. ToursAwnings of Charlotte8:30
a.m.-4:00 p.m.Truck CoverandTarp9:00 a.m.-4:00 p.m.Thursday, October 24Registration7:00 a.m.-5:00
p.m.Exhibits10:00 a.m.-5:00 p.m.Educational Tracks:SignsandGraphics9:45 a.m.-noonFiltration
Textiles9:45 a.m.-noonArchitectural Structures1:00-4:30 p.m.EquipmentandTechnologies1:30-4:30
p.m.SafetyandProtective2:00-5:00 p.m.Friday, October 25Registration7:00 a.m.-5:00 p.m.Keynote
Address: Tom Morris8:30-9:30 a.m.Exhibits10:00 a.m.-5:00 p.m.Educational Tracks:Awning9:45
a.m.-5:00 p.m.SportsandRecreation Products9:45 a.m.-noonTransportation Textiles9:45
a.m.-noonMedical Textiles1:30-4:30 p.m.Construction1:00-4:00 p.m.Saturday, October
26Registration7:00 a.m.-5:00 p.m.Keynote Address: Gary Heil8:30-9:30 a.m.Exhibits10:00 a.m.-4:00
p.m.Educational Tracks:Marine Fabrication9:45 a.m.-12:30 p.m.Business Development9:45 a.m.-4:30
p.m.

October 2002