Flash Report Avondale Receives
TW Innovation Award In these uncertain times, it is refreshing to see a company that
is more than a century old still making innovative waves in the textile industry.Avondale Mills,
Inc., a company committed to delivering high-quality, low-cost utilitywear fabrics, denim and sales
yarn, was honored by
Textile World at a luncheon in June at the Cherokee TownandCountry Club in Atlanta.G.
Stephen Felker, chairman, president and CEO of Avondale, was presented the
Textile World 2002 Innovation Award by Douglas C. Billian, chairman and CEO of Billian
Publishing Inc., publisher of Textile World.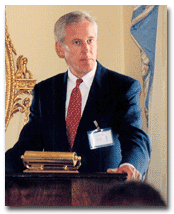 My hat is off to the extraordinary skill with which Avondale operating associates produce
customized product in a mass-production environment. At the same time, our technical and marketing
associates must design in an environment burdened by restraints imposed by consumers in terms of
price points, and our manufacturers in terms of practicality, Felker said in accepting the
award.Our customers should stand beside us in this moment of honor for the guidance they provide in
product development, as should our suppliers for their role in solving execution challenges, he
added.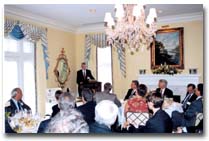 Guests gathered at Atlanta's Cherokee TownandCountry Club for the TW 2002Innovation Award
luncheon.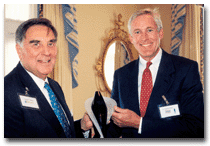 Douglas C. Billian (left) presentsthe 2002 TW Innovation Award toG. Stephen Felker.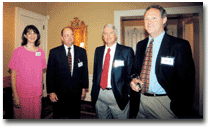 Left to right: Avondale's Kelley Wassermann, Delen Boyd, Tony Roysterand South Bryan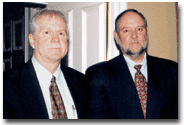 Richard Swearengin (left) and Tim Stansell, Avondale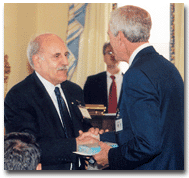 Dott. Rino Morani gave a special recognition award to Felker from Savio S.p.A. for Avondale's
dedication to advanced technology.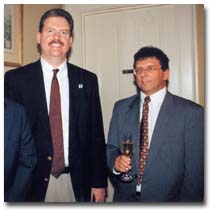 Mike Lollis (left) and Zami Aberman with Elbit Vision Systems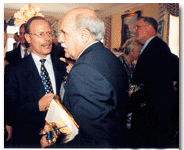 Fritz Legler (left), Sulzer Textil, greetsMorani, Savio,while Ueli Schmid, Rieter Corp.,
stands nearby.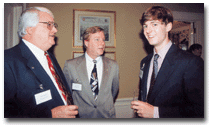 Bill McAndrew (left) and Neil Bradberry, Zima Corp., chat with Stephen Felker, Jr.,
Avondale.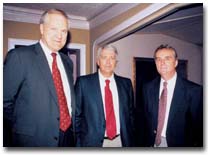 Left to Right: Andy Kukic, Noveon;with Tony Royster and Lee Willing, Avondale
August 2002