Partners In Textile Innovations
Textile finisher brushes, crashes and embosses added value to a variety of
fabrics. Here and there, in villages, towns and cities all across the country, small,
responsive textile companies are surviving even thriving. These companies are usually owned and run
by only one or two people, and are especially adept at shifting gears and responding to customer
needs. These are companies such as Partners In Textile Innovations LLC (PTI), a contract finisher
in Piedmont, S.C., that didnt even start up until trade imbalances had already dealt the mainstream
U.S. industry a roundhouse knockout punch. PTI looks at the holes in the market and rushes to
fill them. Its all about innovation and being responsive to the needs of the customer, said Steve
Durham, the companys managing director. Its about adding value and providing something faster,
better and more innovative than others are willing to do.PTI was created in 1994 with the mission
of better meeting customer needs in texture finishing through the use of advanced technologies and
processes, Durham said. As a multinational company, with partners in the United States, Germany and
the Netherlands, our international reach expands the resources available for consistently and
continually fulfilling our mission to better meet customer needs, he said.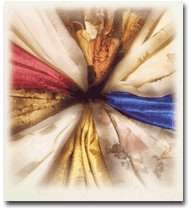 PTI was the first company in the United States to develop a process for crashing
fabrics. When creating the company, our mission led us to construct a new 50,000-square-foot
building rather than retrofitting older textile facilities, the course taken by most of our
competitors. We were able to build our new facility around cutting-edge technology, rather than
adapting or compromising the technologies to accommodate the facility. A key advantage of the
facility and equipment is the capability to finish wide goods up to 140 inches. Unique
FinishesOf the various finishes PTI features, it is perhaps best known for crashing. The company
was the first in the United States to develop the process and continues to refine it to the point
that PTI continues to offer the widest array of designs in the industry, Durham said. Crashing
textures available include crinkle, pebble, antique, spider, combo and long crash.PTI is also adept
at brushing, he said. Weve given brushing a feel long thought impossible. Customers want a soft,
pure-cotton feel from less expensive poly/cotton blends. Existing techniques would have severely
weakened or discolored the blends, so we began a re-evaluation and experimentation program that led
to the development of a new process that uses a custom-designed brush loom. Our proprietary
technique brushes less expensive poly/cotton blends into the feel of expensive, high-quality
imported cottons, while preserving fabric strength and color.All brushing techniques by the company
are available for wide fabrics up to 135 inches.Our whole business is based on making something
appear and feel more expensive than it really is, said Geoff Hollings, a partner in the business,
now retired. The perceived value of the goods is greatly enhanced by our processes.Yet another area
in which the company excels is embossing. Customer needs again led us to break free and surpass
industry process constraints, Durham said. They wanted a finished design that combines embossed
material and fine, sheer fabric. We pioneered a new process that embosses using infrared
technology. It allows combination fabrics to be processed as one piece because there is no damaging
heat, and the infrared is directed and limited only to the desired sections. The technology also
allows the embossing of wide goods of up to 135 inches. Getting StartedThe company had its
beginnings in another company, one that made draperies for the hotel industry. Durham and Hollings
were coworkers, and both were looking for new ideas upon which to base a start-up enterprise. We
saw a lot of fabrics coming in from abroad with new textured finishes, Durham said. All of it was
very expensive and no one was doing it over here, so we started this plant to do it
ourselves.Rather than looking for machinery that could be adapted to provide the desired effects,
Durham and Hollings designed and built their own equipment and began working on achieving the
finishes they wanted. Once we got it to an acceptable price, we found out a lot of people were
interested in what we were doing.Of all the end applications serviced by PTI, window treatments
account for about 70 percent of the companys business; bedding, about 20 percent; apparel, 5
percent; and industrial, 5 percent.Some of the designs heat-set, rolled, or otherwise imparted to
fabric at PTI can be seen in womens apparel particularly dresses, gowns and formal attire. You now
see the effects in every store, Durham said. It is just a matter of time, if you have a successful
process, that it is copied. Our mission is to do it better, deliver it quicker and keep the
customer happy. Of course, a great deal of our effort goes into research and development, and being
able to provide customers with looks and feels they cant get anywhere else.The company currently
has two new processes in development for apparel, including a denim application that will create
custom looks on a continuous form.Innovation is the key, Hollings said. You have to stay ahead of
the game. Indeed, innovation is so important to PTI that Durham and Hollings included the word in
the companys name. The other big word Partners applies not to some silent owner, but to the
customers to whom PTI delivers its goods. Our customers are our partners. To maintain business, to
see it grow, we have to maintain partnership relations with both our customers and suppliers,
Hollings said.The key for long-term profitability for PTI, both Durham and Hollings say, is to
continue the companys focus on design and marketing. Those two things are really our biggest
strengths, Durham said. You have to be continually looking at the customer and finding out what the
demands are. So far, we have been able to stay ahead of the competition, and we plan to continue
doing so. Of the fabric finished by PTI, Durham estimates that about half is domestic and half
imported. While PTI may invest a considerable portion of its earnings in product development, it
doesnt have to shell out substantial sums for market development. Our business is market-driven,
Durham said. Our customers come to us and tell us what they want. Then we take the customers ideas
and bring them to a product standpoint very quickly.To facilitate customer loyalty, the total range
of services provided by PTI has changed drastically over the years. From pure contract finishing,
the company now engages in sourcing, service, design, research and development, and product
development.Basically, our philosophy is to do whatever it takes to make our customers happy, said
Durham. If our customers are happy, then we are going to be successful.

May 2002