Technology Advancements
TW Special Report Winding Progress
Murata's new-generation Process Coner improves on features of earlier Mach Coner. It
is essential that the automatic winder, as the final stage of spun yarn production, be capable of
utilizing all of the recent developments in electronic yarn clearers. The automatic winder of the
future will need to continuously monitor and manage the operational status of the machine, as well
as provide on-line and on-time winding. Customers will require continual improvements in the
quality of the yarn. It is to this end that Muratas Muratec Mach Coner, introduced to the
international market in 1979, has recently undergone a full redesign.The new winder (#21C) offers
many innovations and shows significant improvements when compared with the Murata Mach Coner (See
Figure 1):A new winding drum with two distinct pitches on the same drum eliminates ribbon winding
and promotes high-speed unwinding at subsequent processes.A straight yarn path and electronic
tension manager enable high winding speeds with tight controls on package length.Perla-A and
Perla-D devices using compressed air and mechanics respectively reduce yarn hairiness and improve
warping, slashing and weaving operations. Coupled with compact spinning, these devices produce a
yarn having greater added value.An inverter-controlled blower and direct-drive winding drum reduce
power consumption. The blower also reduces operating noise.A kink preventer reduces hard waste,
which is automatically separated from soft waste on the #21C model.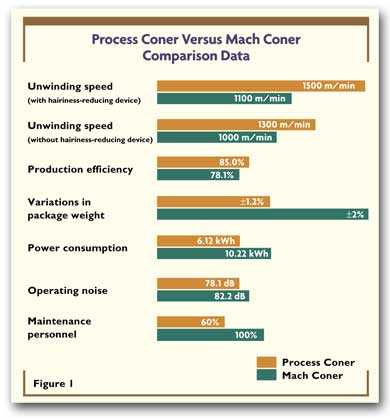 In the event that an abnormal number of faults are detected in one spinning cop, the machine
will automatically remove an increased amount of yarn from the cop before splicing and restarting.
Should the yarn continue to fault, the process will be repeated for a number of attempts. All of
these steps occur without operator intervention. The operation of electronic yarn clearers is
enhanced by the layout of the straight yarn path splicer followed by waxing device in a fully
linear path. Murata has retained the concept of individual unit maintenance during operation and
has reduced the number of mechanical parts, allowing for a reduction in maintenance personnel.The
Process Coner #21C allows ready analysis of data from multiple machines using the Visual On-Demand
System (VOS) on the central control panel. Colored graphic displays are used, facilitating data
feedback and immediate decisions. The new Murata Process Coner offers cutting-edge technology
coupled with practical simplicity for new-generation winding needs.
April 2002