Medical textiles save lives, promote healing, provide protection "It sure makes me want to come
to work every day." At a time when the U.S. textile and apparel industry is threatened by the
availability of inexpensive imported products and U.S. producers are moving certain operations
offshore, promising and rewarding opportunities exist in the various specialized areas of medical
textiles.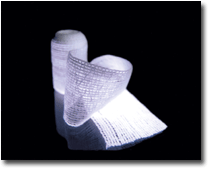 Kerlix¨ A.M.D. antimicrobial wound dressing was developed by Avecia and Kendall"It is a very
good field to get into," said Thomas R. Molz, executive vice president, Prodesco Corp., Perkasie,
Pa. "There are quite a few jobs available in the medical sector."Kimberly Barkman, senior engineer,
product development, Guidant Corp., Menlo Park, Calif., concurred. "There are many ways to make
medical products better using various textile techniques," she said. New products are providing
improved protection and healing properties and reducing risks to patients. "Our new endovascular
AAA system has helped so many people and saved so many lives," said Barkman, referring to Guidant's
ANCURE¨ System for abdominal aortic aneurysms (AAA). "It sure makes me want to come to work every
day."The range of applications includes very specialized and sometimes surprising uses in devices
that end up inside the body, including vascular grafts, stents, adhesion barriers, meshes, cardiac
support devices and parts of artificial organs. More conventional end-uses include surgical gowns
and drapes, dressings and bandages. Textiles are found, as well, in support devices such as
compression stockings, braces and casts.Research and development of new products in this field
often involves a multidisciplinary approach. Input from researchers in mechanical engineering,
microbiology, bioengineering and molecular biology, as well as textile sciences, is necessary to
address the various requirements of a particular product. Implantable TextilesDevices that are
implanted inside the body must be made of nontoxic blood-compatible and biocompatible materials
that are porous enough to allow tissue to grow on and enclose them. Sutures, bone-setting
materials, meshes, synthetic skin or other materials must often be bioabsorbable. Whether the
materials may be biodegradable or not is dictated by the intended application. Biodegradable fibers
used in implants include collagen, alginate, polylactide, polyglicolide, polyamine and some
polyurethanes. Non-biodegradable fibers include polytetrafluoroethylene (PTFE), polyester,
polypropylene, carbon and others.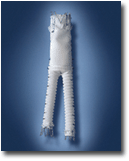 Guidant's woven polyester ANCURE System for AAA.Prodesco, a research and development firm
specializing in engineered fabric and cloth structures for the medical, industrial and aerospace
industries, has been a player in the medical sector since the 1960s. The company has focused
increasingly on this sector over the last five years, developing and engineering medical fabrics
and innovative surgical implants that require minimally invasive surgery for implantation. Such
implants include vascular grafts, ligaments, heart valve components, hernia mesh, adhesion barriers
and other devices. Prodesco works with a range of companies – from startups to large, established
companies.Tom Molz talked to Textile Industries about working in the medical sector: "The challenge
is to educate medical device manufacturers to the possibilities and potential successes of textiles
for implantation. Textiles are biostable and have been approved by the Food and Drug Administration
(FDA) for several decades."Prodesco is now getting into combining metal and polymers to form
composite products," Molz said. These composites are assembled in a clean-room environment by
mechanical means, thus removing the possibility of human error. The result is a more reproducible
and cost-effective product. Guidant and W.L. GoreandAssociates Medical Products Division,
Flagstaff, Ariz., both have developed vascular grafts that require minimally invasive surgery. The
procedures entail shorter recovery times and far less risk to the patient than the major surgery
required for traditional implantation. Guidant's ANCURE System for AAA received FDA approval in
1999. Gore's Excluder endoprostheses for the treatment of AAA and thoracic aortic aneurysms (TAA)
are approved for use in Europe and are currently classified as investigational devices in the
United States.The procedures entail insertion of a catheter through a small incision in the groin
area or the leg into an artery to deliver the implant to the site of the aneurysm. The ANCURE
System's woven polyester graft is attached to the aortic wall by small positioning hooks made from
Elgiloy®, a cobalt/chromium/nickel alloy developed by American GageandMachine Co., Elgin, Ill.
Gore's devices, extruded from ultra-thin expanded PTFE (ePTFE), have an outer self-expanding
support structure of nitinol, a nickel/titanium alloy.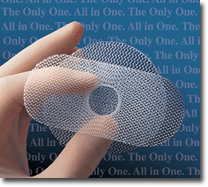 Ethicon's polypropylene mesh Prolene Hernia SystemThe Prolene Hernia System from Ethicon
Inc., Somerville, N.J., a subsidiary of JohnsonandJohnson, is used for the repair of inguinal
hernias. It combines three repair techniques in one system. The knitted polypropylene mesh device
consists of an underlay patch that is positioned on the inside of the abdominal wall, another patch
on the outside, and a connector that joins the patches and plugs the rupture in the
wall.InterVascular Inc., Clearwater, Fla., manufactures knitted and woven Dacron® polyester
vascular and cardiovascular grafts. Some have velour or collagen-coated external surfaces to
facilitate tissue growth. Many of the knitted products are produced on warp-knitting machines using
a reverse locknit stitch. Some woven devices have a leno structure, which reduces fraying and holds
sutures better than other woven structures. InterVascular recently developed InterGard Silver, a
graft whose surface coating of silver provides lasting antimicrobial protection. It has been
approved for use in Europe and is awaiting FDA approval in the United States. Antimicrobial use in
implantation applications is expected to be particularly effective because the sites are
inaccessible after surgery is completed, making it difficult to impossible to use antibiotics
effectively. George Du, senior principal engineer, said the graft is the first of its kind to be
developed.Antimicrobial properties are added to certain of W.L. Gore's hernia meshes as well.
Silver carbonate and chlorhexidine diacetate are used to control contamination during implantation
of the devices.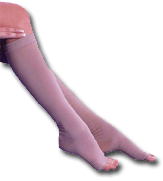 Surgical hosiery from Sigvaris provides compression support to the leg.All Wrapped
UpDressings and bandages must protect wounds from infection as well as from further injury. Among
new products in this category is Kerlix® A.M.D, an antimicrobial wound dressing developed by United
Kingdom-based Avecia and Tyco Healthcare's Kendall Division, Mansfield, Mass. The 100-percent
cotton dressing contains Cosmocil CQ polyhexamethylene biguandine (PHMB).In the future, "living"
bandages may be available to fight infection or deliver medicines or drugs. A research team led by
Alex Fowler, associate professor of mechanical engineering, University of Massachusetts (UMass),
Dartmouth, is working to develop biologically active fabrics that have potential medical and
apparel applications. The interdisciplinary team includes researchers from UMass Dartmouth and
Harvard Medical School in the fields of mechanical engineering, textile sciences, microbiology,
bioengineering and molecular biology. The goal is to incorporate viable microenvironments
containing genetically engineered bacteria or mammalian cells into hollow fiber-based fabrics and
poly-laminate fabrics in order to provide sustained bio-active properties to the fabrics.Support
SystemsSupport devices help to hold blood vessels or bones in place during healing and help restore
normal function by providing pressure and/or a rigid framework around the affected area. Surgical
support hosiery provides compression support to the leg in cases of thrombosis, varicosity,
lymphoedema and similar conditions. Pressure is greatest at the ankle and decreases up the leg,
reducing the diameter and supporting the walls of the veins, and counteracting the pressure of the
blood on the walls and increasing blood flow. Sigvaris, Switzerland, manufactures a range of
knitted nylon/elastane stockings and pantyhose that provide from light to extra-strong
compression.The Militex Division of New York City-based Gehring Textiles has developed several new
fabrics in its line of D3 spacer fabrics that are suitable for sports-medicine applications. (See
"Quality Fabric Of The Month,"
TI, April 2001). The fabric structure allows greater control over such properties as
elasticity, according to Gehring. The fabrics are warp-knitted on Karl Mayer machinery.Protective
CoverSurgical apparel and accessories, breathable membranes, and barrier products such as surgical
drapes must be fluid-proof to protect against possible contamination by fluid-borne viruses and
bacteria. Apparel must be comfortable and provide freedom of movement. Typically, the fabrics are
knitted, woven or nonwoven cotton, polyester, polypropylene, polyethylene, viscose or glass fiber.
Barrier protection may be provided by means of coating, lamination or encapsulation. Products may
be reusable or disposable. It is estimated that the annual U.S. surgical pack and gown market is $1
billion. According to the Association of the Nonwoven Fabrics Industry (INDA), Cary, N.C., nonwoven
disposable medical/surgical products sales generated $462 million in 1999.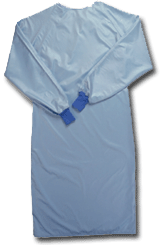 Standard Textile's ComPel surgical gowns are made from microdenier polyester fabric.
Cost-effective, eco-friendly waste management of disposable medical products is a concern in the
nonwovens sector. OREX Technologies International (OTI), an operating unit of Isolyser Co. Inc.,
Norcross, Ga., has developed OREX®, a dissolution technology that reduces such waste, and
EnviroGuard, a hot-water-soluble polyvinyl alcohol (PVA), hydroentangled spunlaced nonwoven used in
such products as Allegiance Healthcare's Resolve surgical gowns and drapes. EnviroGuard fabric
biodegrades into carbon dioxide and waste. It may be dissolved in water heated to 205°F in an OREX
processor and released into a wastewater treatment system. Reusable products comprise approximately
50 percent of the total product in this category, up from 10 to 20 percent in the late 1980s to
early 1990s. The increase is due primarily to technological advances for reusable products, said
Richard Stewart, vice president, product development, Cincinnati-based Standard Textile, a
manufacturer of reusable surgical, incontinence-care and other health-care-related products. "The
advances have made reusables more viable from a clinical perspective," he said. "As well, they cost
much less per use than disposables, as laundering costs are less than costs of acquiring comparable
disposables."The woven solution-dyed microdenier polyester fabric used in the company's ComPel
surgical gowns is specifically designed and engineered for use in the surgical environment. The
fineness of the filament, rather than an applied coating, gives the fabric its fluid resistance,
which is enhanced by fluorocarbons.Fabric woven from microdenier yarn requires different weaving
machinery than more conventional fabrics. ComPel fabrics are woven by Precision Fabrics Group,
Greensboro, N.C., on water-jet looms.Staying DryStandard Textile's ComPly and Integrity reusable
incontinence products are twice as durable as similar products using traditional constructions,
according to Stewart.ComPly fabric's tricomponent knitted loop construction combines polyester, to
wick liquids away from the body, and cotton, to provide an absorbent padding. A vinyl or
polyurethane barrier on the under side protects bedding.Integrity fabric is a stitch-bonded
polyester/rayon nonwoven. The stitching forms the top face, while the nonwoven web absorbs liquids.

December 2001