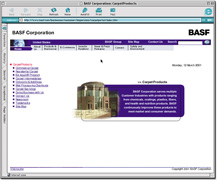 BASF Corp., Mt. Olive, N.J., has launched its new Web portal, CarpetProducts, an Internet
site that is a complete, one-stop shopping and technical information resource. The site, located at
www.basf.com/carpet, can be utilized by both designers and carpet manufacturers when combined with
the special Web-application website myAccount, which gives customers fast, accurate and secure
order placement and information 24 hours a day. In myAccount, customers can place orders; receive
information about order status, shipment history and delivery location; and view Material Safety
Data Sheets (MSDS) for BASF products.This new portal is the corporations first attempt at
cross-divisional efforts, plus it is a complement to the existing commercial website, which was
launched two years ago. According to BASF, the site will help mills, designers, specifiers and
others involved in the industry because it offers such a broad range of products and services
combined with a customized on-line electronic-commerce capability.CarpetProducts, in addition to
product selection and applications, contains an array of technical information. Both the Commercial
Carpet and Carpet Backings sections provide information about maintenance, cleaning and warranties.
BASFs technical experts can be directly accessed by going to the Ask the Expert section. Walter
Hubbard, group vice president, Fiber Products, stated, The creation and launch of this Internet
portal is a clear example of how BASF will employ e-commerce to create and capture value for its
business partners. Customers will benefit because they can go directly to a listing of all BASFs
carpet-related products and easily find everything under one umbrella, including nylon fibers and
polymers, carpet backings, colorants and additives, and wet processing chemicals, as well as
sustainability information. Comprehensive Carpet PortalDuring a recent press conference held
at the BASF Carpet Center in Dalton, Ga., several BASF representatives presented information on
specific ways the firms new web portal can be utilized, stating that it will bring together all
carpet products into one summit providing marketing materials and data sheets. Orders can be placed
and tracked seven days a week using real time, which could be critical this will complement
customer service, not replace it, said Ian Wolstenholme, manager, sales and marketing, carpet
products.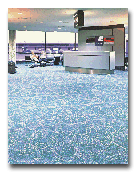 The portal provides growing access for the design community, said Sandy Lusk, marketing
information director. For instance, a designer can get product specs, visuals, furniture, fabric,
and paint; and build a design board to show to customers in very little time. Plus, she continued,
the specifier can check out the technical data, specs, denier, color, application, color trends,
recycling and warranties. Additional features include the latest in industry trends and events. One
area of the site is dedicated to BASFs mill partners. It presents a profile of the partners and new
products, as well as a direct link into the website. For many, the portal can also be utilized as a
think-tank session.In the area of carpet backings and others, contacts with experts are easily made
on-line with e-mail, and a telephone number is given for voice contact. This portal is complete
with security, both on the consumer and on the business side.Both the commercial and residential
carpet sections in BASFs new web portal provide information about BASFs Nylon 6ix® yarns. Data
needed to select the right Nylon 6ix for any application is shown with details. Plus, the
commercial carpet sections exhibit valuable information on technical support, product innovation
and environmental responsibility.

April 2001