S

ome of the technological developments shown at the Expofil yarn fair last June
(See "Technology Advances At Expofil,"
ATI
August 1999)
have given birth. In March at Premiere Vision, there were the
retro-reflective yarns, paper yarns and dissolving yarns, all blended with other fibers and woven
into some of the season's best-selling fabrics.
At the time, some of these developments may have sounded far-fetched. With foresight,
imagination, an innate sense of style and a desire to create new, saleable fabrics, French, Italian
and Swiss textile companies have introduced fabrics which have all of the aesthetic and performance
characteristics clothing designers are seeking, plus a little something extra.

That Something Extra

Chimere, the polyvinyl alcohol (PVA) yarn that dissolves in hot water, produced by Paul
Bonte, the techno division of St. Lieven, turned up in color wovens at Isotex, a division of
Isoule. Here the PVA has been used with linen/cotton in summer jackets and dress-weight fabrics.
Colorful checks and plaids have the added dimension of transparent patterns running through them.
The look is akin to a leno weave.
Gerard Alzieu, president of Isoule, said that special designs can be woven and sample
yardage delivered in about two weeks.
Retro-reflective yarns were shown at Expofil by several spinners including Paul Bonte. Paper
yarns turned up at Pozzi Electra.
Schoeller, Switzerland, picked up both of these ideas. The company blended retro-reflective
yarns with silk/metal for semi-lustrous jacket-weight cloths.
Paper was blended with aramid. The result was a stiff fabric that was popular with boot and
bag manufacturers.
Woolmark was another to show paper at Premiere Vision. A development fabric woven by Luigi
Botto of 75-percent wool/25-percent paper was shown made into a tailored dress. The fabric drapes
well and has a cool, supple hand.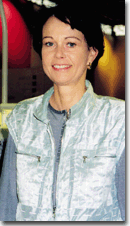 Christine Jenny, Schoeller, wears a jacket
made of the company's silk/metal/retro-
reflective material.

Fall 2001 And Beyond


What yarns will the weavers and knitters sample for their next lines? Expofil's Fashion
Director Sylvie Tastemain said: "Natural fibers are tailored to meet our requirements for comfort
and performance transformed by the addition of synthetic fibers."
Tastemain's color forecast is subtle and refined. There are misted neutrals and grey tinted
pastels. A range of warm opulent reds, browns and purples features shades of baked clay and tanned
leather. There is a group of cold deep blues and forest greens. Five lively colors set off the more
subdued tones.
Tastemain shows rustic yarns and fabrics which have a craft look. Some of these are coarse
multi-ply in camel hair, cashmere and alpaca, with low-twist and even-twist effects giving the
yarns rounded surfaces. Compact woven fabrics, basket weaves and etamines with a soft hand are
shown produced from worsted wool slightly overtwisted with carded wool.
Lightweight tweeds, brushed and calendered reversible woolen fabrics and relief-effects are
other wool and wool blend fabrics shown. Some of these are knitted or woven with uneven spun yarns
in blends of wool/linen or wool/wild silk. Others are spun with silk or viscose neps.
Voile knits are produced from wool/cashmere/PVA yarns. Some of these are enriched with
metallised-plastic-covered yarns for special pattern effect. Contrasting textures and interplays of
transparency are shown, some using extra-fine wool twisted with trilobal nylon.
Fluid and lustrous fabrics are knitted or woven with fine woolen or worsted yarns blended
with silk, viscose, polyester or nylon. Dense, spongy lightweight knitted fabrics with plush loops
are created in wool/cotton/nylon.
For diaphanous effects, Tastemain shows mohair blended with silk, viscose or plant fibers.
The mohair appears like a veil on the surface of the yarn. Fine, colored kid mohair yarns are
twisted with tussah silk, filament viscose or linen. The color contrast creates a shot effect.
These yarns are shown in loose knits with lacy effects.
A lacquered or glistening effect is achieved using mohair combined with cotton covered in
transparent nylon and a metallised-plastic yarn.
Crepe twists and irregular textures are shown in fabrics with granite-like or grainy
surfaces. Light and fluid knitted fabrics and smooth, lustrous wovens are shown in intimate blends
of wool/silk, silk/cotton and wool/ polyester microfiber.
Stretch and shrink yarns are shown in crumpled and folded surfaced fabrics. The range goes
from double knits to organza and shot taffeta.
Frosted effects combine twisted yarns with flat filaments or strips of transparent nylon.
The look is glistening and cracked.
Felted looks, radiant effects, yarns made from recycled cotton fabrics, velvet, plush and
printed yarns are among the highlights of Tastemain's forecast for Fall 2001/Winter 2002. All will
be on view in Paris at Expofil, June 6-8.
April 2000