Textile Technology In FOCUSBy Alfred Dockery, Executive Editor,and Eric Vonwiller, Technical
Editor Reinventing The Jacquard Business
J. Schneider uses new technology to capture the imagination of its customers. Circa
1801 J. Schneider Fabrics, Connelly Springs, N.C., combines state-of-the-art textile machinery and
information systems to take Jacquard weaving in new directions. Josh Schneider formed the company
and recruited a team of industry veterans after making an intensive survey of Jacquard weaving
technology. He felt that several recent breakthroughs could give him a technological edge in the
upholstery and home furnishings marketplace.Key technological components at the 200,000-square-foot
plant include Luwa Bahnsons LoomSphere system; Staublis LX 3200 Jacquard head and Delta 200
drawing-in machine; Nuovo Vamatexs Leonardo and 9000 PLUS ES rapier weaving machines; and Karl
Mayers rotary creel sample warper. There was no way we could go out, as a company, and compete
and be one of the same, Schneider said. We had to look at where the weaknesses were in the
industry, the holes that can be filled if you do something different. I realized that to get into
it, we needed an edge. We didnt have that technological edge to get into the business until about a
year ago.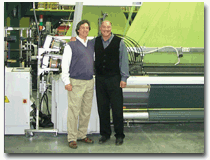 Circa 1801 Fabrics President John Lenox (l) with company founder, Josh
Schneider. Schneider and his team are also using information systems to tie together not just
all of the technology but all of the companys functions as well. In fact, one of the major
requirement vendors had to meet was to get their engineers together with engineers from all parties
to ensure a high level of integration. Alphatex, Charlotte, N.C., is responsible for getting all of
the different systems Staubli, Vamatex, EAT, NedGraphics integrated.The entire plant is integrated
from the warper, to the warehouse, to the looms, said John Lenox, president, Circa 1801 Fabrics.
Our customers with a password will be able to view their fabric weaving. When they check on an
order, they dont have to talk to a customer service person. They can go directly to the
loom.However, the company is not relying on technology alone. The top 12 people at Circa 1801
(including Schneider and Lenox) have more than 275 years of experience between them. Most are
second or third generation textile managers.Its the team that weve assembled, that makes the
technology useful, Schneider said. Its a double-edged sword. You can have the best technology in
the world but it drives the organization, instead of the organization driving it.Its not just your
network; its what you do with it. Everything has to be a seamless whole marketing, design,
production to survive in todays market. You are not given a choice. Plant DesignCirca 1801 is
a green field plant, designed specifically to make the most of every element of its machinery. (See
ATIs September 1998 issue for a first look at the plants construction.) The building itself has
several unique features which make it ideal for Jacquard fabric production. For example, ceiling
height is 28 feet. The extra height allows Circa 1801 to have the greatest possible distance
between its looms and the Jacquard heads. There is also no duct work over any of the heads. The
higher the head, the less the angle in the harness. The reduced angle translates into reduced
friction and increased harness life. The company estimates that its 1,200-hook harnesses will last
up to five times longer those in conventional plants, which have much lower ceilings.Another
advantage of an extremely high ceiling is that future loom configurations will be more vertical,
said John Lenox, president, Circa 1801 Fabrics. Not only is this a valid weave room for today; it
is a valid weave room for 20 years from today.The building was also designed with Luwa Bahnsons
LoomSphere air filtration system in mind. There 10-foot by 10-foot tunnels under the weave room
floor for air return.The building was also designed for rapid expansion. One of the weave room
walls is can be easily removed, and the pads have already been poured for phase two allowing Circa
1801 to double the size of its weave room and warehouse.Schneiders business plan calls for adding
28 looms per year. At this rate, the current weave room will be completely filled with looms in
three years. In four years, a 250,000-square-foot expansion is planned.Growth is a subject that the
entire Circa 1801 team has given a much thought. In order to be a force in this market they must
grow. At the same time, they dont want to become so large that they no longer know their
associates.We can be a happy medium between a European family mill and a big textile operation,
Lenox said. We are interested in custom projects. We are absolutely interested in working with the
customized products that the marketplace is requiring today. Processes And EquipmentProduction
processes begin with warping. The plants warping equipment includes Hacoba warpers and Karl Mayer
sample warpers. In an unusual arrangement, the Hacoba warpers are mounted on tracks, making them
movable.These warpers are mated with very large stationary creels designed to minimize labor. Every
aspect of production at Circa 1801 has two guiding principles in mind: flexibility and reduced
manufacturing cost.Changing over a creel takes at most two hours. The Hacoba units are also very
user friendly. It only took about two weeks to train operators to use the equipment.There are two
Karl Mayer sample warpers, capable of making warps up to 150 yard in length. The company uses these
machines in three ways: sampling, product development and custom warps.The Karl Mayer (warpers)
give you versatility, said Jeff James, president of manufacturing, Circa 1801. Especially if you
have a customer that wants a quick turnaround. Using the rotary creel on them, I can make a warp in
about three hours.If all that is needed is a short warp for a quick fabric trial, James says that a
35-yard warp can be prepared in about an hour. These warpers also do not need much operator
attention. During the plants startup phase it was not unusual to leave them running overnight.James
told ATI that he has discussed a fabric with a customer in the morning and showed her fabric that
afternoon.The plants slashing system is a Sucker Mueller single-end slasher. Single-end slashing
gives better sizing application, which translates into higher weaving efficiency. This unit is one
of the first such installations in the United States.The plants drawing-in machine is a Staubli
Delta 200. The Delta 200 a very handy machine for dobby looms, especially when we get into the
contract market very heavy, James said. You can do a full count draw through drop wires, heddles
and a reed in about an hour.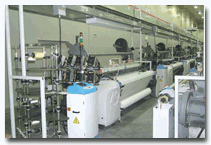 Circa 1801 J. Schneider Fabrics weave room in operation. You can also pattern your draw.
It does not have to be a straight draw. Its PC-driven so you can draw any kind of pattern you
want.This flexibility allows the company to run some styles that would normally have to go on its
Jacquard machines on its dobby machines, giving the company another cost savings. Weave RoomOf
course, the heart of the plant is its weave room. Circa 1801s weave room is clean, spacious and
well lit. All of the equipment is new and first rate.For Jacquard weaving, the plant has 18 Vamatex
9000 PLUS ES positive rapier looms driven by Staubli LX 3200 Jacquard heads. These machines are
capable of speeds in the 400 to 450 picks per minute range. At the time of ATIs visit, the company
was in negotiations to purchase 18 more 9000 PLUS ES machines. Additional Staubli Jacquard heads
are also on order.For dobby weaving, the plant has 10 high-speed Vamatex Leonardo negative rapier
looms driven by Staubli 2670 dobby heads. These dobbies are fully electronic and can drive up to 20
harness frames. These looms are capable of speeds up to 700 picks per minute.The company is working
aggressively to move styles from Jacquards to the dobbies whenever possible for the cost and speed
advantages.This is the first U.S. installation for the Leonardo machines. The loom was first shown
at OTEMAS in Osaka. It has many advanced features including a programmable inverter drive. The
inverter can be programmed for specific filling yarns. So that the loom drops its speed 40 to 60
percent for that particular pick and then speeds back up for the other filling yarns.This
programmability should be a huge advantage in upholstery weaving with its wide variety of yarn
sizes and types. Other noteworthy features include the CANBUS logic system, variable pick density,
electronic tension control and 12-color filling capability. The Leonardo also has quick style
change capability. James estimates that he can have a pattern in these looms and running within
three hours of starting the drawing-in process, even if width changes are needed. Changing to a
pattern that has already been prepared (i.e. drawn-in) takes about one hour. This combination of
machines gives the plant considerable flexibility, according to James. Again its versatility, he
said. If I get a style that can run on the dobbies, I can take it off a Jacquard machine running at
400 picks per minute and put it on a dobby and run it at 700 picks per minute. Two different
machines, two different technologies for versatility. James reports very few filling stops on
either types Vamatex machine.The Staubli LX 3200 Jacquard head, which drives the 9000 PLUS ES
machines, is highly computerized and has self-diagnosis capability. These heads can handle up to
12,000 hooks. The harness setup here is also unique. With quick connect capability, a complete
harness change can be done in one shift rather than several days.By year end, all patterns will be
downloaded to both Jacquard and dobby machines over the plants computer network.In addition, every
fourth loom will have a computer monitor and printer. Each time a loom begins a new style the
weaver will run one repeat of the fabric and then compare it with a TIFF file on the computer
monitor.The ultimate goal is to have a paperless mill. The plants computer system will control
everything from incoming yarn to cloth shipment. Everything including spare parts will be
computerized. Bar code readers with radio frequency capability will be used to keep track of yarn
inventory.Circa 1801 runs a wide range of yarns from 6,000 to 7,000 denier down to 70 denier. Fiber
type is even more varied and has included yak, camel and goat hair, as well as, wool, silk and
cotton.Diversified Systems Inc. (DSI) provided the plantgrading frames, gantries and beam storage
system. The material handling equipment here was made by Hubtex and includes cloth doffing and warp
trucks. Yarn trucks came from Excel Inc.Grob Corp. is the plants vendor for harnesses, heddles and
drop wires. You cant beat the Grob harnesses, James said. We are very pleased with their quality.
Theyve always done an excellent job. There is no comparison. Conquering New WorldsWe are doing
things out in the furniture market that no one else can do right now, Schneider said. At the same
time, the vast possibilities that the technology opens up to Circa 1801s design, production and
marketing staff make having a definite focus a necessity. For now that focus is on the residential
furniture and commercial contract markets.Our first efforts have been in creating products for the
furniture industry, Lenox said. Residential upholstery fabric is an area that we have focused on as
our first step. The niche is upper end. Our price points range from $5.95 to $19.95 per yard.With a
brand new weave room, you have two issues: making profitable goods and running looms. Our strategy
allows us to cover both bases. In the residential area, were going to make our profit. In the more
volume-oriented, contract and specialty product niche, our margins wont be as high. Its a very
stable strategy.The company has already gotten some rave reviews back from its customers.After they
make their sofa or chair they have less of our fabric sitting on their floor, Schneider said. They
dont have to cut around a lot of defects. A lot of that has to do with the Luwa Bahnson system. It
just keeps the warps so clean and the fabrics so crisp.
For more information on Circa 1801 J. Schneider, call (828) 397-7003 or fax (828)
397-6736.

June 1999