Technology In The MillATI Special Report Camstar Shines
Camstar's prior success leads to InStar implementation at Unifi. Unifi Inc.,
Greensboro, N.C., is one of the countrys premier fiber producers, manufacturing yarn that it sells
to textile manufacturers worldwide. Unifi fibers are specified in a range of textile markets,
including automotive, upholstery, apparel and home furnishing. The company textures and dyes yarn
and also produces partially oriented yarn (POY) for its own use.In late 1996, Unifi formalized
planning for development of an extrusion process POY facility in Yadkinville, N.C. The Yadkinville
plant was envisioned as a high-volume, high-yield, state-of-the-art facility. As such, it would be
highly automated, using the latest in manufacturing equipment and software to ensure optimum
production of partially oriented yarn. An Integrated PlantThe new plant would require a means
for establishing visibility and control over the manufacturing process, which could be accomplished
by implementing a manufacturing execution system (MES). The MES would support detailed tracking of
all work in progress throughout the plant, enabling Unifi to maintain an on-going picture of plant
floor activities while capturing all relevant data for subsequent review and analysis.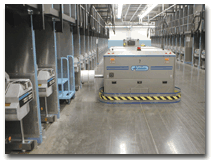 Camstar's Autech automated guide vehicle Beyond the MES, the manufacturing software at
the Yadkinville facility would also include other applications that would need to work in harmony
with the MES. It would therefore be necessary for Unifi to select and implement an MES that could
accommodate this, along with providing all the requisite MES functionality.One of these other
applications, a distributed SCADA control system created by Unifi, was to be located on the plant
floor where it would tie together Unifis extensive array of automated equipment, including AGVs
(automated guided vehicles).The distributed SCADA control system was designed to provide a uniform
software layer for higher levels of integration. One of the key MES requirements was that it would
interface easily with the SCADA system.The other of these applications would be an ERP (enterprise
resource planning) system, running at the compare level. Unifi had standardized all its
manufacturing plants on Oracle ERP, and would be using it at the Yadkinville facility as well. It
would be essential that the new MES, in addition to interfacing down to the control system, could
integrate up to the ERP. Bringing In InSiteUnifis management has previous positive experience
working with Camstar Systems Inc., Campbell, Calif., having successfully implemented Camstars
AS/400-based MESA MES at their Reidsville and Mayodan dyeing facilities. When Unifi learned that
Camstar was coming out with InSite, a Windows NT-based MES, they recognized that it might be a good
choice for their Yadkinville facility.A Windows NT-based MES appealed to Unifi because of the
potential benefits of the Windows NT operating system. These included the cost-effectiveness of
Windows NT, as well as its open architecture which would allow for easier integration of all plant
systems.With Windows NT rapidly becoming a standard on the manufacturing floor, Unifi realized that
there would likely be increased availability of other manufacturing software applications that
could be of value to them.Unifis confidence in Camstar, coupled with the potential advantages of
Windows NT, led them to choose Camstars InSite for their new POY facility.Built on Windows NT,
InSite is a highly configured MES. Its architecture is object-oriented, multi-tiered and
distributed. In addition, InSite fully supports Microsofts COM/DCOM and ActiveX technologies,
facilitating seamless integration with other plant systems.Our IS people were familiar with Camstar
and had experienced much success with their software, says Michael Smith, director of worldwide
business and manufacturing systems at Unifi. We anticipated similar success with InSite.With InSite
in place, the Yadkinville facility opened on schedule, in January 1998. InSite At UnifiUsing
InSite, Unifi has been able to manufacture POY efficiently and cost effectively, producing the high
yields necessary to stay on top of the market. InSite provides Unifi with detailed work-in-process
tracking-supporting product quality and manufacturing efficiency as well providing tools for
continuous process improvement. In addition, because InSite directly connects to the control
system, data collection is automated, giving Unifi the benefits of full MES functionality without
the cost of manual entry.By providing Unifi with the ability to closely observe and analyze its
manufacturing processes, InSite has also been instrumental in helping Unifi operate its POY plant
within the tolerances required for high-quality POY production. Process ImprovementThe ability
to continually improve the manufacturing process is always key to manufacturing profitability and
success. At Yadkinville, specific machine settings (or recipes) and component characteristics
affect overall product quality. With InSite, information from the plant floor is directly available
to plant management, establishing a fact-based reference point for supporting or discounting ideas
regarding process and product quality improvements.By viewing the information in the MES, we can
objectively evaluate cause and effect relationships and implement process improvements, Smith said.
R and D, Manufacturing and Industrial Engineering have all developed specific areas of interest as
a result of increased MES information. A Smooth ImplementationUnifis IS team found that they
were able to easily integrate InSite into the overall plant information system. InSites use of
Microsofts COM/DCOM and ActiveX technologies provide the software hooks necessary for the
flexibility that was required to interface the MES to both the automation layer below the MES and
the enterprise level above it.Because of the way InSite supports Microsofts COM/DCOM standard, it
was very easy to integrate the MES with our other manufacturing applications, Smith said.Since
InSite was installed, it has functioned stably and reliably on Unifis Windows NT platform. Running
on a Quad-configured Compaq computer, InSite operates 24 hours a day, seven days a week, handling
an average of 200,000 transactions a day. The Benefits Of IntegrationWith InSite as a fully
integrated part of the manufacturing information system, Unifi has been able to establish
enterprise-wide connectivity between the shop floor and the corporate level, facilitating the flow
of information throughout the entire plant.InSite works closely with the distributed SCADA
controlling Unifis automated equipment. At the same time, the control system communicates back to
the MES, sending real-time data to InSite for collection and analysis. InSite also interfaces up to
Unifis Oracle ERP. InSite provides the ERP with all relevant plant data on an on-going basis,
providing plant management with the accurate and up-to-date information required to make the best
possible business decisions.The net effect is that InSite has become the software backbone for the
entire Yadkinville facility, enabling Unifi to realize its vision of a fully-integrated and
highly-automated POY production facility.With all plant operations being managed from a
computerized control room, and fewer than 100 employees physically on the shop floor, Unifi is an
example of computer integrated manufacturing at its best. New Integration ServicesAs a result
of its success over the last four years with expanding integrated manufacturing technologies, Unifi
has formed Unifi Technologies Group, which is now offering outside manufacturing companies its
knowledge and development resources for integrating information technology with automation and
machine controls.Alliances have been formed with Camstar, and other product companies, enabling
Unifi Technologies to bring reliable, scalable and cost-effective solutions to manufacturers. June 1999