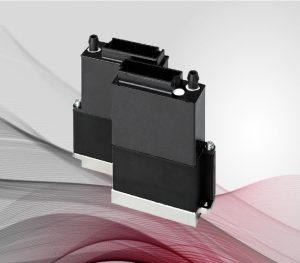 CAMBRIDGE, England — March 7, 2023 — Meteor Inkjet Ltd. — supplier of electronics, software, tools and services for industrial inkjet applications — has further expanded its product portfolio with drive electronics and software for Ricoh's TH6310F industrial inkjet printhead.
The TH6310F is Ricoh's latest printhead to use highly-integrated MEMS technology, enabling precise jetting even with a large gap. Compatible with aqueous, UV and solvent inks, and incorporating a unique ink recirculation system, the TH6310F is ideal for single-pass packaging and textile applications, as well as high-end scanning systems requiring many printheads.
Meteor's HDC-2R26 drive electronics for the TH6310F are easily scalable to systems of any size and, coupled with Meteor's comprehensive software, OEMs can significantly reduce the effort and risk associated with the design and delivery of industrial inkjet printers. The HDC-2R26 fully supports the new Dual VCOM capability offered by the TH6310F printhead, allowing the selection of two different printhead drive waveforms per nozzle. This feature delivers superior jetting frequency and print productivity by shortening the drive cycle. Also available for the TH6310F are Meteor's DropWatching System and printhead waveform development services, essential tools to accelerate time to market for new inkjet applications.
Jonathan Wilson, Meteor's vice president of Business Development commented: "Meteor electronics and software have been driving Ricoh printheads since 2011 and we are proud to add the TH6310F to our line-up. Among many benefits, our ability to manage multiple printhead waveforms per nozzle means that Meteor solutions allow OEMs to take advantage of all that the TH6310F printheads have to offer."
Graham Kennedy, Ricoh's Director of Industrial Print Solutions adds, "Ricoh is delighted that Meteor is supporting the TH6310F. Meteor drive electronics provide the easiest and most reliable way for OEMs to unlock the potential of these printheads."
Posted March 7, 2023
Source: Meteor