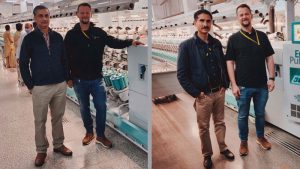 Pakistan-based Kohinoor Textile Mills selected Loepfe's YarnMaster® PRISMA for a recent plant upgrade.
TW Special Report
Perfection for compact yarns. The general managers of Kohinoor Textile Mills Ltd. (KTML), Pakistan, know exactly what they need for their business and are again relying on the latest Loepfe technology for a new level in yarn quality with increased profitability.
Muhammad Irfan, general manager of the Gujar Khan plant, and M. Jahanzaib Baloch, general manager of the Rawalpindi plant, lead a successful textile business in Pakistan. They operate nine units with 180,000 spindles, covering the complete range of coarse and fine count yarn from natural and man-made fibers. KTML is known for its consistent yarn quality. The focus on satisfied customers has proven itself and is continued meticulously. Customer satisfaction is achieved, among other things, through the constant integration of the latest technologies.
A total of 5,500 Loepfe yarn clearers are integrated into the spinning process, with the first 1,112 winding units now being replaced with the new yarn clearer generation, YarnMaster PRISMA. The motives are clear.
Irfan commented: "Loepfe yarn clearers have helped us to improve our yarn appearance and customer satisfaction. We are delighted to continue our relationship with Loepfe by installing YarnMaster PRISMA on our lines — and, in fact, we are already seeing the benefits of this new leading-edge sensor technology."
With PRISMA, KTML achieves a new level in yarn quality while increasing profitability. This is accomplished through the unique four-sensor technology combined with the intelligent clearing algorithm. Especially important for KTML and its mainly compact ring yarn production are the additional fine classes of SFI/D and OffCount clearing. The refined matrices simplify the settings and provide flexibility to adapt the clearing curve to all market needs. Thereby the compact spinners are given the best yarn structure overview of their produced yarn.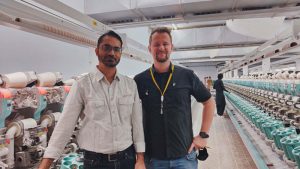 KTML uses the unique feature based on the continuous monitoring length of 80 meters for SFI/D clearing and 50 meters for OffCount clearing. Removing long faults in one piece delivers significant advantages:
Increased machine efficiency due to less splice cycles and immediate alarm of bad bobbins after the first few meters;
Increasing yarn quality due to complete removal of long faults; and
Certainty in yarn quality since no remnants of longer faults are processed further. As this is the case with other yarn clearer models which are cutting longer faults on their set curve and therefore slicing faults into pieces.
Baloch added: "KTML is a vertically integrated set up producing yarn for its own requirement and selling in the local market at the same time. Finished goods are sold to world-famous brands in the U.S. and Europe. Quality is ensured in each and every step. The export market is very sensitive to contamination. To achieve this objective Loepfe and Service traders are our partners for decades. PRISMA is an excellent product made it possible to optimize at the deepest levels. There is a world full of opportunities in a single sensing head. For us, Loepfe is a brand we trust on.
"Immediate and professional support in all matters is a pillar of Loepfe customer care. If our customers are satisfied. Then so are we."
May 2022