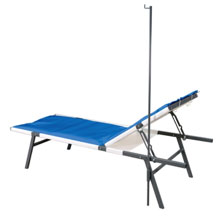 NAVARRE, Ohio — April 21, 2020 — What Miller Weldmaster is doing to help prevent the spread of COVID-19
We have faced many things in our 45+ year history, but nothing quite like the global pandemic we are faced with today. We are confident in the resilience of our country, and that we will get through this difficult period together. We are proud to be part of the fight against the COVID-19 pandemic by supplying life sustaining, critical need machines to fulfill the unprecedented demands of crucial industries. Miller Weldmaster is committed to providing solutions when our customers and colleagues need us most. Here's how we are responding.
Virtual Demos: Even when traveling is not an option, business must go on! Miller Weldmaster is accommodating our customers by offering live virtual demonstrations and training sessions to help with your research, buying decisions, or service needs. Visit https://www.weldmaster.com/virtual-demo/ for how we can help you.
Near-Immediate Shipment: Recently, we have had a lot of inquiries about welding machines for tents, masks, protection gear, prevention signage and more. To help companies essential businesses to continue to give back, we have made our T300 Extreme and T600 Extreme welders available for near-immediate shipment.
Production of Trauma Center and Hospital Field Cots: The demand for personal protective equipment (PPE) and hospital beds is acute throughout the nation and around the world to care for the increasing number of affected people that need critical care. We are collaborating with other local NE Ohio manufacturers to create and develop an emergency field hospital cot. Due to the simple design they are able to produce a cot in high volume in very short periods of time. Miller Weldmaster helped PioneerIWS develop a prototype for the mattress along with Seaman Corporation, Snyder Manufacturing, Arise Tents, and many other key contributors.
As of this writing, 5,000 cots have been delivered to New York and Ohio, with additional interest from new "hot spots" and distributors. These cots are being shipped out as they are completed as they are urgently needed.
"Ohio Governor Mike DeWine said recently "this is not an ordinary time"; he likened it to a war. The term "this is not an ordinary time" came from Eleanor Roosevelt in 1940. The first lady at that time said, "this is no ordinary time, no time for weighing anything except what we can best do for the country". We need to focus on this and what we do as citizens to protect ourselves and our families," said Brent Nussbaum, president, Miller Weldmaster.
Miller Weldmaster manufactures and services innovative and custom-made hot air, hot wedge, impulse, radio frequency and other welding technologies for the needs of the industrial fabric and thermoplastic industries. Miller Weldmaster is recognized around the world as the first choice in industrial fabric welding for over 45 years. Contact us if we can help your company further prevent the spread of COVID-19.
Posted April 21, 2020
Source: Miller Weldmaster