James H. Heal & Co. Ltd., United Kingdom, has signed an agreement with Textile Testing
International (Tti), Pakistan, under which Heal will supply Tti with its Elmatear2 digital tear
strength tester. The instrument features a capacity of 128 newtons, automatic pendulum weight
detection and automatic zeroing, and advanced controls that enable quick, simplified routine tear
testing. Tti is adding the Elmatear2 as part of a laboratory expansion project.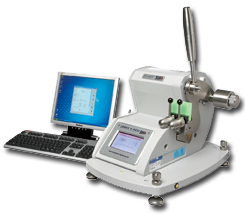 James H. Heal's Elmatear2 digital tear tester, shown with computer and data logger
software
"James Heal has always played a major role in providing world class instruments, consumables
and service to Tti," said Hamed K. Lateef, CEO, Tti. "Consequently, our latest laboratory expansion
and technology upgrade is attributed to our close liaison with James Heal; with the help of a
Technology Partner like them, we are always 'one step ahead' in adding value to our customer's
products."
January/February 2011