The Industrial Air Solutions business
unit of Montvale, N.J.-based Ingersoll Rand has become the first company in the world to receive
ISO 8573.1 Class 0 certification for its water-cooled, oil-free centrifugal air compressors from
160 to 5,000 kilowatts (kW); and air- and water-cooled, oil-free rotary screw compressors from 37
to 350 kW.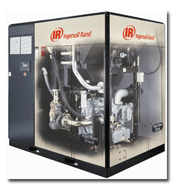 Ingersoll Rand's rotary screw oil-free air

compressor recently received Class 0 certification.




The company received the certifications – the strictest of ISO 8573.1 classifications – from
TÜV Rheinland®, a Germany-based independent testing and assessment agency. Class 0 certifications
recognize compressors that discharge air free of added oil aerosols, liquids and vapors.
"The rigorous tests performed by TÜV Rheinland show our commitment to providing
best-in-class equipment for our customers," said Eric Seidel, general manager, Ingersoll Rand
Industrial Air Solutions Business Unit.
---

July/August 2007