By Janet Bealer Rodie, Contributing Editor
Wichita, Kan.-based Invista S.a.r.l. has announced the availability of a bio-derived LYCRA® fiber — the first spandex to join the growing list of biobased/bio-derived man-made textile materials.
The company is ramping up production of the fiber and expects it to be offered in Fall/Winter 2015-16 and Spring/Summer 2016 apparel collections worldwide.
Spandex is now featured in a very wide range of apparel products made with both man-made and natural fibers, and it is a popular addition because it enhances a garment's comfort, fit and freedom of movement. According to Robert L. Kirkwood, Ph.D., Invista's executive vice president technology & marketing, Apparel, bio-derived Lycra, made using corn dextrose, behaves like traditional Lycra vis-á-vis all performance attributes and can be processed using traditional manufacturing processes.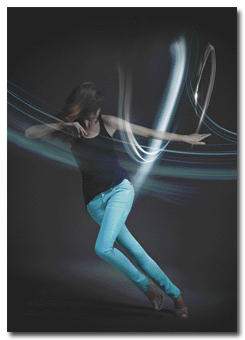 Bio-derived LYCRA® is expected to generate interest particularly in the sustainability-conscious denim and activewear sectors.
Kirkwood believes bio-derived Lycra will generate interest particularly among activewear and denim brands. "Those seem to be the market segments and brands that are most active in the sustainability area," he said, also mentioning interest among the swimwear and lingerie segments.
This new Lycra product is 70-percent bio-derived, with the balance derived from petrochemical feedstock. As Kirkwood explained: "Using an enzymatic process, dextrose is converted into butanediol (BDO), a precursor of polytetramethylene ether glycol (PTMEG), which is the 'soft segment' of spandex and gives the fiber the ability to stretch. This segment is 100-percent biobased," he said. "The other ingredient, methylene diphenyl diisocyanate (MDI) is the 'hard segment.' MDI prevents spandex from breaking and gives it some strength and allows it to recover. We haven't found a biobased source for this compound, but over time, that will come."
Bio-derived Lycra production generates lower carbon dioxide (CO2) emissions than traditional Lycra production. "For biobased BDO production, there is a 70-percent reduction in CO2 emissions compared with conventional BDO production. By the time it is turned into Lycra, there is a 25-percent total reduction considering all steps in the fiber's production," Kirkwood said.
Bio-derived Lycra is currently priced in the range of Invista's normal specialty offerings, Kirkwood said. "Over time, if there's enough interest, it will be the same price as standard Lycra," he said, adding that demand will drive investments in large fermentation plants to make biobased BDO.
Kirkwood said customer interest in the new product is very encouraging. "We've talked to mills and brands in the United States and Europe, and 80 percent of them have expressed interest," he said.
---
For more information about bio-derived LYCRA®, contact Denise Sakuma denise.sakuma@invista.com.
---
May/June 2014