By Janet Bealer Rodie, Contributing Editor
Synthetic, oil-based performance fibers are getting a little competition these days from luxury fibers in the form of alpaca. Chicago-based Komafram, a new company founded by former Malden Mills
Owner and CEO Aaron Feuerstein and headed by his son, Daniel M. Feuerstein, has introduced a premium, sustainable, made-in-USA line of base layers and socks that are made using a blend of alpaca and TENCEL®. The garments leverage alpaca fiber's semi-hollow core — which makes it very lightweight and contributes to its natural moisture-wicking and temperature-regulating properties, its luxurious soft feel, and its hypoallergenic and odor-free properties — and Tencel's own
skin-friendly qualities and soft hand, and ecological closed-loop production. And the feel and styling of the garments provide added value.
According to Daniel Feuerstein, Komafram — which is Icelandic for "to bring forward" — is modeled after Malden Mills in several ways, reflecting the sense of corporate responsibility and high ethical standards that Aaron Feuerstein instilled at Malden during his tenure there. In addition, Daniel Feuerstein referred to Malden's development of Polartec® lightweight synthetic fleece for outdoor gear applications, saying: "At Malden, we established a market for performance
that didn't exist before. However, we knew there were limitations to synthetic fibers — the texture isn't quite like what a natural fiber texture is, and the performance isn't quite like natural fiber performance. You're trying to replicate fiber properties that you can't really replicate."
On the other hand, Feuerstein said: "One thing we do note about synthetics is the weight. As we look forward, one of the compelling aspects of Komafram's fabric is that weightwise, it is on a 1:1 ratio with synthetics versus its heavier counterpart natural fibers, such as Merino wool."
In addition, he noted that Merino fiber must have an extremely fine micron count to exhibit next-to-skin comfort comparable to that of a higher-micron-count alpaca fiber. Whereas alpaca is a relatively smooth fiber, Merino fiber has higher scales and must undergo a harsh, environmentally detrimental treatment to minimize shrinkage and the scratchy effect of the scales.
Alpaca yarn tends to be bulkier than other wool yarn of comparable weight, and Komafram saw opportunities with an alpaca/Tencel blend to make finer yarn counts to create fabrics for all seasons. "We think there's a place for natural fiber blends in warm and cold weather activity, and we are able to test our garments in all weather extremes Feuerstein said.
The company has been experimenting with blends containing varying percentages of each fiber. "We're not locked into a blend proportion," Feuerstein explained. "There are two things we focus on: Initially, Tencel with its softness improves the luxury component and adds strength. In terms of next-to-skin texture, we're seeing that a lot of people who are allergic to Merino are not allergic to our blend.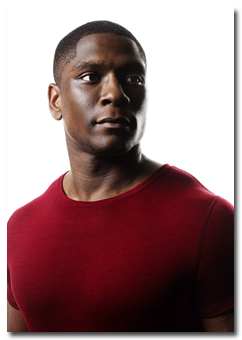 Komafram's base layers are available in several styles and weights, as well as in colors
including black, gray and several rich, saturated shades.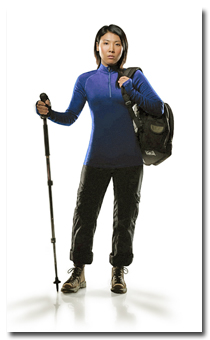 "The other aspect is how well you blend the fiber," he added. "We're blending it and spinning it with people who are the best at what they do. As a result, as we discover yarns, we're going to settle on an ultimate blend. The quality of blending plays a very important role in
fabrication, and there are new developments in blending that allow us to spin finer yarns too."
Komafram is having the sliver blended in Italy and then spun into yarn by custom spinner Amtex (Yarn) Manufacturing Inc. in Ontario, Canada. Fabrics are knitted and dyed by Texollini Inc., Long Beach, Calif., cut by Jan Rutkin of Todd Rutkin Inc., Los Angeles, and sewn into garments by
Northridge Mills Inc., San Fernando, Calif. Cutting and sewing supervisor is Ben Klasky of Subtle Pressure Inc., San Fernando.
Garments include base layer styles in black and a range of rich colors for men and women. They are designed by Komafram's in-house designer, Jeanne L. Troyanek, who is located in Thousand
Oaks, Calif. "The fabric has an exquisite softness and drape," Troyanek said. "It is very lightweight, but it has enough weight to give it that beautiful drape. And it's very luxurious.

"The color story is quite deep and vibrant," she added. "This fabric takes color beautifully."
"After the yarn is spun, every production step from design forward is within driving distance in California," Feuerstein said. "It is very important for us to establish efficient development and production, and we've done it in the Los Angeles area."
Garment fabrics are knitted in three weights: ultralite, lightweight and winter weight. One quarterzip model weighs in at 10 ounces, whereas a comparable wool garment would weigh 25 ounces or more. "We are spinning yarns as fine as a 30s cotton count, and we believe it can go finer," Feuerstein said.
Socks are produced on the other side of the United States, by Harriss & Covington Hosiery Mills Inc., High Point, N.C. Yarns for these products are package-dyed by Meridian Specialty Yarn Group Inc., Valdese, N.C. The socks are available in three styles and in several knitted designs and colorways for men and women.
---
For more information about Komafram's base layers and socks, contact Joe Potter +573-353-1214; jpotter@komafram.com; komafram.com.
---
August 27, 2013