The Ironman® brand is well-known among endurance athletes, as Ironman triathlon competitions are held around the globe by the World Triathlon Corp., Tampa, Fla. The brand is sublicensed to companies that offer athletic apparel and gear, and nutritional and sleep products geared to helping athletes and others achieve peak performance levels.
T3 Recovery Products™, Seattle, offers sleep products under the sublicense The Official Sleep Products of Ironman®, including mattresses, toppers and pillows featuring Celliant® regenerative healing technology from Hologenix LLC, Santa Monica, Calif. T3 has named Novo Textiles Co., Vancouver, Canada, the exclusive North American manufacturer and distributor of Ironman home
textiles; and a topper and two pillow styles are the first products to be offered, with other home textile products to follow quickly.
Celliant technology is not as easy to understand as more straightforward technologies, but Hologenix has conducted a number of clinical trials to establish the science behind it beyond a reasonable doubt, said Seth Casden, the company's CEO.
"The technology is not readily apparent, but the product works on the cellular level," Casden explained. "The body gives off light, emitting about 100 watts of energy at any given time. Minerals embedded in a fiber or yarn can capture that energy and reflect it back to the body. We've proven that Celliant can increase blood flow and oxygen levels in muscle tissue, which helps with recovery, performance and overall health." Celliant also has been shown to balance body temperature, further enhancing comfort and well-being.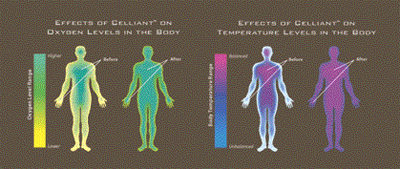 Based on findings that acute and chronic pain as well as the type of mattress can affect sleep quality, Hologenix conducted a pilot study to determine Celliant's effect on pain and sleep quality. The researchers found that sleep efficiency increased for the subjects who slept on
mattress pads containing Celliant.
The technology involves embedding minerals, ground to a diameter of 1 to 2 microns, in a polyester polymer masterbatch. Hologenix supplies the masterbatch to Fiber Innovation Technology Inc., Johnson City, Tenn., which turns it into staple fiber that can be spun into yarn or supplied as fiber. Palmetto Synthetics LLC, Kingstree, S.C., has a yarn that blends Celliant with its NatureSpun® recycled fibers. Celliant also can be blended with other fibers. Celliant fabrics used to cover T3's toppers and pillows are knitted by Deslee Textiles USA, Inman, S.C.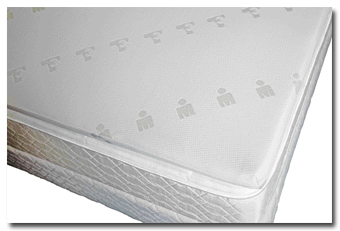 The Ironman Natural Latex Topper manufactured by Novo Textiles for T3 Recovery Products is
covered with a knitted Celliant fabric.
The Ironman products made by Novo Textiles for T3 include a Natural Latex Topper and Talalay Latex Pillow covered with the knitted Celliant fabric, and a Microgel Pillow with a 50/50 Celliant/microgel fiber filling and a microfiber pillow cover.
---
For more about T3 Recovery Products™ The Official Sleep Products of Ironman®, contact Richard Brass +206-601-7169; rbrass@t3recovery.com. For more about Cellliant® technology, contact Kira Kohrherr +646-756-4217; kira@kpr-nyc.com. For more about Novo Textiles Co., contact Jason Zanatta +604-531-2155; jasonz@novotextilesco.com.
---
September/October 2011