Columbia Sportswear Co., Portland, Ore., over the years has developed several proprietary, easy-to-understand performance apparel technology platforms — including repellency, sun protection, waterproof breathability, evaporative, cooling and others — under the Omni umbrella. Its newest platform, Omni-Heat™, includes three different thermal-management technologies to help a body stay warm in cold weather.
Omni-Heat Thermal Reflective lining fabric comprises a breathable base fabric covered with tiny foil dots — allowing a comfortable hand, in contrast to a stiff, impermeable solid foil surface, and greater reflectivity than a polyurethane film infused with aluminum oxide powder.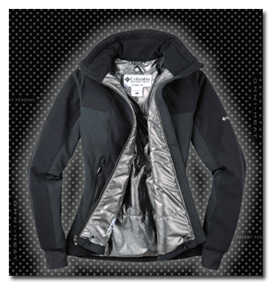 Columbia Sportswear's Fall 2010 collection will include apparel, gloves, caps and boots
featuring Omni-Heat™ Thermal technologies.
"Our solution takes a bicomponent approach," said Woody Blackford, Columbia's director of global innovation, noting that the foil dots cover about 35 percent of the fabric, which is tightly woven or knitted to prevent fiber migration from the insulation underneath. "The dot pattern is good for the hand, and the base fabric wicks moisture and is air-permeable. It also drapes nicely, which has been a real problem in previous reflective approaches," he added.
The foil dots reflect body heat back to the wearer but also are conductive, which helps dissipate excess heat, providing what Blackford called a "ying-yang" effect. "If you start to overheat, the humidity makes the foil conductive and draws heat away," he explained. The foil also discharges static electricity that might otherwise build up in the fabric. And, because the fabric is reflective, 20-percent less insulation is needed to obtain comparable heat retention.
Thermal Insulated features a multi-denier, down-like fiber construction that provides higher warmth-to-weight value than any other branded insulation as well as superior loft rebound, according to Columbia. "It's a bird's nest approach with some pretty fat fibers that are nodally
connected running through the entire insulation, and other much finer filaments that run through the thicker fiber," Blackford said, noting that there are six different deniers in the make-up. The construction also includes 50-percent recycled fibers.
Thermal Electric, for footwear, provides active heating as needed at the push of a button when the wearer isn't generating enough heat. "The boots also have the reflective and insulated components, and Thermal Electric provides a boost if needed," Blackford said. The technology
comprises a flexible carbon fiber insole connected to a removable, rechargeable lithium polymer battery. The control switch on the outside of the boot is waterproof, and extended battery packs can be used.
Omni-Heat debuted in the uniforms worn by the Canadian freestyle ski team competing in the 2010 Winter Olympics. Columbia will launch it at retail in October in a line of men's and women's cold-weather apparel, gloves, caps and boots.
For more information about Omni-Heat™ Thermal technologies, contact Anna Sanford +503-970-5691; asanford@ columbia.com.
March/April 2010