When it comes to sailing, particularly in ocean racing, extreme conditions can place tremendous stress on the boat and all its parts; and the crew must be ready at all times to respond to every possible change in conditions. Performance is optimized when the weight of riggings, sails and other top-of-the-boat components can be reduced without sacrificing strength, stability, durability and handling ease.
DSM Dyneema, the Netherlands-based maker of Dyneema® high-modulus polyethylene fiber, has supplied its fiber to makers of running riggings and sails since the 1990s. Touted as the world's strongest fiber, on a strength-to-weight basis, it is up to 15 times as strong as steel and 40 percent stronger than aramid fiber; plus it is ultraviolet (UV)- and abrasion-resistant, and has very low elongation.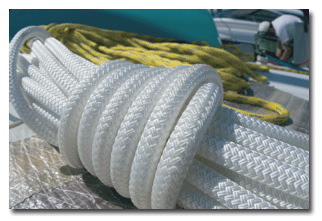 DSM Dyneema's SK78 fiber offers reduced creep, delivering winning performance in ocean
racing, and now is offered in running riggings for cruising sailboats.
For these reasons, the Dyneema SK75 grade — the standard for high-performance rigging, according to the company — has been the rigging of choice on many boats that compete for the America's Cup and in the Volvo Ocean Race (VOR) — a round-the-world race of nine months' duration. Now, in order to further improve the dimensional stability of riggings, the company has adapted its next-generation SK78 grade for that use.
"SK78 was actually developed to be able to withstand longer static loads, and we expect it to have many applications," said Jaco Fok, Dyneema's business manager for yarn. "First it has gone into sports, but we have been using it in other applications as well, most notably offshore."
DSM Dyneema worked first with Italy-based rigging manufacturer Gottifredi Maffioli and the team of Pirates of the Caribbean, one of two 2005-06 VOR competitors that used SK78 riggings. The other, ABN Amro One, replaced part of its original rigging with the new material partway through the race. ABN Amro One won the race, and Pirates of the Caribbean came in second after winning the last leg of the race.
"In its VOR debut, SK78 reduced creep by more than half. "Under extreme conditions, that becomes very important," Fok said. "If you use it for a halyard in an ocean race, where maybe for a month that halyard is under tension, the creep might not be much, but if it can make a few minutes' difference at the end, then you either win or lose."
Now Dyneema has teamed with commercial rigging and sailboat makers to offer SK78 in the recreational marine market. Samson Rope Technologies Inc., Ferndale, Wash.; New England Ropes, Fall River, Mass.; and Liros, Germany, all offer riggings made with SK78.
France-based Beneteau now offers running rigging made with SK78 on most of its performance cruising boats, including the complete Beneteau First range. The rigging is manufactured by Corderie Henri Lancelin, also based in France.
"There's more and more attention from boat builders for high-end rigging and upgrades, most notably in the performance cruising segment," Fok said. "Beneteau is the biggest — a big signal that the value of Dyneema for more extreme use is significant, and is also recognized by the sailors."
---
For more information about Dyneema(R) SK78, contact (800) 883-7404, info.dyneema@dsm.com.
---

May/June 2007