C
upron Inc. — a Greensboro, N.C.-based developer and provider of copper compound technology for medical, textile and cosmetic applications — has launched Cupron™ "Beauty While You Sleep," a commercial line of pillows and pillowcases that help reduce wrinkles and liver spots while one is sleeping.
Cupron technology involves the use of copper oxide to deliver antimicrobial and healing properties to a range of textiles and other products for the healthcare, hospitality, food-processing, military and consumer sectors. By interrupting a microbe's ability to duplicate or
reproduce, copper oxide causes it to die naturally and prevents creation of resistant strains. The compound also promotes healing of sores and wounds because it binds amino acids and helps create collagen.
Cupron is added to textile fibers in one of two ways: by incorporation into the polymer melt of polyester, nylon, various olefins and other man-made fibers; or by plating onto cellulosic fibers such as lyocell and cotton. The company reports the resultant fibers offer permanent
antimicrobial and healing benefits, and are completely safe and nontoxic to humans and animals. They also can be processed using existing manufacturing equipment.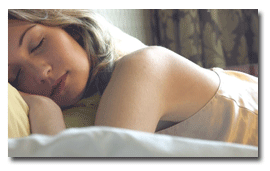 The technology incorporated into Cupron "Beauty While You Sleep" pillows and pillowcases
utilizes the intrinsic properties of copper oxide and has been shown to significantly improve skin
tone and texture while one sleeps.
According to Jeffrey Gabbay, the company's president and CEO, while copper destroys a wide range of micro-organisms including viruses, resistant bacterial strains, fungi and dust mites — and thus also eliminates odors caused by bacteria and fungi that accumulate in the fabric, it is the mineral's healing power that is the emphasized benefit in Cupron's pillows and pillowcases. Cupron fibers evaluated in independent clinical trials were shown to significantly improve skin tone and
texture during sleep. The company claims the pillowcases present an alternative to cosmetic surgery and collagen injections, as well as to the application of facial creams, to rejuvenate the skin.
Gabbay describes Cupron not as a textile technology, but rather as a healthcare technology for which textiles are a major application. He sees the Cupron-infused textiles as part of a system — a system that reduces hospital-acquired infections, improves skin tone and texture, or keeps things clean.
"These are medical devices," he said, noting the products are undergoing testing by the US Food and Drug Administration (FDA). "The driving force is to prove medicinal efficacy. The FDA has agreed, based on some of the scientific evidence presented, that there can be classification of a medical device in areas that previously have not been classified, such as a sheet and a pillowcase.
These types of things are now under consideration," he said.
He also stressed that the fabrics and end products are made in the United States rather than sourced from other countries. "We're going to bring back a lot of textile jobs in the United States," he said, noting the importance of quality control and a lack of confidence that outsourced products would be of comparable quality. "The medical device classification requires compliance with FDA regulations, including how a fabric is constructed to give a specific end-use. If I say a fabric gives 99.99-percent microbial reduction and someone decides to save a little money and not
put the same amount of protection in the fabric, that's putting someone's life in danger."
The fabrics used in Cupron's new pillows and pillowcases are woven in a 4 X 1 twill with a copper-impregnated polyester filament fill supplied by Greensboro-based Unifi Inc. and a Pima cotton warp. Cupron provides its compound in masterbatches to Unifi, enabling the yarn maker to produce large lots of the filament — which also has been treated with a wicking surfactant and is very breathable, Gabbay said.
The pillowcases and several other Cupron consumer products are now available online at the company's website. Both pillowcases and pillows will be available in retail stores beginning in January 2007, and Gabbay said sheets, made of the same fabrics that go into sheets intended for hospital use, also will be available soon.
---
For more information about Cupron consumer products, contact Brian Shore (336) 210-8253,
brian@cupron.com.